Guide To The Best Bass Fishing Lakes In Ohio
Choice fishing for spotted, smallmouth and largemouth bass in OH. Visit the Bass Knowledge Center for valuable information about bass and bass fishing.
Ohio offers fantastic opportunities for bass fishing, with three primary species being the focus of anglers: largemouth bass, smallmouth bass, and spotted bass. These bass species can be found in various lakes, rivers, and reservoirs throughout the state.
Largemouth bass are the most popular and widely sought-after species in Ohio. Known for their aggressive strikes and powerful fights, they can be found in lakes and ponds with ample cover such as weed beds, fallen trees, and submerged structures. Anglers often use a variety of lures and techniques, including topwater baits, soft plastics, and crankbaits, to entice these voracious predators.
Smallmouth bass, also highly sought after, are known for their strength and acrobatic jumps when hooked. They are commonly found in rocky areas of rivers and lakes, particularly near drop-offs, rocky points, and underwater structures. Anglers often target them using jigs, crankbaits, and soft plastics, mimicking crayfish or baitfish patterns.
Spotted bass, sometimes referred to as Kentucky bass, are less common in Ohio but can be found in certain lakes and rivers. They share similarities with both largemouth and smallmouth bass in terms of habitat preferences and feeding habits. Anglers targeting spotted bass often use similar techniques to those used for largemouth and smallmouth bass, such as crankbaits, jigs, and soft plastics.
Ohio's diverse bass fishing opportunities attract anglers of all skill levels. From picturesque lakes and reservoirs to winding rivers, there are plenty of options to explore and discover new fishing spots. Whether you're seeking the thrill of battling a largemouth bass, the strength of a smallmouth bass, or the challenge of catching a spotted bass, Ohio's bass fishing scene has something to offer every angler.
Bass Lakes In Ohio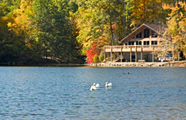 Plenty of private ponds, creeks, streams and rivers in Ohio hold bass. Lake Erie expands the opportunity for anglers to catch nice stringers of bass. Other major lakes with nice populations of bass include Acton Lake, Alum Creek Lake, Atwood Lake, Bass Lake, Berlin Lake, Buck Creek State Park Lake, Buckeye Lake, Caesar Creek State Park Lake, Charles Mill Lake, Clear Fork Reservoir, Clendening Reservoir, Cowan Lake, Deer Creek Lake, Delaware Lake, East Fork Lake, Findlay Reservoir, Grand Lake St Marys, Griggs Reservoir, Hoover Reservoir, Indian Lake, Kaiser Lake, Knox Reservoir, La Due Reservoir, Lake Erie, Lake Hodgson, Lake Milton, Leesville Lake, Mogadore Reservoir, Mosquito Lake, Piedmont Reservoir, Pleasant Hill Lake, Portage Lakes, Pymatuning Lake, Rocky Fork State Park Lake, Salt Fork Lake, Seneca Lake, Tappan Reservoir, Walborn Reservoir, Wingfoot Reservoir and West Branch Lake.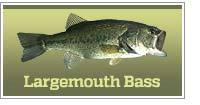 World record: 22 lbs 4 oz
State Record: 13 lbs 2 oz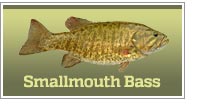 World record: 11 lbs 15 oz
State Record: 9 lbs 8 oz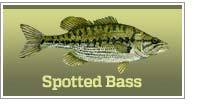 World record: 9 lbs 8 oz
State Record: 5 lbs 4 oz
Click the images and links above for species details.
Top 5 Bass Fishing Lures For Ohio
When bass are shallow, spinnerbaits, crankbaits and stickbaits are the most productive. As they move deeper, worms and jigs are among the top producers.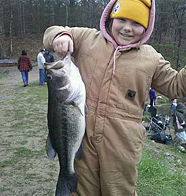 OH State Record Bass
The state record largemouth bass was taken out of a private pond.
Lake Erie produced the state record smallmouth bass.
Lake White served up the state record spotted bass.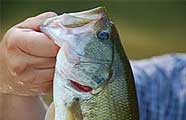 Bass are one of the most sought after of all the game fish. Its appeal spans cultures, age groups and genders to tap on the heart strings of anglers everywhere. Join us in our endeavor to offer information about bass fishing on your favorite bass lake in Ohio.
Bass fishing basics video.
Understanding the primary seasonal movements of smallmouth bass and largemouth bass is key to locating them on local lakes in the Buckeye State.

Catch big bass!
Learn to catch more and bigger largemouth bass, smallmouth bass and spotted bass.
Bass fishing information by state.
The lifecycle of bass
The more you know about the seasonal migration of bass, the more likely you are to be looking in the right area next time you visit Ohio bass fishing lakes. Visit the bass fishing page for more in-depth information about bass activities.
OHIO