The Best Bass Fishing Lakes In North Carolina
Guide to fishing for spotted, redeye, smallmouth and largemouth bass in North Carolina lakes.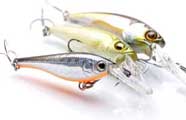 Bass are one of the most sought after of all the game fish. Its appeal spans cultures, age groups and genders to tap on the heart strings of anglers everywhere. Visit the Bass Knowledge Center for valuable information about bass and bass fishing. Join us in our endeavor to offer information about bass fishing on your favorite bass lake in North Carolina.
Understanding the primary seasonal movements of smallmouth bass and largemouth bass is key to locating them on local lakes in the Tar Heel State.
North Carolina is a haven for bass fishing enthusiasts, offering a diverse range of bass species and abundant fishing opportunities. One of the most sought-after bass species in the state is the largemouth bass. Known for its aggressive strikes and impressive size, largemouth bass can be found in various bodies of water throughout North Carolina. Anglers can target them in lakes, reservoirs, rivers, and even urban ponds. Some notable bass fishing destinations in North Carolina include Lake Norman, Lake Waccamaw, Jordan Lake, and Falls Lake.
In addition to largemouth bass, North Carolina is also home to smallmouth bass. These feisty fish are known for their acrobatic fights and can be found in certain rivers and streams, such as the French Broad River and the New River. Smallmouth bass prefer cooler and faster-moving water, making them a popular target for fly fishermen and those who enjoy wading in scenic mountain streams.
Another bass species that adds excitement to North Carolina's fishing scene is the spotted bass. These fish have a similar appearance to largemouth bass but with distinct markings and a reputation for their aggressive nature. While not as abundant as largemouth bass, spotted bass can be found in select lakes and rivers, particularly in the western part of the state. Lake Hickory and Lake James are known for their spotted bass populations and offer exciting opportunities for anglers.
North Carolina is also home to the redeye bass, a lesser-known but highly prized species among bass fishing enthusiasts. Redeye bass, also known as "black bass" or "coosa bass," can be found in certain rivers and streams in the western part of the state. They are known for their vibrant colors, feisty fights, and their preference for clear, fast-flowing water. The French Broad River and the Nantahala River are popular destinations for targeting redeye bass.
Whether you're after largemouth, smallmouth, spotted, or redeye bass, North Carolina's diverse bass fishing opportunities provide something for every angler. From the large reservoirs to the remote mountain streams, the state offers a range of fishing experiences for both novice and experienced anglers. With its beautiful scenery, abundant fish populations, and a variety of bass species to target, North Carolina is a top destination for bass fishing enthusiasts.

Bass Lakes In North Carolina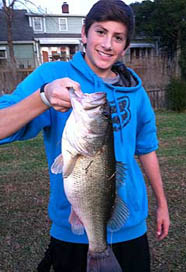 Find fishing water in NC and chances are you found an opportunity to catch some bass. All the major lakes in North Carolina have healthy populations of bass. These lakes include Apalachia Lake, Badin Lake, Belews Lake, Blewett Falls Lake, Buckhorn Reservoir, Chatuge Lake, Cheoah Lake, Falls Lake, Fontana Lake, Graham-Mebane Lake, Harris Lake, High Rock Lake, Hiwassee Lake, Hyco Lake, Jordan Lake, Kernersville Lake, Kerr Lake, King Mountain Reservoir, Lake Benson, Lake Cammack, Lake Crabtree, Lake Gaston, Lake Glenville, Lake Hickory, Lake Higgins, Lake James, Lake Mackintosh, Lake Mattamuskeet, Lake Nantahala, Lake Norman, Lake Rhodhiss, Lake Sutton, Lake Tillery, Lake Townsend, Lake Waccamaw, Lake Wheeler, Lake Wylie, Mayo Reservoir, Mountain Island Lake, Moss Lake, Phelps Lake, Randleman Lake, Roanoke Rapids Lake, Salem Lake, Santeetlah Lake, Shearon Harris Reservoir, Tar River Reservoir and W Kerr Scott Reservoir.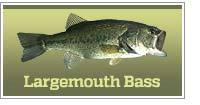 World record: 22 lbs 4 oz
State Record: 15 lbs 14 oz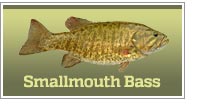 World record: 11 lbs 15 oz
State Record: 10 lbs 0 oz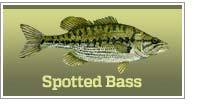 World record: 9 lbs 8 oz
State Record: 6 lbs 5 oz
World record: 8 lbs 12 oz
State Record: 1 lbs 14 oz
Click the images and links above for species details.
Top 5 Bass Fishing Lures For North Carolina
When bass are shallow, spinnerbaits, crankbaits and top water lures are the most productive. As they move deeper, worms and jigs are among the top producers.
The state record largemouth bass was taken from a private pond.
The state record smallmouth bass came form Hiwassee Reservoir.
The state record spotted bass came from Lake Norman.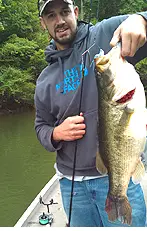 Joshua Lyalls caught this 8 lb, 8 oz bass from West Kerr Lake in Wilkesboro, North Carolina.
Catch big bass!

Bass fishing basics video.
Bass fishing information by state.
The lifecycle of bass
The more you know about the seasonal migration of bass, the more likely you are to be looking in the right area next time you visit North Carolina bass fishing lakes. Visit the bass fishing page for more in-depth information about bass activities.
NORTH CAROLINA