Fishing At W Kerr Scott Reservoir
AKA: Kerr Scott Lake
What to fish for...
Guide to fishing for largemouth bass, smallmouth bass, spotted bass, channel catfish, blue catfish, black crappie, white crappie, bluegill, white bass, striped bass and tiger muskie at W Kerr Scott Reservoir in North Carolina.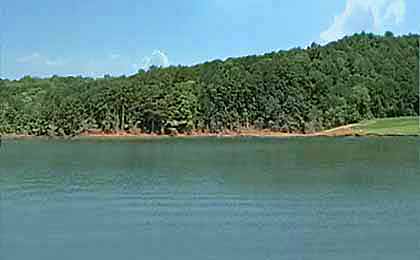 Big enough for you to find your own fishing spot, yet small enough to feel like you can get to know the lake, Kerr Scott Reservoir is a great fishing destination. This is a 1,475-acre lake located in the north-central part of the state. Easy access and lots of amenities are at your pleasure to enhance a day of fishing or an extended family vacation. There is a nice variety of fish species to fulfill most angler's preferences. Bass, stripers,crappie, catfish and tiger muskie all fare well enough to provide acclaim for this bountiful fishing lake. Campgrounds, marinas, public boat launches and boat rentals make your stay worry free!
The purpose of this page is to deliver an overview of this lake, the fishing options, and area amenities. Our goal is to provide info to first time visitors, as well as beginner and novice anglers. We gathered details from personal experience, numerous trusted websites, and videos of fishing activity on the lake. These websites include the North Carolina Wildlife Resources Commission, marinas at the lake, campgrounds, boat rental agencies and others. By consolidating this information to one page it allows visitors to see the entire picture, all in one place.
Lake Video
W Kerr Scott Reservoir, located in North Carolina, is a popular destination for fishing enthusiasts seeking a wide variety of fish species and outdoor recreational activities. Spanning over 1,475 acres, this reservoir offers anglers plenty of opportunities to enjoy their favorite pastime in a beautiful natural setting.
One of the primary attractions of W Kerr Scott Reservoir is its excellent bass fishing. The lake is known for its population of both largemouth and smallmouth bass, providing anglers with the chance to target these prized game fish. Bass anglers can explore the lake's coves, points, and underwater structures to locate the best fishing spots. Techniques such as casting crankbaits, flipping jigs, and using topwater lures can prove effective in enticing strikes from these feisty bass.
In addition to bass, W Kerr Scott Reservoir is home to a variety of other fish species. Crappie, including both black and white crappie, are abundant in the lake and offer anglers an exciting fishing opportunity. Panfish such as bluegill and sunfish can be found near shoreline structures and are a favorite target for younger anglers or those looking for a relaxing day of fishing. Catfish, including channel and flathead catfish, are also present in the reservoir, providing additional angling opportunities.
W Kerr Scott Reservoir in North Carolina is a fantastic destination for fishing enthusiasts and outdoor adventurers. With a diverse range of fish species, including bass, crappie, panfish, and catfish, anglers have plenty of opportunities to enjoy their favorite sport. Whether you're a seasoned angler or a beginner, W Kerr Scott Reservoir offers an unforgettable fishing and outdoor experience in North Carolina.

Primary fish species residing in Kerr Scott Reservoir
Click images for fishing tips and details about each species.
W Kerr Scott Reservoir Amenities
Marina: YES
Boat Rental: YES
Boat Launch Ramp: YES
Campgrounds: YES
RV Hookups: YES
Lodging: YES
Convenience Store: NEARBY
Bait & Tackle: YES
Restaurant: NEARBY
Today's Weather & Forecast
Boating is a popular activity on W Kerr Scott Reservoir, and the lake offers various amenities for boaters to enjoy. The reservoir features multiple boat ramps, allowing for easy access to the water. Whether you prefer motorized boats, canoes, or kayaks, there is ample space to explore the lake's waters and find your favorite fishing spots. Boaters can enjoy the scenic views, navigate through coves and channels, and try their luck at different fishing locations.
Public Boat Launch Ramps & Landings
Smithey's Creek Park Boat Ramp
Located in the park, mid lake on the north side of the lake, this is a one-lane, concrete launch ramp with a dock and plenty of paved parking.
Click here for a North Carolina Fishing License.
Camping facilities are available near W Kerr Scott Reservoir, providing anglers and outdoor enthusiasts with the opportunity to extend their stay and fully immerse themselves in the natural surroundings. The reservoir offers several campgrounds and RV parks with amenities such as picnic areas, hiking trails, and access to the lake. Camping near W Kerr Scott Reservoir allows anglers to wake up to stunning views, fish from the shore or a boat at their convenience, and enjoy the tranquility of the outdoors.
Campgrounds & RV Parks Nearby
Bandit's Roost Park Campground - 336 921-3190
Boomer Park Shelter Campground - 336 921-3390
Warrior Creek Campground - 336 921-2177
Dam Site Shelter Campground - 336 921-3390
Kerr Scott Reservoir NC Map - Fishing & Camping Areas
Contact Information
Kerr Scott Reservoir
Skyline Marina
4008 NC-268
Wilkesboro, NC 28697
336 921-3783
Fishing lakes in each state.
Kerr Scott Reservoir in North Carolina.
NORTH CAROLINA


Bass, stripers and tiger muskie fishing in north-central NC.
Fishing at W Kerr Scott Reservoir, in North Carolina.