Fishing At Lake Waccamaw
AKA: Waccamaw Lake, Waccamaw Reservoir
What to fish for...
Guide to fishing for largemouth bass, channel catfish, flathead catfish, black crappie, bluegill, pumpkinseed, redear sunfish, white bass, white perch and striped bass at Lake Waccamaw in North Carolina.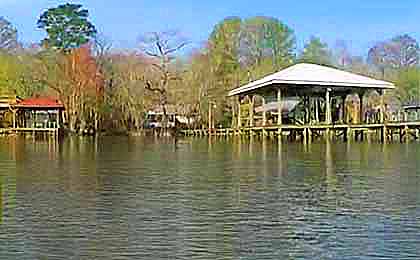 Probably one of the best white perch fishing lakes in North Carolina, Lake Waccamaw is under fished for virtually all fish species in the lake. This 8,900-acre lake, located in the south-east part of the state, beckons you to come enjoy the great fishing. It is a perfect lake for small craft - inflatable's, canoes, kayaks, john boats and aluminum boats fit the bill. As a result of plentiful vegetation and thriving perch and sunfish populations, bass and catfish thrive here and can grow to trophy size. With relatively clear water, most lures will attract bites. Smaller lures - crankbaits, spinners, and spinnerbaits, will attract bass, crappie, bluegill, white bass and perch. Using small sizes, you never know what will charge your lure next.
The purpose of this page is to deliver an overview of this lake, the fishing options, and area amenities. Our goal is to provide info to first time visitors, as well as beginner and novice anglers. We gathered details from personal experience, numerous trusted websites, and videos of fishing activity on the lake. These websites include the North Carolina Wildlife Resources Commission, marinas at the lake, campgrounds, boat rental agencies and others. By consolidating this information to one page it allows visitors to see the entire picture, all in one place.
Lake Video
Lake Waccamaw, located in southeastern North Carolina, is a unique and captivating destination known for its natural beauty and diverse ecosystem. The lake is a popular spot for fishing enthusiasts, offering a wide range of fish species to target.
Anglers visiting Lake Waccamaw can expect to find a variety of fish, including largemouth bass, crappie, bluegill, sunfish, and catfish. Largemouth bass are particularly abundant and provide exciting fishing opportunities throughout the year. The lake's pristine waters and abundant vegetation provide an ideal habitat for bass and other fish species. Crappie and bluegill can be found in good numbers, especially around submerged structures and vegetation. Catfish, including channel catfish and bullheads, are also common and provide anglers with thrilling battles.
Lake Waccamaw in North Carolina is a captivating destination for fishing, boating, and camping. With its diverse fish species, including bass, crappie, bluegill, sunfish, and catfish, anglers can enjoy a rewarding fishing experience. Boaters can explore the tranquil waters of the lake, while campers can immerse themselves in the natural beauty of the area. Lake Waccamaw State Park offers additional recreational activities, making it an ideal destination for outdoor enthusiasts. Whether you're seeking a relaxing fishing trip, an adventurous boating excursion, or a peaceful camping getaway, Lake Waccamaw has something to offer for everyone.

Primary fish species residing in Lake Waccamaw
Click images for fishing tips and details about each species.
Lake Waccamaw Amenities
Marina: NO
Boat Rental: NO
Boat Launch Ramp: YES (Small craft)
Campgrounds: YES
RV Hookups: NO
Lodging: YES
Convenience Store: NEARBY
Bait & Tackle: NEARBY
Restaurant: YES
Today's Weather & Forecast
Boating is a popular activity on Lake Waccamaw, with several boat ramps available for easy access to the water. Whether you prefer motorized boats or non-motorized options like kayaks and canoes, you can explore the expansive lake and enjoy its tranquil atmosphere. The calm waters of Lake Waccamaw are perfect for leisurely cruises, fishing excursions, or water sports such as tubing and water skiing.
Public Boat Launch Ramps & Landings
NC Wildlife Boat Ramp
Paved parking, a dock and a two-lane, concrete boat ramp make for easy launching here. It is located mid lake on the west side of the lake off Wooded Acres Road.
Click here for a North Carolina Fishing License.
For those who wish to spend more time in this scenic location, camping facilities are available near Lake Waccamaw. The lake offers a campground with amenities such as RV hookups, tent sites, picnic areas, and restroom facilities. Camping near Lake Waccamaw allows visitors to immerse themselves in the natural surroundings and experience the peacefulness of the area.
Campgrounds & RV Parks Nearby
Lake Waccamaw State Park Campground - 910 646-4748
Last Chance Campground - 910 770-0746
Ambassador Camp Campground - 910 646-3909
Lake Waccamaw NC Map - Fishing & Camping Areas
Contact Information
Lake Waccamaw
Lake Waccamaw State Park
1866 State Park Dr
Lake Waccamaw, NC 28450
910 646-4748
Fishing lakes in each state.
Lake Waccamaw in North Carolina.
NORTH CAROLINA


Perch, sunfish, bass and catfish fishing in southeast NC.
Fishing at Lake Waccamaw, in North Carolina.