Fishing At Nantahala Lake
AKA: Nantahala Lake, Nantahala Reservoir
What to fish for...
Guide to fishing for largemouth bass, smallmouth bass, channel catfish, blue catfish, black crappie, walleye, rainbow trout, brook trout, brown trout, bluegill, yellow perch, kokanee salmon and striped bass at Nantahala Lake in North Carolina.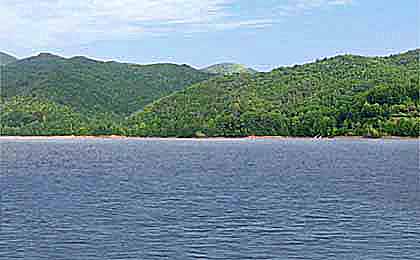 As the only lake in the South with a population of kokanee salmon, Lake Nantahala is a unique fishery in these parts. However, salmon is not the only attraction for anglers here. This 1,600-acre lake in the south eastern section of the state, has a wide range of fish species to pursue. Bass, catfish, crappie, trout, stripers and sunfish reside here. Local fishing guides can provide all the gear and spend a day showing you how to catch fish on Lake Nantahala. Bring your boat or rent one at the marina. Canoe and kayak fishing are popular here and there is thirty miles of shoreline, some of which can be accessed for shoreline fishing. This scenic lake provides opportunities for all types of angling, from shallow water techniques to deep-water ledge and structure fishing.
Nantahala Lake, located in the beautiful mountains of North Carolina, is a haven for fishing enthusiasts seeking both tranquility and excellent fishing opportunities. This picturesque lake stretches over 1,600 acres and is surrounded by lush forests, offering a scenic backdrop for anglers to enjoy their favorite pastime.
Nantahala Lake is renowned for its abundance of fish species, making it a popular destination for anglers of all skill levels. The lake is known for its populations of smallmouth bass, largemouth bass, walleye, trout, and catfish. Smallmouth bass are a prized catch at Nantahala Lake, known for their strong fight and acrobatic leaps. Largemouth bass are also plentiful, providing anglers with exciting opportunities to reel in a big catch. Walleye, known for their delicious taste and challenging nature, can be found in deeper parts of the lake. Additionally, the lake is regularly stocked with trout, including rainbow trout and brown trout, making it a popular spot for trout fishing. Catfish can also be found in the deeper areas of the lake, providing anglers with the chance to catch some impressive specimens.
Boating is a popular activity on Nantahala Lake, with public boat ramps available for easy access to the water. Whether you prefer a motorized boat or enjoy kayaking or canoeing, the lake's calm waters and scenic surroundings provide a peaceful boating experience. Boaters can explore the lake, search for their favorite fishing spots, and enjoy the breathtaking mountain views along the shoreline.
Camping options are available near Nantahala Lake, allowing anglers and outdoor enthusiasts to immerse themselves in the natural beauty of the area. The nearby Nantahala National Forest offers a range of campgrounds with facilities such as picnic areas, restrooms, and hiking trails. Camping near Nantahala Lake provides the opportunity to extend your fishing trip, wake up to the sounds of nature, and fully enjoy the serenity of the mountainous landscape.
Nantahala Lake in North Carolina is a paradise for anglers seeking a tranquil fishing experience amidst stunning natural surroundings. With its variety of fish species, including bass, walleye, trout, and catfish, there are ample opportunities to reel in a memorable catch. Boating on the calm waters and camping in the nearby forests add to the overall outdoor adventure. Whether you're a seasoned angler or a nature lover, Nantahala Lake offers a serene setting to enjoy fishing and appreciate the breathtaking beauty of the North Carolina mountains.

Primary fish species residing in Nantahala Lake
Click images for fishing tips and details about each species.
Lake Nantahala Amenities
Marina: YES
Boat Rental: YES
Boat Launch Ramp: YES
Campgrounds: YES
RV Hookups: YES
Lodging: YES
Convenience Store: NEARBY
Bait & Tackle: NEARBY
Restaurant: YES
Today's Weather & Forecast
Fishing Boat Rentals
Nantahala Shores Boat Rentals
Rentals: Bass boats and pontoon boats
828 557-0408
Marinas
Nantahala Shores Boat Rentals
13 Old Faber Road
Topton, NC 28781
828 557-0408
Public Boat Launch Ramps & Landings
Nantahala Lake Boat Ramp
This small, but efficient, one-lane boat ramp has a dock and limited, paved parking. Access this launch area via Big Choga Road
Nantahala Lake Rocky Branch Access Area
Centrally located, on the south side of the lake, this is a two-lane boat ramp with a dock and gravel parking. Access is via Wayah Road.
Click here for a North Carolina Fishing License.
Campgrounds & RV Parks Nearby
Appletree Campground - 828 524-6441
Appletree Group Camp Campground - 828 321-3610
Nelson's Nantahala Hideaway Campground - 828 321-4407
Brookside Campground & Rafting - 828 321-5209
Lake Nantahala NC Map - Fishing & Camping Areas
Lake Video
Contact Information
Nantahala Lake
Franklin Chamber of Commerce
425 Porter Street
Franklin, North Carolina 28734
866 372-5546
Fishing lakes in each state.
Nantahala Lake in North Carolina.
NORTH CAROLINA


Trout, bass, walleye and salmon fishing in southeast NC.
Fishing at Lake Nantahala, in North Carolina.