Fishing At Lake Cammack
AKA: Cammack Lake
What to fish for...
Guide to fishing for largemouth bass, channel catfish, blue catfish, black crappie, white crappie, bluegill, striped bass and hybrid striped bass at Lake Cammack in North Carolina.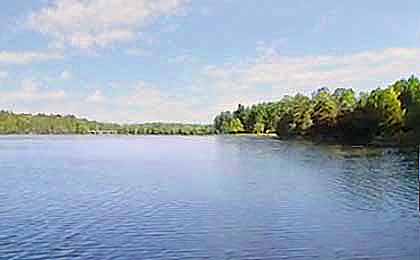 Come enjoy the beauty and serenity of Lake Cammack, an 800 acres-acre lake in the north-central part of the state. Boat ramps and a marina are open to the public. There is a lake fee for both fishing and boat launching. With over 50 miles of shoreline, there is plenty of areas for fishing from the bank. Nearby the marina is a handicapped-accessible fishing pier. The lake is populated with bass, catfish, crappie, bream and stripers. Occasional bass fishing tournaments are held here.
The purpose of this page is to deliver an overview of this lake, the fishing options, and area amenities. Our goal is to provide info to first time visitors, as well as beginner and novice anglers. We gathered details from personal experience, numerous trusted websites, and videos of fishing activity on the lake. These websites include the North Carolina Wildlife Resources Commission, marinas at the lake, campgrounds, boat rental agencies and others. By consolidating this information to one page it allows visitors to see the entire picture, all in one place.
Lake Video
Lake Cammack, located in Caswell County, North Carolina, is a scenic destination that offers fantastic fishing opportunities for anglers of all skill levels. This 2,400-acre reservoir is renowned for its diverse fish species and serene natural surroundings, making it a popular spot for fishing, boating, and camping.
One of the main attractions of Lake Cammack is its excellent largemouth bass fishing. The lake is known for producing trophy-sized bass, and anglers can test their skills in pursuit of these prized gamefish. The lake's structure, including submerged brush, timber, and rocky areas, provides ideal hiding spots for bass. Anglers can use a variety of techniques such as topwater lures, plastic worms, or spinnerbaits to entice the bass into striking.
Lake Cammack is also home to other popular fish species, including crappie, catfish, and bream. Crappie, both black and white, can be found around the lake's submerged structures and brush piles. Anglers can target crappie using jigs, live minnows, or small crankbaits. Catfish, such as channel catfish and blue catfish, can be caught using cut bait, stinkbaits, or live worms near the lake's bottom structures. Bream, including bluegill and redear sunfish, provide enjoyable fishing opportunities for anglers, especially those using lightweight tackle and live bait.
Lake Cammack in North Carolina offers anglers a wonderful fishing experience with its abundance of largemouth bass, crappie, catfish, and bream. Whether you're a bass angler, crappie enthusiast, or catfish lover, Lake Cammack provides a picturesque setting for a memorable fishing trip in the heart of nature.

Primary fish species residing in Lake Cammack
Click images for fishing tips and details about each species.
Lake Cammack Amenities
Marina: YES
Boat Rental: NO
Boat Launch Ramp: YES
Campgrounds: NO
RV Hookups: NO
Lodging: NEARBY
Convenience Store: YES
Bait & Tackle: NEARBY
Restaurant: NEARBY
Today's Weather & Forecast
Marinas
Lake Cammack Park & Marina
4790 Union Ridge Rd
Burlington, NC 27217
336 421-3872
Boating is a popular activity on Lake Cammack, and anglers can take advantage of the lake's boat ramps and marina facilities. Whether you prefer a motorized boat, kayak, or canoe, the lake offers ample space for boating and exploring its various coves and channels. Boaters should be mindful of the lake's no-wake zones and adhere to all boating regulations for safety and preservation of the environment.
Public Boat Launch Ramps & Landings
Lake Cammack Park & Marina
This is a small, multi-lane, concrete boat launch ramp. It has primitive parking and docks. It is located on the east side of the road, at the end of Cammack Road.
Click here for a North Carolina Fishing License.
Camping facilities are available near Lake Cammack, providing anglers with the opportunity to extend their fishing trip and immerse themselves in the natural beauty of the area. Whether you prefer tent camping or RV camping, there are options to suit different preferences and needs. Relaxing by the campfire after a day of fishing can be a perfect way to unwind and connect with nature.
Campgrounds & RV Parks Nearby
There are no campgrounds or RV parks in the area.
Lake Cammack NC Map - Fishing & Camping Areas
Contact Information
Lake Cammack
Lake Cammack Park & Marina
4790 Union Ridge Rd
Burlington, NC 27217
336 421-3872
Fishing lakes in each state.
Lake Cammack in NC
NORTH CAROLINA


Fishing for bass, catfish, crappie, bream and stripers in north-central NC
Lake Cammack, in North Carolina.