Guide To Fishing At Chatuge Lake
AKA: Lake Chatuge
What to fish for...
Fishing for largemouth bass, smallmouth bass, spotted bass, channel catfish, black crappie, walleye, bluegill, bream and hybrid striped bass at Chatuge Lake in North Carolina.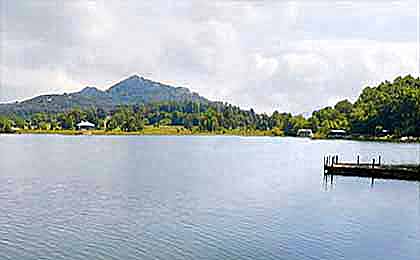 With three kinds of bass, Chatuge Lake is a great destination for bass anglers. This is a 7,480-acre lake in the southwest corner of the state with excellent amenities to make an outing here a pleasant experience. Boat rentals are available at marinas for power boats, canoes and kayaks. Fishing from shore is also a viable option here, with some day-use areas providing over a mile of shoreline for fishing. Rocky banks, some with stumps and laydowns offer cover to bass. There are also many boat docks which often create ideal hangouts for bass, crappie and sunfish. There are plenty of ledges and submerged humps around the lake for structure fishing, and those located near deeper creek channels often produce fish fairly consistently. Because the lake is located in both Georgia and North Carolina, fishing regulations for both states come into play. Check fishing regulations for specific rules regarding this reservoir, before wetting a line.
Chatuge Lake, situated on the border of North Carolina and Georgia, is a popular destination for fishing enthusiasts seeking a serene and productive fishing experience. This 7,500-acre reservoir, nestled in the scenic Appalachian Mountains, offers a diverse range of fish species, making it a sought-after spot for anglers of all levels of expertise.
One of the highlights of Chatuge Lake is its excellent bass fishing. The lake is known for its robust population of both largemouth bass and spotted bass. Anglers can explore the lake's various coves, points, and submerged structures to target these prized gamefish. Techniques such as topwater lures, crankbaits, and soft plastic worms are effective for enticing the bass into striking. The lake's clear waters and picturesque surroundings add to the allure of bass fishing at Chatuge Lake.
Crappie fishing is also popular at Chatuge Lake, with both black crappie and white crappie present in good numbers. Anglers can find crappie around submerged structures, brush piles, and boat docks. Jigs, live minnows, and small crankbaits are commonly used baits for crappie fishing. The spring and fall seasons are particularly productive for crappie angling, as they congregate in shallower waters to spawn.
Chatuge Lake is also home to other fish species, including walleye, catfish, and bream. Walleye fishing is especially sought after, and anglers can target them using a variety of techniques such as trolling with crankbaits or casting with jigs. Catfish, such as channel catfish and flathead catfish, can be caught using a range of baits including cut bait, stinkbaits, or live bait. Bream, including bluegill and redear sunfish, provide enjoyable fishing opportunities for anglers, especially those using light tackle and live bait.
Boating is a popular activity on Chatuge Lake, and the lake provides ample opportunities for boaters to explore its vast waters. Anglers can take advantage of the lake's boat ramps and marina facilities for convenient access to different fishing areas. Whether you prefer a motorized boat, kayak, or canoe, Chatuge Lake offers a variety of boating options.
Camping facilities are available near Chatuge Lake, allowing anglers to extend their fishing trip and fully immerse themselves in the natural beauty of the area. Whether you prefer tent camping or RV camping, there are options to suit different preferences and needs. Camping by the lake provides a tranquil and picturesque setting for anglers to relax and enjoy the beauty of their surroundings.
Chatuge Lake in North Carolina offers a diverse range of fish species and a beautiful natural setting for anglers to enjoy fishing, boating, and camping. Whether you're targeting bass, crappie, walleye, or catfish, the lake provides ample opportunities for a rewarding fishing experience. With its scenic landscapes and abundant fish populations, Chatuge Lake is a destination that will captivate anglers and outdoor enthusiasts alike.

Primary fish species residing in Chatuge Lake
Click images for fishing tips and details about each species.
Chatuge Lake Amenities
Marina: YES
Boat Rental: YES
Boat Launch Ramp: YES
Campgrounds: YES
RV Hookups: YES
Lodging: YES
Convenience Store: YES
Bait & Tackle: YES
Restaurant: YES
Today's Weather & Forecast
Marinas
Chatuge Cove Marina
2397 NC-175
Hayesville, NC 28904
828 389-6155
Public Boat Launch Ramps & Landings
Jackrabbit Boating Access
From highway 65 on the east side of the lake, use Jack Rabbit Road to access this two-lane concrete ramp with primitive parking.
Ledford Chapel Road boat ramp
Ample paved parking and two docks make this two-lane boat launch ramp a good choice. It is located in the northern sector of the lake off Ledford Chapel Road.
Click here for a North Carolina Fishing License.
Campgrounds & RV Parks Nearby
Long Ridge Campground - 762 500-2055
Jackrabbit Mountain Campground - 828 837-5152
Ho-Hum Campground - 828 389-6740
Clay County Park Campground - 828 389-3532
Chatuge Lake NC Map - Fishing & Camping Areas
Lake Video
Contact Information
Chatuge Lake
Boundary Waters Resort & Marina
107 Boundary Waters Dr
Hiawassee, GA 30546
706 896-2530
Fishing lakes in each state.
Chatuge Lake in North Carolina.
NORTH CAROLINA


Bass, crappie and sunfish fishing in southwest NC.
Fishing at Chatuge Lake, in North Carolina.