Fishing At Cheoah Lake
AKA: Lake Cheoah
What to fish for...
Guide to fishing for largemouth bass, smallmouth bass, spotted bass, rainbow trout, brown trout, brook trout, redbreast sunfish, white bass and muskie at Cheoah Lake in North Carolina.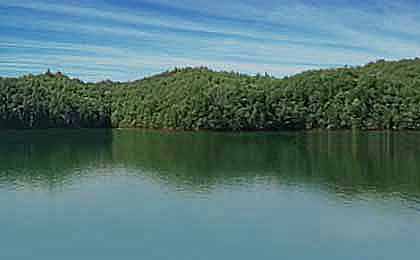 Located below Fontana Dam, Cheoah Lake is a 640-acre, cold-water fishery with several species of trout. One boat ramp and a fishing pier are open to the public. It is located on the western border of the state, at Tapaco. This wandering river lake is 29 miles long and has over 200 miles of shoreline. Because it is remote, and gets little fishing pressure, the fishing can often be very good for both quantity and quality. Trout are the main attraction, but the lake also supports populations of bass, sunfish and muskie.
Cheoah Lake, located in the scenic mountains of North Carolina, offers anglers a fantastic fishing experience amidst stunning natural surroundings. This 644-acre reservoir is known for its pristine waters and diverse fish species, making it a popular destination for fishing, boating, and camping.
One of the main attractions of Cheoah Lake is its excellent trout fishing. The lake is stocked with rainbow trout, brown trout, and brook trout, providing anglers with the opportunity to catch these prized gamefish. The cold, clear waters of Cheoah Lake create a suitable habitat for trout, and anglers can try their luck with a variety of fishing techniques such as fly fishing, spin casting, or bait fishing. The picturesque mountain scenery adds to the allure of trout fishing at Cheoah Lake.
In addition to trout, Cheoah Lake is home to other fish species, including largemouth bass, smallmouth bass, and sunfish. Anglers can target bass using a variety of lures and techniques such as crankbaits, soft plastics, or topwater baits. The lake's submerged structures, rocky areas, and shoreline vegetation provide ideal habitat for bass. Sunfish, including bluegill and redear sunfish, offer a fun and rewarding fishing experience, particularly for young anglers and those looking for a relaxed day on the water.
Boating is a popular activity on Cheoah Lake, and anglers can take advantage of the lake's boat ramps and marina facilities. Whether you prefer a motorized boat, kayak, or canoe, the lake offers ample space for boating and exploring its various coves and channels. Boaters should be mindful of any boating regulations and safety measures to ensure a pleasant and secure boating experience.
Camping facilities are available near Cheoah Lake, allowing anglers and outdoor enthusiasts to extend their stay and immerse themselves in the beauty of the area. Whether you prefer tent camping or RV camping, there are options to suit different preferences and needs. Camping by the lake offers a tranquil and picturesque setting, where you can relax by the campfire after a day of fishing and enjoy the serenity of nature.
Cheoah Lake in North Carolina provides anglers with a rewarding fishing experience, particularly for trout enthusiasts. The lake's abundance of trout, along with bass and sunfish, offers a variety of fishing opportunities for different preferences and skill levels. Boating and camping facilities make it convenient for anglers to enjoy a complete outdoor adventure in the heart of the mountains. Whether you're casting a line for trout or exploring the lake's scenic beauty, Cheoah Lake is a destination that will leave you with memorable fishing experiences.

Primary fish species residing in Cheoah Lake
Click images for fishing tips and details about each species.
Cheoah Lake Amenities
Marina: NO
Boat Rental: NO
Boat Launch Ramp: YES
Campgrounds: NEARBY
RV Hookups: NEARBY
Lodging: NEARBY
Convenience Store: YES
Bait & Tackle: NEARBY
Restaurant: YES
Today's Weather & Forecast
Public Boat Launch Ramps & Landings
Rymers Ferry Lake Access
Use Meadow Branch Road (County Rd 1247) to reach this primitive ramp with limited parking.
Click here for a North Carolina Fishing License.
Campgrounds & RV Parks Nearby
The Campground at Fontana Village - 828 498-2211
Cheoah Point Campground - 828 497-6431
Cheoah Lake NC Map - Fishing & Camping Areas
Lake Video
Contact Information
Cheoah Lake
Cheoah Ranger District
1373 Thunderbird Mountain Rd,
Robbinsville, NC 28771
828 497-6431
Fishing lakes in each state.
Cheoah Lake in NC
NORTH CAROLINA


Fishing for trout and muskie in western NC
Cheoah Lake, in North Carolina.