Fishing At Tar River Reservoir
AKA: Tar River
What to fish for...
Guide to fishing for largemouth bass, channel catfish, flathead catfish, black crappie and bluegill at Tar River Reservoir in North Carolina.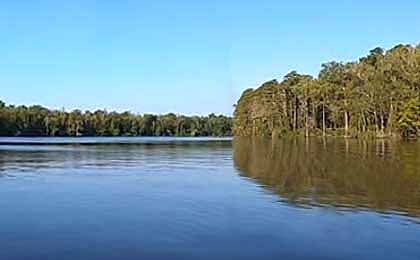 Crappie are a hidden treasure at Tar River Reservoir, a 1,800-acre lake in the northeast part of the state. Boating and fishing enthusiasts will find hundreds of miles of shoreline, and all types of cover to fish. In addition to crappie the lake offers fishing for bass, catfish and sunfish. The bass fishing is quite good at times and hosts many bass tournaments annually. Several boat launch ramps are available to launch pleasure boats, pontoons and fishing boats. This is a come-prepared fishing destination. Camping, RV spaces, lodging and restaurants are all some distance away.
Tar River Reservoir, located in northeastern North Carolina, is a popular destination for fishing enthusiasts and outdoor lovers. This scenic 1,600-acre reservoir offers a variety of fishing opportunities and a tranquil setting for anglers to enjoy.
Anglers visiting Tar River Reservoir can expect to find a diverse range of fish species. The reservoir is known for its healthy population of largemouth bass, which attracts anglers from far and wide. The bass in Tar River Reservoir can reach impressive sizes, providing anglers with the thrill of reeling in a trophy fish. Crankbaits, soft plastics, and topwater lures are often productive baits for targeting largemouth bass in this reservoir.
In addition to largemouth bass, Tar River Reservoir is home to other popular sportfish species such as crappie and catfish. Crappie, including both black and white crappie, can be found in good numbers and provide exciting angling opportunities, especially during the spring spawning season. Catfish, including channel catfish and flathead catfish, are also abundant in the reservoir and offer anglers the chance to catch some hard-fighting fish.
Boating is a common activity on Tar River Reservoir, with several boat ramps available for launching watercraft. Whether you prefer a motorized boat, kayak, or canoe, the reservoir provides ample space for boating and exploring the scenic waterways. Anglers can navigate the reservoir's coves, channels, and open waters in search of their favorite fishing spots.
For those looking to extend their fishing adventure, camping facilities are available near Tar River Reservoir. Nearby parks and campgrounds offer campsites with amenities such as picnic areas, restrooms, and hiking trails. Camping near Tar River Reservoir allows anglers to fully immerse themselves in the natural beauty of the area and enjoy peaceful nights under the stars.
Tar River Reservoir in North Carolina is a fantastic fishing destination, offering a variety of fish species and a serene outdoor setting. Anglers can target largemouth bass, crappie, catfish, and more, making it an excellent choice for both novice and experienced anglers. The availability of boating and camping facilities adds to the overall experience, providing opportunities for exploration and relaxation. Whether you're casting for bass, chasing crappie, or simply enjoying the beauty of the reservoir, Tar River Reservoir offers a memorable fishing, boating, and camping experience in North Carolina.

Primary fish species residing in Tar River Reservoir
Click images for fishing tips and details about each species.
Tar River Reservoir Amenities
Marina: NO
Boat Rental: NO
Boat Launch Ramp: YES
Campgrounds: NEARBY
RV Hookups: NEARBY
Lodging: NEARBY
Convenience Store: YES
Bait & Tackle: YES
Restaurant: NEARBY
Today's Weather & Forecast
Public Boat Launch Ramps & Landings
Bend of the River Road Boat Ramp
This is a small (but efficient), unimproved boat launch with gravel parking. It is located just south of the Bend of the River Road Bridge, on the west side of the bridge.
Tar River Reservoir Ramp
Located at the south end of the South Old Carriage Road Bridge, in the western arm of the lake, this is a two-lane, concrete ramp with a dock and gravel parking.
Click here for a North Carolina Fishing License.
Campgrounds & RV Parks Nearby
Kamper's Lodge Campground - 252 237-0905
Rock Ridge Campground - 252 291-4477
Tar River Reservoir NC Map - Fishing & Camping Areas
Lake Video
Contact Information
Tar River Reservoir
Reservoir Country Store
5696 Bend of the River Rd
Rocky Mount, NC 27803
252 985-4500
Fishing lakes in each state.
Tar River Reservoir in NC
NORTH CAROLINA


Fishing for bass and crappie in northeast NC
Tar River Reservoir, in North Carolina.