Fishing At Buckhorn Reservoir
AKA: Buckhorn Lake
What to fish for...
Guide to fishing for largemouth bass, channel catfish, blue catfish, black crappie, white crappie, rainbow trout, bluegill, bream, white bass and muskie at Buckhorn Reservoir in North Carolina.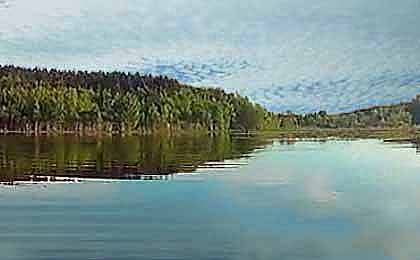 Boating and fishing at Buckhorn Reservoir is a favorite pass time for residents of Raleigh, Wilson and surrounding communities. This 2,000-acre lake offers fishing for bass, trout, crappie, bream, catfish and muskie. Anglers can peruse about 15 miles of shoreline in search of their favorite warm-water or cold-water species. There is ample areas for fishing from the bank, plus a fishing pier. Two boat launch ramps serve the public for a fee, one is dedicated to power boats, the other to non-powered watercraft. The lake is popular for local bass fishing tournaments.
The purpose of this page is to deliver an overview of this lake, the fishing options, and area amenities. Our goal is to provide info to first time visitors, as well as beginner and novice anglers. We gathered details from personal experience, numerous trusted websites, and videos of fishing activity on the lake. These websites include the North Carolina Wildlife Resources Commission, marinas at the lake, campgrounds, boat rental agencies and others. By consolidating this information to one page it allows visitors to see the entire picture, all in one place.
Lake Video
Buckhorn Reservoir, located in Wilson County, North Carolina, is a popular destination for fishing enthusiasts seeking a peaceful and productive fishing experience. Spanning over 2,800 acres, this reservoir offers a diverse range of fish species, making it an attractive spot for anglers of all levels of expertise.
One of the primary draws of Buckhorn Reservoir is its excellent bass fishing. Largemouth bass are abundant in the lake, providing exciting opportunities for anglers to hook into these feisty fighters. The lake's structure, including submerged vegetation, standing timber, and rocky points, creates ideal habitat for bass. Anglers can employ various techniques such as topwater lures, plastic worms, or crankbaits to entice the bass into biting.
Crappie fishing is also popular at Buckhorn Reservoir. Anglers can target both black crappie and white crappie, particularly around submerged structures and brush piles. Jigs, live minnows, and small crankbaits are effective baits for catching crappie. The spring and fall seasons are particularly productive for crappie fishing, as they gather in shallower waters to spawn.
Buckhorn Reservoir is also home to other fish species, including catfish, bream, and muskie. Catfish, such as channel catfish and blue catfish, can be found near the lake's bottom structures and are often caught using cut bait, stinkbaits, or live worms. Bream, including bluegill and redear sunfish, provide enjoyable angling opportunities, especially for families and young anglers using lightweight tackle and live bait. Muskie, a voracious predator, can be caught using spoons, spinnerbaits, or live minnows.
Buckhorn Reservoir in North Carolina offers a rewarding fishing experience with its abundant bass, crappie, catfish, and other species. Whether you're a bass angler, crappie enthusiast, or catfish lover, Buckhorn Reservoir provides a memorable fishing getaway in a serene and picturesque setting.

Primary fish species residing in Buckhorn Reservoir
Click images for fishing tips and details about each species.
Buckhorn Reservoir Amenities
Marina: NO
Boat Rental: NO
Boat Launch Ramp: YES
Campgrounds: NEARBY
RV Hookups: NEARBY
Lodging: NEARBY
Convenience Store: YES
Bait & Tackle: YES
Restaurant: NEARBY
Today's Weather & Forecast
Boating is allowed on Buckhorn Reservoir, providing anglers with easy access to different fishing areas. Whether you prefer a motorized boat, kayak, or canoe, the lake's boat ramps and marina facilities make it convenient to explore and fish different parts of the reservoir.
Public Boat Launch Ramps & Landings
Buckhorn Lake & Shelter Boat Ramp
Located along the northeast shores of the lake, near the dam, this three-lane boat ramp has docks, paved parking and a bait shop.
Click here for a North Carolina Fishing License.
Camping facilities are available near Buckhorn Reservoir, allowing anglers to extend their fishing trip and fully immerse themselves in the natural surroundings. Whether you prefer tent camping or RV camping, there are options to suit various preferences and needs.
Campgrounds & RV Parks Nearby
Rock Ridge Campground - 252 291-4477
Buckhorn Reservoir NC Map - Fishing & Camping Areas
Contact Information
Buckhorn Reservoir
City Of Wilson Buckhorn Lake & Shelter
8177 Rock Ridge School Rd
Sims, NC 27880
252 399-7530
Fishing lakes in each state.
Buckhorn Reservoir in NC
NORTH CAROLINA


Fishing for bass, trout and muskie in east central NC
Buckhorn Reservoir, in North Carolina.