Fishing At Fontana Lake
AKA: Fontana Reservoir
What to fish for...
Guide to fishing for largemouth bass, smallmouth bass, spotted bass, channel catfish, flathead catfish, black crappie, walleye, rainbow trout, brown trout, bluegill, yellow perch, steelhead and muskie at Fontana Lake in North Carolina.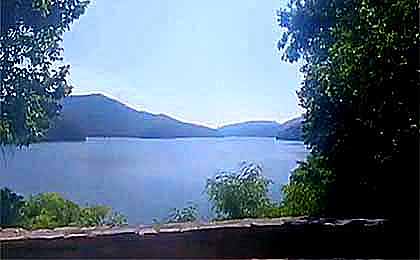 With over 230 miles of scenic shoreline, Fontana Lake offers a broad range of fishing opportunities. Well known as a bass tournament lake, it is home to bass over 10 pounds. Healthy populations crappie, perch, bluegill and walleye make this an excellent choice for fish-fry outings. If you like to fish for the big ones, the lake also boasts big catfish and muskie. If you prefer trout fishing, Fontana serves up both rainbow and brown trout. This 11,700-acre reservoir, located in the western part of the state, has a wide variety of camping and lodging choices. Public boat ramps and marinas make boating a pleasure, and boat rentals are available for varied types of boats. The lake has limited shoreline cover, but has a great deal of creek channels, coves, ledges and humps that hold fish - both deep and shallow, depending on time of year. There is limited shoreline access to much of the lake, but there are areas for fishing from shore. Boat, canoe, and kayak fishing are the preferred ways to fish these waters.
The purpose of this page is to deliver an overview of this lake, the fishing options, and area amenities. Our goal is to provide info to first time visitors, as well as beginner and novice anglers. We gathered details from personal experience, numerous trusted websites, and videos of fishing activity on the lake. These websites include the North Carolina Wildlife Resources Commission, marinas at the lake, campgrounds, boat rental agencies and others. By consolidating this information to one page it allows visitors to see the entire picture, all in one place.
Lake Video
Fontana Lake, located in the picturesque mountains of North Carolina, is a prime destination for fishing enthusiasts seeking a serene and rewarding fishing experience. Spanning over 10,000 acres, this scenic reservoir offers a diverse range of fish species and stunning natural surroundings.
One of the most prized fish species in Fontana Lake is the smallmouth bass. Anglers from near and far come to the lake in search of these feisty fighters. The rocky shorelines, submerged structures, and deep channels create excellent habitats for smallmouth bass. Anglers can target them using a variety of techniques such as casting crankbaits, working jigs, or using live bait. The thrill of hooking into a powerful smallmouth bass amidst the majestic mountain scenery is truly unmatched.
Fontana Lake is also known for its healthy population of walleye. Anglers can find these elusive fish near rocky points and drop-offs, particularly during dawn and dusk. Trolling with crankbaits, casting with jigs, or using live bait are popular methods for targeting walleye in the lake. The challenge of catching these prized fish adds to the allure of fishing in Fontana Lake.
In addition to smallmouth bass and walleye, Fontana Lake is home to other fish species such as largemouth bass, spotted bass, crappie, and various species of catfish. Anglers can try their luck with different fishing techniques and baits to target their desired species. The vastness and diversity of the lake provide endless opportunities for exploration and discovery.
Fontana Lake in North Carolina offers anglers a remarkable fishing experience amidst breathtaking mountain scenery. With its diverse fish species, including smallmouth bass, walleye, and more, the lake provides ample opportunities for both seasoned anglers and beginners. Whether you're casting a line for trophy bass or simply enjoying the tranquility of the lake, Fontana Lake is a destination that promises unforgettable fishing memories.

Primary fish species residing in Fontana Lake
Click images for fishing tips and details about each species.
Fontana Lake Amenities
Marina: YES
Boat Rental: YES
Boat Launch Ramp: YES
Campgrounds: YES
RV Hookups: YES
Lodging: YES
Convenience Store: NEARBY
Bait & Tackle: NEARBY
Restaurant: NEARBY
Today's Weather & Forecast
Boating is a popular activity on Fontana Lake, and anglers can take advantage of its expansive waters and multiple boat ramps. Whether you prefer a motorized boat, kayak, or canoe, the lake offers plenty of space for boating and exploring its various coves, inlets, and islands. Boaters can admire the scenic beauty of the surrounding mountains and enjoy a tranquil day on the water.
Fishing Boat Rentals
Alarka Marina
Rentals: Pontoon boats
828 488-3841
Almond Boat and RV Park
Rentals: Fishing boats, canoes, kayaks and pontoons
828 488-6423
Fontana Village Resort Marina
Rentals: Fishing boats, canoes, kayaks and pontoons
828 498-2017
Prince Boat Dock Parking Marina
Rentals: Pontoon boats
828 479-3704
Marinas
Alarka Marina
7230 Grassy Branch Rd
Bryson City, NC 28713
828 488-3841
Fontana Village Resort Marina
40 Fontana Dam Rd
Fontana Dam, NC 28733
828 498-2017
Prince Boat Dock Parking Marina
Fontana Lake
Robbinsville, NC 28771
828 479-3704
Public Boat Launch Ramps & Landings
Cable Cove Boating Access
County Rd 1287, Fontana Dam, NC 28733
This is a concrete ramp with primitive parking, just passed the Cable Cove Campground on Cable Cove Road.
Lemmons Branch Boat Launch
Conveniently located in the southwest sector of the lake, this two-lane concrete ramp has paved parking for over fifty vehicles. Take Highway 28 to Tsali Road to Lemons Branch Boatdock Road.
Prince Boat Dock Parking Marina
Rentals: Pontoon boats
This is a primitive ramp and parking, located on Thomas Park Road.
Tsali Boating Access Ramp
Located in the southwest sector of the lake, at the end of Tsali Road, this is a primitive launch area and parking.
Click here for a North Carolina Fishing License.
Camping facilities are available near Fontana Lake, allowing visitors to extend their fishing adventure and fully immerse themselves in the natural beauty of the area. Whether you prefer tent camping or RV camping, there are options to suit different preferences and comfort levels. Camping near Fontana Lake offers a peaceful retreat where you can relax by the campfire, share fishing tales, and enjoy the starry night sky.
Campgrounds & RV Parks Nearby
The Campground at Fontana Village - 828 498-2211
Turkey Creek Campground - 828 488-8966
Teaberry Hill RV Campground - 828 479-3953
Stecoah Valley RV Resort Campground - 239 707-3469
Fontana Lake NC Map - Fishing & Camping Areas
Contact Information
Fontana Lake
Fontana Village Resort Marina
40 Fontana Dam Rd
Fontana Dam, NC 28733
828 498-2129
Fishing lakes in each state.
Fontana Lake in North Carolina.
NORTH CAROLINA


Crappie, perch, bluegill and walleye fishing in western NC.
Fishing at Fontana Lake, in North Carolina.