Fishing At Jordan Lake
AKA: Lake Jordan, Jordan Reservoir
What to fish for...
Guide to fishing for largemouth bass, smallmouth bass, channel catfish, black crappie, white crappie, bluegill, white bass, yellow perch and striped bass at Jordan Lake in North Carolina.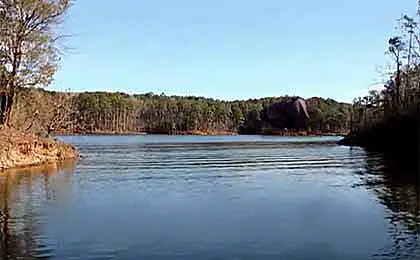 Bass and crappie dominate the attention of anglers at Jordan Lake. This is a 14,000-acre reservoir in the north-central part of the state, with a mixed variety of fish species to appeal to anyone who enjoys fresh-water fishing. Along with sunfish, striped bass, white bass and catfish round out the fishing options. Around 180 miles of shoreline provide plenty of fishing opportunities for kayak, boat, canoe or shoreline fishing. There is plenty of aquatic vegetation in the lake to keep it fertile and sustaining a healthy food chain. Marinas, campgrounds, eateries, lodging, stores and local guides are plentiful in the area. Boat rentals are available on the lake and there is public boat ramps for launching private watercraft. Come for a day of fishing or bring the family for an extended vacation here at Lake Jordan.
The purpose of this page is to deliver an overview of this lake, the fishing options, and area amenities. Our goal is to provide info to first time visitors, as well as beginner and novice anglers. We gathered details from personal experience, numerous trusted websites, and videos of fishing activity on the lake. These websites include the North Carolina Wildlife Resources Commission, marinas at the lake, campgrounds, boat rental agencies and others. By consolidating this information to one page it allows visitors to see the entire picture, all in one place.
Lake Video
Jordan Lake, located in central North Carolina, is a popular destination for fishing enthusiasts seeking a diverse range of fish species and outdoor recreational activities. The lake spans over 13,900 acres and offers anglers ample opportunities to cast their lines and reel in some impressive catches.
One of the standout species in Jordan Lake is the largemouth bass. The lake is known for its excellent bass fishing, with plenty of opportunities to target these prized game fish. Anglers can explore the lake's coves, points, and submerged structures to find bass hotspots. Techniques such as flipping, pitching, and topwater fishing can be effective in enticing largemouth bass. Jordan Lake is renowned for producing trophy-sized bass, making it an exciting destination for bass anglers of all levels of experience.
In addition to largemouth bass, Jordan Lake is home to a variety of other fish species. Crappie, including both black and white varieties, can be found in good numbers throughout the lake. Anglers targeting crappie often focus on submerged brush piles, bridge pilings, and standing timber using jigs, live minnows, or small crankbaits. Other popular species in the lake include catfish, sunfish, striped bass, and hybrid bass, offering anglers a diverse range of fishing opportunities.
Jordan Lake in North Carolina is a premier fishing destination with a variety of fish species and recreational activities to enjoy. From targeting largemouth bass to pursuing crappie, catfish, and more, anglers have plenty of opportunities to experience thrilling fishing adventures. Jordan Lake is a must-visit destination for anglers and nature lovers looking for a memorable fishing trip in North Carolina.

Primary fish species residing in Jordan Lake
Click images for fishing tips and details about each species.
Jordan Lake Amenities
Marina: YES
Boat Rental: YES
Boat Launch Ramp: YES
Campgrounds: YES
RV Hookups: YES
Lodging: YES
Convenience Store: NEARBY
Bait & Tackle: YES
Restaurant: YES
Today's Weather & Forecast
Boating is a popular activity on Jordan Lake, and the lake provides ample space and amenities for boaters to enjoy their time on the water. The lake features several boat ramps, marinas, and rental services, making it easy to launch a boat or rent one for the day. Whether you prefer a powerboat, pontoon, kayak, or canoe, Jordan Lake offers plenty of room to explore, fish, and enjoy water-based activities.
Fishing Boat Rentals
Crosswinds Boating Center Marina
Rentals: Kayaks
919 387-7011
Marinas
Crosswinds Boating Center Marina
565 Farrington Rd
Apex, NC 27523
919 387-7011
Public Boat Launch Ramps & Landings
Crosswinds Boat Ramp
This small, three-lane, concrete launch ramp is located at the south end of the Farmington Road Bridge. It has limited, gravel parking.
Ebenezer Boat Ramp
Located at the north end of the Beaver Creek Road Bridge, this four-lane, concrete ramp has two docks and plenty of paved parking.
Farrington Point Boat Ramp
Two docks and plenty of paved parking offers a four-lane ramp. There is also a portage ramp for small, non-motorized boats.
New Hope Boat Ramp
Three docks and six concrete ramps are supported with plenty of paved parking at this launch in the lower part of the main lake basin. Access is via W.H. Jones Road from Pea Ridge Road.
Parkers Creek Boat Ramp
This is a small concrete ramp with limited parking. It is located at the end of Parkers Creek Recreation Road, off I-64.
Poe's Ridge Boat Ramp
Located at the extreme southern tip of the lake, this launch includes three concrete ramps, a dock and paved parking for more than fifty vehicles with trailers. Access is via Moncure School Road from the Jordan Dam Road.
Poplar Point Boat Ramp
Located in Jordan Lake State Recreation Area, this is a four-lane, concrete launch ramp with paved parking for about fifty vehicles.
Seaforth Boat Ramp
This six-lane, concrete launch ramp has docks and plentiful parking. It is located off I-64 at Seaforth.
Vista Point Boat Launch
Excellent paved parking and two docks enhance this four-lane boat launch ramp, located at the east end of N. Pea Ridge Road.
Click here for a North Carolina Fishing License.
Camping facilities are available near Jordan Lake, offering a chance to extend your fishing trip and fully immerse yourself in the outdoor experience. The lake has multiple campgrounds and RV parks with various amenities, including picnic areas, hiking trails, and access to the lake. Camping near Jordan Lake allows anglers and outdoor enthusiasts to enjoy the natural beauty of the area, wake up to stunning lake views, and have convenient access to their favorite fishing spots.
Campgrounds & RV Parks Nearby
Jordan Lake State Rec Area- Poplar Point Campground - 919 362-0586
Jordan Lake Vista Point Family Campground - 919 362-0586
Parkers Creek Campground - 919 362-0586
Jordan Lake NC Map - Fishing & Camping Areas
Contact Information
Jordan Lake
Jordan Lake Marina
565 Farrington Rd
Apex, NC 27523
919 387-7011
Fishing lakes in each state.
Jordan Lake in North Carolina.
NORTH CAROLINA


Bass and crappie fishing in north-central NC.
Fishing at Jordan Lake, in North Carolina.