Kids Fishing In North Carolina
Ideas and locations to take kids fishing in NC.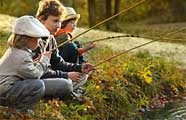 Fishing and the great outdoors offers kids an alternative to many influences they encounter in their busy lives today. A single fishing trip could be the turning point in a young life, and we encourage you to invest the time in North Carolina kids. The rewards are endless and it takes so little effort. The purpose of this page is to share the basics about taking kids fishing and tips to make it fun by keeping it simple.
North Carolina offers great opportunities for kids to enjoy fishing and connect with nature. There are several fish species that are perfect for young anglers to target in the state's urban fishing locations.
One popular fish species for kids fishing is the bluegill, also known as sunfish or bream. Bluegills are abundant in many urban fishing locations and can be easily caught using simple fishing techniques. They provide a thrilling experience for kids as they eagerly bite on hooks and put up a good fight. Bluegills are known for their beautiful colors and make for a great introductory fish for young anglers.
Another species that kids can target is the channel catfish. Catfish are often stocked in urban fishing locations and can be caught using basic bait and tackle setups. These fish are known for their size and strength, providing an exciting challenge for young anglers. Catching a catfish can be a memorable experience for kids as they reel in these bottom-dwelling fish.
North Carolina's urban fishing locations also offer opportunities to catch rainbow trout. These fish are often stocked in designated areas, such as community ponds and urban lakes, to provide recreational fishing for kids and families. Rainbow trout are known for their vibrant colors and acrobatic jumps when hooked, making them a favorite among young anglers.
Some of the popular urban fishing locations in North Carolina include city parks, community ponds, and urban lakes. Places like Lake Crabtree in Raleigh, Freedom Park Pond in Charlotte, and Lake Julian in Asheville offer accessible fishing opportunities for kids. These locations are often well-maintained, have amenities such as fishing piers and easy access to shorelines, and may provide fishing clinics or events specifically designed for kids.
Participating in kids fishing programs or events organized by local community centers, conservation agencies, or fishing clubs can also provide children with a supportive and educational fishing experience. These programs often provide fishing gear, instruction on fishing techniques, and opportunities to connect with other young anglers.
North Carolina's urban fishing locations provide a convenient and enjoyable way for kids to experience the joy of fishing. Whether it's catching bluegills, catfish, or rainbow trout, these urban fishing spots offer a safe and accessible environment for young anglers to develop their fishing skills, create lasting memories, and foster a lifelong love for the outdoors.

Places in North Carolina to take kids fishing
Consider these small lakes, ponds, creeks and urban fishing locations as places to take a kid fishing in the Tar Heel State.
Asheville
- French Broad River Park
- Lake Julian Park
- Lake Tomahawk Park
Charlotte
- Copperhead Island Park
- Freedom Park Lake
- George Poston Park
- Hornet's Nest Park Pond
- McAlpine Creek Park Pond
- Lake Wylie in
- Mountain Island Lake
- Park Road Park
- Reedy Creek Park Ponds
- Squirrel Lake
Durham
- Eno River State Park
- Lake Michie
Fayetteville
- J. Bayard Clark Park
- Lake Rim Park
- Mazarick Park
Greensboro
- Bur-Mil Park Ponds
- Greensboro Country Park
- Hagan-Stone Park Ponds
- Higgins Lake
- Lake Brandt
- Lake Townsend
- Oak Hollow Lake
- Oka T. Hester Park Lake
Huntersville
- Geitner-Rotary Park
- Lake Norman State Park
Jackson
- Apex Community Park Lake
- Bass Lake Park
- Frog Pond
- Lake Michael Park
Murphy
- Apalachia Lake
Raleigh
- William B. Umstead Park
- Blue Jay Point Park
- Harris Lake County Park
- Lake Johnson
- Lake Wheeler Park
- Reedy Creek Lake
- Shelley Lake
- Sycamore Lake
Shelby
- Kings Mountain Reservoir
Top 3 tips for taking kids fishing in NC
1. Make sure that the goal is to have fun. Catching fish is a bonus.
2. Keep it simple. Simple tackle, techniques and locations.
3. Keep the focus on the kids. Be a hero by helping them enjoy the day.
Click here for additional tips to create a successful day of fishing for kids.
Kids, fishing and smiles naturally go together. Take a kid fishing and you just might change the course of their life. Then take pictures and send us one of them holding their prized catch. We will happily post it here.
Youngsters with their prized catch
---
Levi Martin, age 12 yrs old. Caught this nice bass on a plastic worm, fishing in a friend's pond in Faith, NC. Quickly he was shouting with excitement as he was reeling it in. Then it jumped and splashed with a fight. Levi then scooped the fish out of the water with his hands. At that moment he realized the monster sized bass that he caught. This is his biggest catch ever! So proud and excited!
---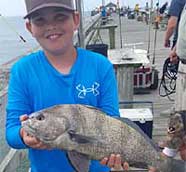 John Yelton, 11 years old, from Denver North Carolina caught this 4 1/2 lb black drum at Ocean Crest pier in Oak Island, NC.
---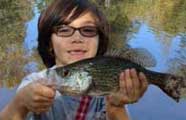 A very proud Aubry Ford caught this black crappie at the Eno River in Durham North Carolina.
---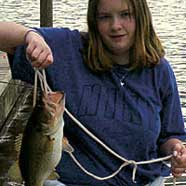 13 year old Kayla Devaney, caught this nice 3 lb 2 oz bass at Cane Creek Park in Waxhaw, NC on Wednesday May 25 at about 3 pm while fishing with with worms.
---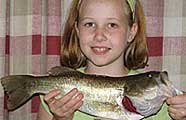 Julia Pethtel shows off a nice 17 3/4", 3 lb 5 oz bass she caught at a private pond in Asheville, North Carolina while fishing with with a weedless rigged, watermelon super fluke, on a #2 worm hook.
---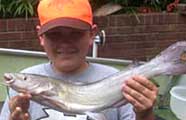 Cade Buchanan caught this nice catfish at Belews Creek Lake in North Carolina.
---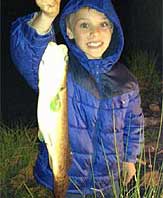 Nine-year old, Landon Gozalkowski shows off his bowfin he caught in the Catawba River in Hickory North Carolina.
---
Kids fishing locations and information, by state.
Help us identify other youth fishing spots in NC.
If you are aware of a great place to take kids fishing in your area, please let us know. We can add it to our list. Every kid that catches a fish will appreciate the fact that you made the effort.
NORTH CAROLINA