Taking Kids Fishing In Montana
Ideas and locations to take kids fishing in MT.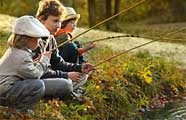 Montana offers excellent opportunities for kids to enjoy fishing and learn about the great outdoors. Several fish species can be targeted, providing exciting experiences for young anglers. Rainbow trout are a popular species for kids to catch, as they are often stocked in many urban fishing locations throughout the state. These stocked trout provide a great chance for kids to reel in their first fish and experience the joy of fishing.
In addition to rainbow trout, Montana's urban fishing locations also offer the opportunity to catch other fish species such as bluegill, largemouth bass, and yellow perch. Bluegill, with their colorful appearance and willingness to bite, are often a hit with kids. Largemouth bass provide an added challenge and excitement, while yellow perch are abundant in some urban ponds and lakes, offering kids a chance to catch a variety of fish.
Montana's urban fishing locations are conveniently situated near towns and cities, making them easily accessible for families. Many of these spots are stocked with fish by the Montana Fish, Wildlife & Parks department, ensuring a good fishing experience for young anglers. Examples of popular urban fishing spots for kids in Montana include Bozeman Pond, Helena's Centennial Park Pond, and Billings' Lake Elmo.
These urban fishing locations often have amenities such as fishing piers, picnic areas, and nearby parking, providing a family-friendly environment for a day of fishing. Some locations may even have fishing events or programs specifically designed for kids, offering education and support for young anglers.
Participating in kids' fishing events or programs is a great way to introduce children to fishing in a safe and supportive environment. These events often include fishing clinics, demonstrations, and activities designed to enhance the fishing experience for kids. They also provide an opportunity for children to learn about fish habitat, conservation, and the importance of respecting nature.
Montana's commitment to providing accessible fishing opportunities for kids allows families to enjoy quality time together while fostering a love for the outdoors. Whether it's catching trout in an urban pond or reeling in a bluegill from a fishing pier, Montana's urban fishing locations offer a perfect setting for kids to develop their fishing skills and create lasting memories.
Fishing and the great outdoors offers kids an alternative to many influences they encounter in their busy lives today. A single fishing trip could be the turning point in a young life. Ice fishing in winter is a good way to get them outdoors and introduce them to fishing. We encourage you to invest the time in kids. The rewards are endless and it takes so little effort.

Places in Montana to take kids fishing
Consider these small lakes, ponds, creeks and urban fishing locations as places to take a kid fishing in the Treasure State.
Augusta
- Gibson Reservoir
Billings
- Lake Elmo State Park
Bozeman
- Bozeman Pond
Kalispell
- Ashley Lake
Missoula
- Bess Reed Park
- Caras Park
- Greenough Park
- Jacobs Island Park
- Kiwanis Park
- McCormick Park
- Toole Park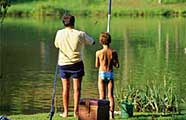 Montana offers many opportunities for kids to fish and experience the thrill of the "tap-tap-tap". Watch the eyes of a youth light up no matter how big or small their catch may be. You have the opportunity to experience it with them and share their joy.
Top 3 tips for taking kids fishing in MT
1. Make sure that the goal is to have fun. Catching fish is a bonus.
2. Keep it simple. Simple tackle, techniques and locations.
3. Keep the focus on the kids. Be a hero by helping them enjoy the day.
Click here for additional tips to create a successful day of fishing for kids.
Kids Fishing Video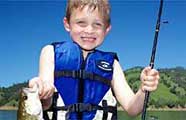 Kids, fishing and smiles naturally go together. Take a kid fishing and you just might change the course of their life. Then take pictures and send us one of them holding their prized catch. We will happily post it here.
Kids fishing locations and information, by state.
Help us identify other youth fishing spots in MT.
If you are aware of a great place to take kids fishing in your area, please let us know. We can add it to our list. Every kid that catches a fish will appreciate the fact that you made the effort.
MONTANA