Fishing At Noxon Reservoir
AKA: Noxon Rapids Reservoir
What to fish for...
Guide to fishing for largemouth bass, smallmouth bass, walleye, rainbow trout, brook trout, brown trout, cutthroat trout, lake trout, pumpkinseed sunfish, yellow perch, kokanee salmon and northern pike at Noxon Reservoir in Montana.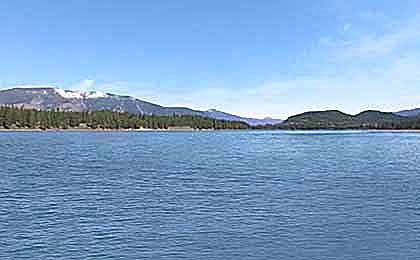 Nestled amongst the beauty of mountains and forests, Noxon Reservoir is very easy on the eyes and provides visitors with excellent out door adventure options. Boating and fishing are very popular at this 6,100-acre lake in the west-central part of the state, at Trout Creek.
Noxon Reservoir, located in western Montana, is a popular fishing destination known for its scenic beauty and excellent fishing opportunities. This reservoir, covering over 7,000 acres, offers anglers a variety of fish species to target.
One of the popular fish species found in Noxon Reservoir is the northern pike. These aggressive predators are highly sought after by anglers for their strong fights and impressive size. Noxon Reservoir is known for its healthy population of northern pike, providing anglers with the opportunity to catch these toothy predators. Anglers often use techniques such as casting with large spoons, swimbaits, or topwater lures to entice the pike.
Walleye is another sought-after species in Noxon Reservoir. These game fish offer anglers a thrilling fishing experience and can be targeted using techniques such as jigging with live bait or artificial lures, trolling with crankbaits, or casting near submerged structures. Noxon Reservoir has produced impressive walleye catches over the years, attracting anglers in search of these prized fish.
Noxon Reservoir also supports populations of other fish species such as smallmouth bass, largemouth bass, and rainbow trout. Smallmouth bass, known for their aggressive nature and acrobatic fights, can be targeted using techniques such as casting with jigs, crankbaits, or topwater lures. Largemouth bass can be found in the reservoir's weed beds and can be caught using similar techniques. Rainbow trout provide additional angling opportunities and can be targeted using techniques such as trolling with spoons, spinners, or flies.
Boating is a popular activity on Noxon Reservoir, and anglers can access the lake using the public boat ramps available. The reservoir allows for motorized boats, providing anglers with the opportunity to explore different areas of the reservoir and access prime fishing spots. Whether it's trolling for walleye, casting for northern pike, or searching for other fish species, boating enhances the overall fishing experience on Noxon Reservoir.
Camping facilities can be found near Noxon Reservoir, offering anglers the opportunity to extend their fishing trips and fully enjoy the natural beauty of the area. Campgrounds provide amenities such as picnic areas, fire pits, and restrooms, making it convenient for anglers and their families to relax and unwind after a day on the water.
Anglers visiting Noxon Reservoir should be aware of fishing regulations and obtain the appropriate licenses. It's important to follow catch limits, size restrictions, and specific rules regarding certain fish species to ensure the sustainability of the fish populations and the preservation of the reservoir's ecosystem.
With its variety of fish species, excellent fishing opportunities, and scenic surroundings, Noxon Reservoir offers anglers a memorable fishing experience in Montana. Whether it's targeting northern pike, pursuing walleye, or casting for other popular fish species, Noxon Reservoir provides an exciting and enjoyable angling adventure amidst the beauty of Montana's landscapes.
There is very limited access for fishing from the bank along the 60 miles of shoreline, so fishing from a boat is the best option. The Trout Creek boat launch ramp is open to the public during the warm season. Noxon Rapids Reservoir is considered a top-notch bass lake for both largemouth and smallmouth. Popular as well are northern pike, trout, perch and kokanee. There is no marina or rental boats at the lake. Ice fishing in winter might reward you with a giant northern pike or plenty of perch and walleye for a fish fry.

Primary fish species residing in Noxon Reservoir
Click images for fishing tips and details about each species.
Noxon Rapids Reservoir Amenities
Marina: NO
Boat Rental: NO
Boat Launch Ramp: YES
Campgrounds: YES
RV Hookups: NO
Lodging: YES
Convenience Store: YES
Bait & Tackle: YES
Restaurant: YES
Today's Weather & Forecast
Public Boat Launch Ramps & Landings
Noxon Reservoir Boat Launch Ramp
Located in the northwest corner of the lake, at the west end of the dam, off Stevens CR Road, this is a one-lane, concrete ramp with a dock and gravel parking.
Trout Creek Boat Launch Ramp
Located mid lake, west side, off State Route 200, this is a two-lane, concrete ramp with a dock and paved parking.
Click here for a Montana Fishing License.
Campgrounds & RV Parks Nearby
Marten Creek Campground - 406 293-6211
Noxon Reservoir MT Map - Fishing & Camping Areas
Lake Video
Contact Information
Noxon Reservoir
Marten Creek Campground
Trout Creek Back Rd
Trout Creek, MT 59923
406 293-6211
Fishing lakes in each state.
Noxon Reservoir in MT
MONTANA


Fishing for largemouth bass, smallmouth bass and northern pike in west-central MT.
Noxon Reservoir, in Montana.