Guide To Fishing At McDonald Lake
AKA: Lake McDonald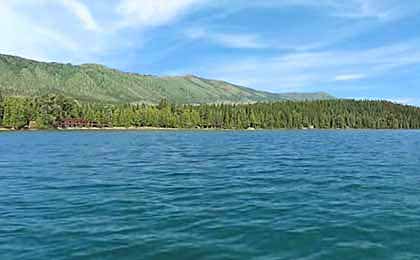 The cold, clear water of McDonald Lake is home to trout and salmon and an awesome place to spend a day. The scenery is spectacular and the fishing is too. This is a 6,800-acre lake in the northwest part of the state, in Glacier National Park.
McDonald Lake, located in Glacier National Park, Montana, is a picturesque alpine lake that offers anglers a serene fishing experience amidst stunning natural surroundings. This pristine lake is known for its crystal-clear waters and provides a habitat for various fish species.
One of the popular fish species found in McDonald Lake is the cutthroat trout. The lake is known for its native Westslope cutthroat trout population, offering anglers the opportunity to catch these beautiful and elusive fish. Anglers can target cutthroat trout using techniques such as fly fishing with dry flies, nymphs, or streamers. The clear waters of McDonald Lake make it an ideal setting for sight fishing and presenting flies to these native trout.
Camping facilities are available near McDonald Lake, allowing anglers to fully immerse themselves in the beauty of Glacier National Park. Campgrounds offer amenities such as picnic areas, fire pits, and restrooms, making it convenient for anglers and their families to enjoy the park while camping near the lake.
Anglers visiting McDonald Lake should be aware of fishing regulations within Glacier National Park and obtain the appropriate licenses. It's important to follow catch limits, size restrictions, and specific rules to ensure the conservation and preservation of the fish populations and the natural environment.
With its breathtaking mountain vistas, pristine waters, and the opportunity to catch native cutthroat trout, McDonald Lake offers anglers a unique and memorable fishing experience in the heart of Glacier National Park. Whether it's fly fishing along the shoreline or exploring the nearby streams, this picturesque lake provides a tranquil and rewarding angling adventure amidst the awe-inspiring landscapes of Montana.
While there are no FWP access areas for fishing from the bank, the majority of the lake can be fished from shore when water levels are down a few feet. And there's 22 miles of shoreline to enjoy. This is the only lake in the park that allows boating

What to fish for...
Fishing for rainbow trout, cutthroat trout, lake trout and kokanee salmon at McDonald Lake in Montana.
Primary fish species residing in McDonald Lake
Click images for fishing tips and details about each species.
McDonald Lake Amenities
Marina: NO
Boat Rental: YES
Boat Launch Ramp: YES
Campgrounds: YES
RV Hookups: YES
Lodging: YES
Convenience Store: YES
Bait & Tackle: YES
Restaurant: YES
Today's Weather & Forecast
Fishing Boat Rentals
Glacier Outfitters
Rentals: Kayaks
406 219-7466
Public Boat Launch Ramps & Landings
McDonald Lake Boat Launch Ramp
Located at the south end of the lake, off Apgar Loop, this is a one-lane, concrete ramp with a dock and paved parking.
Click here for a Montana Fishing License.
Campgrounds & RV Parks Nearby
West Glacier RV Park - 406 888-5580
Fish Creek Campground - 406 888-7800
Apgar Campground - 406 888-7800
Sprague Creek Campground - 406 888-7800
McDonald Lake MT Map - Fishing & Camping Areas
Lake Video
Contact Information
McDonald Lake
West Glacier RV Park
350 River Bend Dr
West Glacier, MT 59936
406 888-5580
Fishing lakes in each state.
McDonald Lake in MT
MONTANA


Fishing for trout and salmon in northwest MT.
McDonald Lake, in Montana.