Fishing At Lake Elwell
AKA: Tiber Reservoir
What to fish for...
Guide to fishing for channel catfish, black crappie, walleye, rainbow trout, lake trout, yellow perch and northern pike at Lake Elwell in Montana.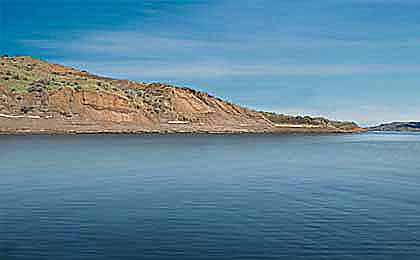 Home to giant walleye, northern pike and lake trout, Lake Elwell, aka Tiber Reservoir, is a 14,800 acre lake in the north-central part of the state, 15 miles southwest of Galata. This sprawling fishery has over 180 miles of shoreline and plenty of fish to chase.
Lake Elwell, also known as Tiber Reservoir, is a sprawling body of water located in north-central Montana. It offers anglers a wide range of fishing opportunities and a serene setting surrounded by scenic landscapes. The reservoir covers over 11,000 acres and provides ample space for fishing, boating, and camping.
One of the popular fish species found in Lake Elwell is the walleye. The reservoir is known for its healthy population of walleye, which attracts anglers from far and wide. Walleye can be caught using techniques such as trolling with crankbaits, jigging with live bait or artificial lures, or casting near submerged structures. Lake Elwell has produced impressive walleye catches over the years, making it a favored spot for anglers seeking a thrilling walleye fishing experience.
Lake Elwell is also home to other fish species, including northern pike and smallmouth bass. Northern pike, known for their aggressive nature and impressive size, offer an exciting challenge for anglers. They can be caught using various methods such as casting with large lures, trolling, or fly fishing. Smallmouth bass, on the other hand, provide a spirited fight and can be targeted using techniques such as casting with jigs, crankbaits, or topwater lures.
Boating is a popular activity on Lake Elwell, with several boat ramps available for anglers to launch their boats. The reservoir's expansive size and open waters provide plenty of space for boating enthusiasts to explore different areas and access prime fishing spots. Whether it's trolling along the reservoir's shorelines or navigating near underwater structures, boating enhances the overall fishing experience on Lake Elwell.
Camping opportunities can be found in the surrounding areas, allowing anglers to immerse themselves in the natural beauty of the reservoir. Campgrounds offer amenities such as picnic areas, restrooms, and scenic views of the reservoir and surrounding landscape. Anglers and their families can enjoy the tranquility of the outdoors while being in close proximity to their favorite fishing spots.
Anglers visiting Lake Elwell should familiarize themselves with fishing regulations and obtain the appropriate licenses. It's important to practice responsible fishing, including following catch limits and size restrictions, as well as practicing catch-and-release when necessary, to ensure the sustainability of the fish populations and the preservation of the reservoir's ecosystem.
With its diverse fish species, stunning landscapes, and abundant fishing and boating opportunities, Lake Elwell provides an unforgettable fishing experience in the heart of Montana. Whether it's targeting walleye, chasing northern pike, or casting for smallmouth bass, Lake Elwell offers anglers a chance to connect with nature and enjoy the thrill of reeling in some impressive fish.
Walleye, pike, trout, catfish and perch all reside here in good numbers. Boat launch ramps, some improved - others primitive, are located at or nearby most campgrounds around the lake.

Primary fish species residing in Lake Elwell
Click images for fishing tips and details about each species.
Tiber Reservoir Amenities
Marina: YES
Boat Rental: NO
Boat Launch Ramp: YES
Campgrounds: YES
RV Hookups: NEARBY
Lodging: NEARBY
Convenience Store: NO
Bait & Tackle: NEARBY
Restaurant: YES
Today's Weather & Forecast
Public Boat Launch Ramps & Landings
South Bootlegger Campground Boat Launch Ramp
Located mid lake, on the south side of the lake, off Bootlegger Trail, this is a one-lane, concrete ramp with gravel parking.
Timber Dam Boat Launch Ramp
Located in the southeast section of the lake, off at the west end of the dam, this is a two-lane, concrete ramp with a dock and gravel parking.
Timber Marina Boat Launch Ramp
Located in the northeast section of the lake, north side, off S Tiber Road, this is a one-lane, concrete ramp with gravel parking.
Click here for a Montana Fishing License.
Campgrounds & RV Parks Nearby
Willow Creek Campground - 406 759-5077
Galata Motel and RV Campground - 406 432-2352
Tiber Marina Campground - 406 759-5637
Lake Elwell MT Map - Fishing & Camping Areas
Lake Video
Contact Information
Lake Elwell
Willow Creek Campground
Willow Creek Rd
Lothair, MT 59461
406 759-5077
Fishing lakes in each state.
Tiber Reservoir in MT
MONTANA


Fishing for walleye, northern pike and lake trout in north-central MT.
Lake Elwell, in Montana.