Guide To Fishing At Lake Frances
AKA: Valier Lake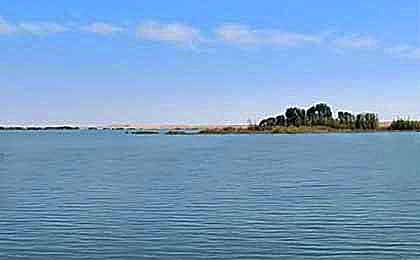 Wrapping around the southern outskirts of Valier, Lake Frances is a 3,600-acre lake in the northwest part of the state. Anglers willing to do bit of walking can fish from the bank almost anywhere along about 12 miles of shoreline.
Lake Frances, located in north-central Montana, is a popular fishing destination known for its abundance of fish species and serene setting. This reservoir covers approximately 4,500 acres and provides anglers with a variety of fishing opportunities.
One of the popular fish species found in Lake Frances is the walleye. The reservoir is known for its healthy walleye population, offering anglers a chance to catch these prized game fish. Anglers can target walleye using techniques such as trolling with crankbaits, jigging with live bait or artificial lures, or casting near underwater structures. Lake Frances has produced impressive walleye catches, making it a favorite spot for anglers seeking a rewarding fishing experience.
Northern pike is another sought-after species in Lake Frances. These aggressive predators offer anglers an exciting fight and can be targeted using techniques such as casting with large spoons, spinners, or jerkbaits. Northern pike are known for their size and voracious appetite, making them a thrilling catch for anglers of all skill levels.
In addition to walleye and northern pike, Lake Frances is also home to other fish species such as yellow perch and black crappie. Yellow perch are popular among anglers for their delicious taste and can be caught using small jigs or baited hooks. Black crappie, known for their schooling behavior and sporty fight, can also be targeted using various methods such as casting with small jigs or using live bait.
Boating is a popular activity on Lake Frances, and anglers can access the lake using the public boat ramp located on its shores. Boating allows anglers to explore different areas of the lake and access prime fishing spots. Whether it's trolling along the reservoir's open waters or navigating near submerged structures, boating enhances the angling experience on Lake Frances.
Camping opportunities can be found in the surrounding areas, allowing anglers to extend their fishing trips and fully immerse themselves in the natural beauty of the reservoir. Campgrounds offer amenities such as picnic areas, restrooms, and lakeside campsites, providing a comfortable and convenient base for anglers and their families.
Anglers visiting Lake Frances should be aware of fishing regulations and obtain the appropriate licenses. It's important to practice responsible fishing, including following catch limits and size restrictions, as well as practicing catch-and-release when necessary, to ensure the sustainability of the fish populations and the preservation of the reservoir's ecosystem.
With its diverse fish species, tranquil setting, and abundant fishing and boating opportunities, Lake Frances offers anglers a memorable fishing experience in the heart of Montana. Whether it's targeting walleye, casting for northern pike, or pursuing other popular fish species, Lake Frances provides an opportunity to connect with nature and enjoy the thrill of reeling in some impressive fish.
Boats can be launched off Lake Rd just past the camping area. Trout, walleye, perch and northern pike swim in these waters. Ice fishing in winter is popular.

What to fish for...
Fishing for walleye, rainbow trout, yellow perch and northern pike at Lake Frances in Montana.
Primary fish species residing in Lake Frances
Click images for fishing tips and details about each species.
Lake Frances Amenities
Marina: NO
Boat Rental: NO
Boat Launch Ramp: YES
Campgrounds: YES
RV Hookups: NO
Lodging: YES
Convenience Store: YES
Bait & Tackle: YES
Restaurant: YES
Today's Weather & Forecast
Public Boat Launch Ramps & Landings
Lake Frances Boat Launch Ramp
Located in the northeast section of the lake, off Lake Avenue, this is a one-lane, concrete ramp with gravel parking.
Click here for a Montana Fishing License.
Campgrounds & RV Parks Nearby
Lake Frances Inn RV Park - 406 279-3476
Lake Frances MT Map - Fishing & Camping Areas
Lake Video
Contact Information
Lake Frances
Lake Frances Inn
407 Teton Ave
Valier, MT 59486
406 279-3476
Fishing lakes in each state.
Lake Francis in MT
MONTANA


Fishing for trout, perch and northern pike in northwest MT.
Lake Frances, in Montana.