Taking Kids Fishing In Iowa
Ideas and locations to take kids fishing in IA.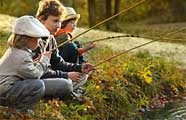 Fishing and the great outdoors offers kids an alternative to many influences they encounter in their busy lives today. A single fishing trip could be the turning point in a young life, and we encourage you to invest the time in kids. A nice way to introduce kids to fishing is via ice fishing. It is a great way to get them outdoors when they are normally cooped up in the house. The rewards are endless and it takes so little effort.
Iowa offers plenty of opportunities for kids to enjoy the excitement of fishing and connect with nature. Many urban areas in Iowa have designated fishing locations that are well-suited for young anglers, providing a safe and accessible environment for kids to learn and practice their fishing skills.
One of the most popular fish species for kids to target is bluegill. Bluegill are abundant in Iowa's lakes, ponds, and urban fishing locations. They are known for their willingness to bite and provide a fun and rewarding fishing experience for young anglers. Bluegill can be caught using simple and basic fishing techniques, such as using a small hook, bobber, and worm as bait. They can often be found near the shoreline, around docks, or near submerged structures, making them easily accessible for kids.
Another popular fish species for kids to catch in Iowa is catfish. Channel catfish, in particular, are commonly stocked in urban fishing locations. These fish are relatively easy to catch and provide a thrilling fight for young anglers. Using prepared baits, stinkbaits, or even hot dog chunks as bait can attract catfish. Fishing for catfish often requires patience, but the reward of reeling in a hefty catfish is well worth it for young anglers.
Some of the urban fishing locations in Iowa include small lakes, ponds, and community fishing spots in parks or recreation areas. These areas are often well-maintained, have easy access, and provide amenities such as fishing piers, picnic areas, and restrooms. Examples of urban fishing locations in Iowa include Terra Lake in Johnston, Ada Hayden Heritage Park Pond in Ames, and the Discovery Pond at the Ankeny Sports Complex. These areas are designed to make fishing accessible and enjoyable for kids and their families.
Participating in kids' fishing events and clinics is another great way to introduce young anglers to the sport. Various organizations and fishing clubs in Iowa host these events, offering opportunities for kids to learn fishing techniques, practice casting, and even win prizes. These events often provide fishing gear and bait for kids to use, making it convenient for families who may not have their own equipment.
Overall, Iowa provides numerous opportunities for kids to experience the joys of fishing in urban environments. With accessible fishing locations, plentiful fish species such as bluegill and catfish, and organized kids' fishing events, young anglers can develop a love for fishing and create lasting memories in the great outdoors of Iowa.

Places in Iowa to take kids fishing
Consider these small lakes, ponds, creeks and urban fishing locations as places to take a kid fishing in the Hawkeye State.
Hatchery Fishing
Big Spring Hatchery is the home of Iowa's first kid's trout fishing pond.
Cedar Rapids
- Ellis Park
Davenport
- Credit Island Park
Des Moines
- Gray's Lake Park
Dubuque
- A.Y. McDonald Park
- Bergfeld Rec Area
Iowa City
- City Park
- Peninsula Park
Lehigh
- Brushy Creek Lake
Spirit Lake
- Little Spirit Lake
Waterloo
- Cedar Bend Park
- Cedar River Park
- Riverview Rec Area
Trout stocking in urban lakes.
Urban lakes which are stocked with trout include Ada Hayden, Banner Lake (South), Big Lake, Discovery Park, Heritage Pond, Lake of the Hills, Moorland Pond, North Prairie, Ottumwa Park Pond, Petoka, Prairie Park, Sand Lake, Scharnberg Pond and Wilson Lake.
Top 3 tips for taking kids fishing in IA
1. Make sure that the goal is to have fun. Catching fish is a bonus.
2. Keep it simple. Simple tackle, techniques and locations.
3. Keep the focus on the kids. Be a hero by helping them enjoy the day.
Click here for additional tips to create a successful day of fishing for kids.
Kids Fishing Video
Youngsters with their prized catch
---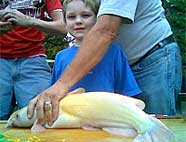 Alex Carlton, age 8 landed this big albino catfish at a fishing derby at Davenport Iowa's Vaderveer Lagoon. The fish was 25 inches long.
---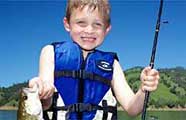 Kids, fishing and smiles naturally go together. Take a kid fishing and you just might change the course of their life. Then take pictures and send us one of them holding their prized catch. We will happily post it here.
Kids fishing locations and information, by state.
Help us identify other youth fishing spots in IA.
If you are aware of a great place to take kids fishing in your area, please let us know. We can add it to our list. Every kid that catches a fish will appreciate the fact that you made the effort.
IOWA