Choose From The Best Fishing Guides In Iowa
Hire a guide to take you fishing in IA.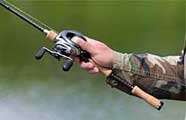 Hire a fishing guide to fish for largemouth bass, smallmouth bass, channel catfish, flathead catfish, blue catfish, black crappie, white crappie, walleye, rainbow trout, brook trout, brown trout, bluegill, green sunfish, rock bass, white bass, yellow bass, yellow perch, stripers, bowfin, longnose gar, muskie, northern pike, paddlefish, sauger, saugeye and tiger muskie in local lakes.

Iowa Fishing Guides
Other Local Guides
For the ultimate fishing experience, hire a professional guide. They know the IA fishery inside out and have determined the best techniques for catching fish at various times of the year.
JTG Expeditions
Your Okoboji, Iowa, fishing guide and Spirit Lake, Iowa perch fishing guide, provides all your fishing equipment...rods, reels, bait and tackle and you'll head straight to the fish.
Kevan Paul's Guide Service
We have been hard and soft water fishing the Midwest for many years. Some of the lakes we like to target are Clear Lake, Spirit Lake, East and West Okoboji Iowa just to name a few. One thing that has really made us different from everybody else is that we are accomplished tournament fisherman on these body's of water.
Ryan Hale's Guide Service
Offers fishing for walleye, small mouth bass, large mouth bass, perch, pike, and panfish on the Iowa Great Lakes.
Iowa Fishing Guide Services
In addition to catching fish, guides teach you techniques which you will use over a lifetime of fishing. Learn tips on rods, reels, line, knots, lures, hook types, techniques and much more...all by spending the day in a boat with a local guide.
Fishing guide information for other states.
IOWA