Choose From The Best Fishing Guides In Florida
Hire a guide to take you fishing in FL.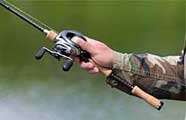 Hire a fishing guide to fish for largemouth bass, spotted bass, shoal bass, channel catfish, flathead catfish, blue catfish, white catfish, black crappie, bluegill, flier sunfish, redbreast sunfish, redear sunfish, spotted sunfish, warmouth, white bass, stripers, alligator gar, bowfin, chain pickerel and longnose gar in local lakes.

Florida Fishing Guides
Other Local Guides
For the ultimate fishing experience, hire a professional guide. They know the FL fishery inside out and have determined the best techniques for catching fish at various times of the year.
Florida Bass Fishing Guides - 321-303-9207
Capt Tim Fey - Tim@bassfishingfl.com
Focus Species: Largemouth Bass. Great bass fishing action in Central Florida on some of the best lakes Florida has to offer. Close to all 3 major theme parks for your complete vacation.
Florida Bass Adventures - 352-603-5467
Steve Boyd - cherrokee13@msn.com
Trophy bass fishing in Orlando Florida with Florida Bass Adventures Guide Service. Pro bass fishing guides in Central Florida Orlando area. Lake Toho, Kissimmee chain and the Harris Chain of Lakes.
Pure Enjoyment Fishing Charters - 407 402-2990
Captain John Batchelor
Focus Species: Bass, bream and some saltwater species. Pure Enjoyment Fishing Charters offers and array of fishing from bass to bream, redfish to grouper and even bow fishing opportunities. We are conveniently located in the Central Florida area. Give us a call or email!
Acebassguideservice - 866 881-1563
Bill weaver - weaver6011@bellsouth.net
Focus Species: bass, specks, redfish, snook and tarpon. We provide all fishing tackle and refreshments.
Gators Big Bass Guide Service - 407 856-7961
Capt. Dean Puller - dpuller@cfl.rr.com
Focus Species: Largemouth bass. Gators is a full time professional guide service offering half day, 3/4 day and full-day bass fishing trips. Gators has been guiding clients to trophy bass for over 17 years with customer satisfaction our number 1 goal.
Freshwater Fishing Trips - 770 502-9560
Teresa Robert Blake - info@fishingwebsite.net
Focus Species: Hybrids, crappies and stripers. Lake guide fishing trips, hybrids, crappies, stripers.
The Crappie Fisherman - 352-625-1180
Mike Baker - crappiefisherman@embarqmail.com
Focus Species: Crappie. Crappie fishing at its best- tight lining-flat line trolling in all of central FL lakes and rivers day and 1/2 day trips. No fish no pay for second trip.
Florida Fishing Guide Services
In addition to catching fish, guides teach you techniques which you will use over a lifetime of fishing. Learn tips on rods, reels, line, knots, lures, hook types, techniques and much more...all by spending the day in a boat with a local guide.
Fishing guide information for other states.
FLORIDA