Fishing At Lake Weir
AKA: Carney Island Recreation Area
What to fish for...
Guide to fishing for largemouth bass, black crappie, bluegill and redear sunfish at Lake Weir in Florida.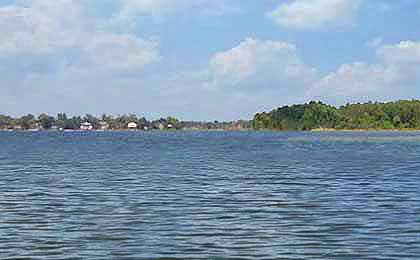 A nice place to vacation, ideal for boat parties and an excellent destination for quality fishing, Lake Weir is the place to be. This is a 5,700-acre lake located in the middle-western part of the state, at Ocklawaha.
The purpose of this page is to deliver an overview of this lake, the fishing options, and area amenities. Our goal is to provide info to first time visitors, as well as beginner and novice anglers. We gathered details from personal experience, numerous trusted websites that each offer select bits of information, and videos of fishing activity on the lake. These websites include the Florida Fish and Wildlife Conservation Commission, marinas at the lake, campgrounds, boat rental agencies and others. By consolidating this information to one page it allows visitors to see the entire picture, all in one place.
Lake Video
Lake Weir, located in Marion County, Florida, is a picturesque lake known for its diverse fishing opportunities. Anglers flock to Lake Weir in search of popular fish species such as bass, crappie, and sunfish, making it a favorite destination for both recreational and tournament fishing.
Bass fishing is particularly popular on Lake Weir, with the prized Florida strain largemouth bass abundant in its waters. The lake's structure, including submerged vegetation, docks, and submerged timber, provides excellent hiding spots for bass, offering anglers a chance to reel in some impressive catches. Anglers often employ a variety of techniques such as topwater lures, soft plastics, or crankbaits to entice these powerful game fish.
Crappie, also known as speckled perch, are highly sought after by anglers on Lake Weir. The lake is known for its healthy crappie population, with both black crappie and white crappie being abundant. Anglers typically target crappie near submerged structures, such as brush piles, fallen trees, or docks. Small jigs, live minnows, or crappie-specific baits are commonly used to entice these tasty fish.
Sunfish, including bluegill and redear sunfish, are abundant in Lake Weir and provide excellent angling opportunities, especially for families and young anglers. These species can be caught using simple tackle setups, such as a small hook, bobber, and worms or crickets as bait. They are often found near the shoreline, around docks, or near vegetation, making them easily accessible for anglers of all skill levels.
Anglers fishing on Lake Weir should familiarize themselves with the fishing regulations and licensing requirements set by the Florida Fish and Wildlife Conservation Commission. Adhering to these regulations ensures the sustainability of the fishery and the preservation of the lake's ecosystem.
Whether you're an experienced angler or just starting out, Lake Weir in Florida offers a rewarding fishing experience. With its diverse fish species, beautiful surroundings, and options for boating and camping, it is a great destination to enjoy a day of fishing and create lasting memories on the water.
Giant bass and fat crappie are the primary targets here, plus there is good fishing for bluegill and sunfish. The lake is wrapped in about fifteen miles of shoreline, much of which is developed with homes and boat docks, while some areas are sandy beaches with vegetation. Boating access is via Carney Island Boat Ramp which is mid lake on the west side, at Carney Island Recreation Area on the northwest corner, and Hope Boat Ramps in the southwest corner of the lake.

Primary fish species residing in Lake Weir
Click images for fishing tips and details about each species.
Lake Weir Amenities
Marina: NO
Boat Rental: NEARBY
Boat Launch Ramp: YES
Campgrounds: NO
RV Hookups: NEARBY
Lodging: YES
Convenience Store: YES
Bait & Tackle: YES
Restaurant: YES
Today's Weather & Forecast
Lake Weir offers ample opportunities for boating, with public boat ramps available for easy access to the lake. Boaters can explore the scenic lake, find their favorite fishing spots, and enjoy a relaxing day on the water. Additionally, camping facilities are available nearby, allowing anglers to extend their fishing trips and immerse themselves in the peaceful natural surroundings.
Public Boat Launch Ramps & Landings
Carney Island Boat Launch Ramp
Located mid lake, west side, off SE 115th Avenue, this is a six-lane, concrete ramp with docks and lots of paved parking.
Hope Boat Launch Ramp
Located in the southwest section of the lake, south side, off SE 115th Avenue, this is a four-lane, concrete ramp with docks and paved parking.
Click here for a Florida Fishing License.
Campgrounds & RV Parks Nearby
Southern Oaks RV Resort - 352 347-2550
Sunkissed Village RV Resort - 352 480-5000
Grand Oaks RV Park - 352 750-5500
No campgrounds at, or nearby the lake.
Lake Weir FL Map - Fishing & Camping Areas
Contact Information
Lake Weir
Carney Island Recreation & Conservation Area
13275 SE 115th Ave
Ocklawaha, FL 32179
352 671-8560
Fishing lakes in each state.
Lake Weir in FL
FLORIDA


Fishing for crappie and bass in western FL.
Lake Weir, in Florida.