Guide To Fishing At Lake Santa Fe
AKA: Big & Little Santa Fe Lake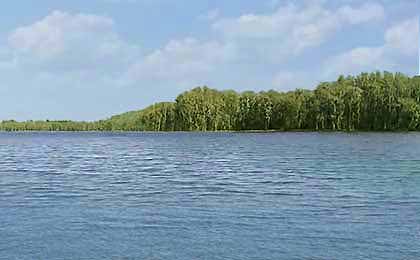 Hybrid stripers, aka sunshine bass, are a treat for anglers in this part of the state, while fishing Lake Santa Fe. This 5,800-acre lake in northeast Florida, at Melrose also produces giant largemouth bass, fat crappie, chunky bluegill and plenty of sunfish.
Lake Santa Fe, located in northern Florida, is a fantastic fishing destination that attracts anglers with its abundant fish populations and beautiful surroundings. The lake offers a diverse range of fish species, making it an exciting spot for fishing enthusiasts of all ages.
Bass fishing is a major draw on Lake Santa Fe, with both largemouth bass and Florida strain largemouth bass being popular targets. The lake's clear waters and plentiful cover, including submerged vegetation and fallen trees, provide excellent habitat for bass to thrive. Anglers can employ various techniques such as topwater lures, plastic worms, or crankbaits to entice these prized game fish.
Black crappie are also abundant in Lake Santa Fe. Anglers can find schools of crappie around submerged structures and brush piles, particularly during the cooler months. Using small jigs, live minnows, or crappie-specific baits can result in successful catches of these tasty panfish.
Sunfish, such as bluegill and redear sunfish, are plentiful in Lake Santa Fe and offer anglers a fun and rewarding fishing experience. These species can be caught using simple and affordable tackle, such as worms, crickets, or small artificial lures. Sunfish provide excellent opportunities for anglers of all skill levels, including beginners and young anglers.
Lake Santa Fe is also known for its population of redear sunfish, also known as shellcrackers. These fish are sought after for their delicious meat and challenging fights. Anglers targeting redear sunfish often use live bait, such as earthworms or small crustaceans, presented near the lake's shorelines or areas with sandy bottoms.
Hybrid stripers, a crossbreed between striped bass and white bass, can also be found in Lake Santa Fe. These hard-fighting fish offer anglers an exciting challenge. Anglers often target hybrid stripers using live bait, such as shad or shiners, or by trolling with artificial lures.
Boating is a popular activity on Lake Santa Fe, allowing anglers to access different areas of the lake and explore prime fishing spots. Motorized boats, kayaks, and canoes are all suitable for navigating the lake's waters. The lake features boat ramps for convenient launching.
Camping facilities are available near Lake Santa Fe, providing anglers with the opportunity to extend their fishing trips and fully immerse themselves in the natural beauty of the area. Camping allows anglers to maximize their time on the water and experience the peacefulness of the lake's surroundings.
It is important for anglers to familiarize themselves with the fishing regulations and licensing requirements set by the Florida Fish and Wildlife Conservation Commission for Lake Santa Fe. Adhering to these regulations helps protect the fishery and ensures the sustainability of the resource for future generations.
With its diverse fish species, including bass, crappie, sunfish, redear sunfish, and hybrid stripers, Lake Santa Fe in Florida provides anglers with an exciting and rewarding fishing experience. Whether you're a seasoned angler or a beginner, this lake offers plenty of opportunities for success, as well as the chance to enjoy boating and camping in a picturesque setting.
There are about fifteen miles of shoreline, mixed with heavy aquatic vegetation, homes and boat docks. All of which attract bass, crappie and panfish. For boating access use the Melrose Boat Ramp at the southeast corner of the lake, the Lake Santa Fe Boat Ramp mid lake along the southern shore, or the Little Santa Fe Lake Boat Ramp in the northeast corner of the Little Santa Fe Lake.

What to fish for...
Fishing for largemouth bass, black crappie, bluegill, redear sunfish and hybrid striped bass at Lake Santa Fe in Florida.
Primary fish species residing in Lake Santa Fe
Click images for fishing tips and details about each species.
Lake Santa Fe Amenities
Marina: NO
Boat Rental: YES
Boat Launch Ramp: YES
Campgrounds: NO
RV Hookups: NEARBY
Lodging: NEARBY
Convenience Store: YES
Bait & Tackle: YES
Restaurant: YES
Today's Weather & Forecast
Fishing Boat Rentals
DJ's Kayak Rentals
Rentals: Kayaks
352 451-8550
Public Boat Launch Ramps & Landings
Lake Santa Fe Boat Launch Ramp
Located in the southeast section of the lake, south side, off County Boat Ramp Road, this is a two-lane, concrete ramp with a dock and gravel parking.
Little Santa Fe Lake Boat Launch Ramp
Located in the northeast section of Little Santa Fe Lake, off SE County Road 21B, this is a one-lane, concrete ramp with a dock and paved parking.
Melrose Boat Launch Ramp
Located in the southeast corner of the lake, off Trout Street, this is a one-lane, concrete ramp with no parking.
Click here for a Florida Fishing License.
Campgrounds & RV Parks Nearby
Dixieland RV Park - 352 486-3988
No campgrounds at, or nearby the lake.
Lake Santa Fe FL Map - Fishing & Camping Areas
Lake Video
Contact Information
Lake Santa Fe
Santa Fe Lake Park
24500 FL-26
Melrose, FL 32666
352 374-5245
Fishing lakes in each state.
Lake Santa Fe in FL
FLORIDA


Fishing for sunshine bass, crappie and largemouth bass in northeast FL.
Lake Santa Fe, in Florida.