Panfish Fishing Options In Florida
Guide to fishing for sunfish in FL lakes and ponds.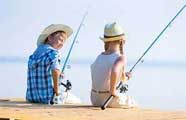 Throughout the state you can find waters with populations of sunfish, including bluegill, flier sunfish, redbreast sunfish, redear sunfish, spotted sunfish, warmouth and white bass. The purpose of this page is to share basic information about panfish fishing and identify popular sunfish fishing waters in the state.
Florida offers fantastic opportunities for panfish fishing, making it an ideal destination for youth anglers. Among the most popular panfish species are sunfish and perch, which provide abundant action and excitement for young fishermen.
Bluegill Fishing Basics Video
The core principles shown in this video will work for most sunfish, perch and other panfish.
Sunfish, including species like bluegill and redear sunfish, are plentiful in Florida's lakes, ponds, and rivers. These colorful and feisty fish are perfect for introducing kids to fishing. Sunfish readily bite on small hooks baited with worms, insects, or small pieces of bread. They can be found near structures like fallen trees, submerged vegetation, and docks. Sunfish are known for their willingness to bite, providing continuous action that keeps young anglers engaged and excited.
Perch, such as the yellow perch and white perch, are another popular panfish species in Florida. While not as abundant as sunfish, perch can be found in certain lakes and rivers throughout the state. These fish are prized for their tasty flesh and provide a great opportunity for young anglers to experience the thrill of catching and enjoying their own catch. Perch tend to school in deeper waters near submerged structures and can be targeted using small jigs or live bait.
Panfish fishing is ideal for youth anglers because it is accessible and rewarding. Kids can have success catching sunfish and perch from shore, making it an enjoyable and convenient activity for the whole family. Panfish are often found in areas with calm water, making them ideal for fishing with young children who may have limited casting abilities.
In addition to their abundance and willingness to bite, panfish also offer opportunities for kids to learn about fishing techniques, such as casting, hooking, and landing fish. They provide a hands-on experience for youth anglers to develop their skills and build confidence in their fishing abilities.
Many fishing locations in Florida cater to youth fishing and offer amenities like fishing piers, family-friendly parks, and educational programs. Popular spots for panfish fishing in Florida include Lake Alice in Gainesville, Lake Osborne in Palm Beach County, and Lake Toho in Kissimmee.
It's important to ensure that youth anglers have appropriate equipment for panfish fishing. Using lightweight rods and reels, along with small hooks and bobbers, will make it easier for kids to handle and control their fishing gear. Adult supervision and teaching children about fish handling and conservation practices will also help instill an appreciation for the environment and responsible angling.
Panfish fishing in Florida provides a fun and rewarding experience for youth anglers. With an abundance of sunfish and perch species, accessible fishing locations, and the opportunity to learn valuable fishing skills, kids can create lifelong memories while enjoying the thrill of panfish fishing in the Sunshine State.
Panfish Fishing Lakes
Blue Cypress Lake, Crescent Lake, Crooked Lake, Deer Point Lake, Doctors Lake, East Lake Tohopekaliga, Jim Woodruff Reservoir, Lake Apopka, Lake Conlin, Lake Eustis, Lake George, Lake Griffin, Lake Harris, Lake Harney, Lake Hatchineha, Lake Istokpoga, Lake Jackson, Lake Jessup, Lake Kissimmee, Lake Marian, Lake Miccosukee, Lake Monroe, Lake Okeechobee, Lake Santa Fe, Lake Seminole, Lake Talquin, Lake Tohopekaliga, Lake Wier, Lake Weohyakapka, Lochloosa Lake, Newnans Lake, Orange Lake, Rodman Reservoir, St. John's River and Tsala Apopka Lake are just some of the major lakes with healthy populations of panfish.
Top Producing Panfish Lures & Bait
Check out the top producing lures and bait for bluegill, redear sunfish, rock bass and warmouth, as well as other smaller sunfish. Click here for the best lures for white bass, yellow bass, white perch and yellow perch.

In-state panfish and sunfish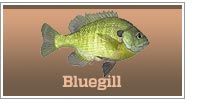 World record: 4 lbs 12 oz
State Record: 2.95 lbs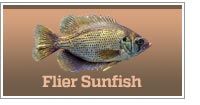 World record: 1 lbs 4 oz
State Record: 1.35 lbs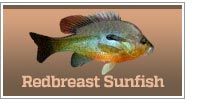 World record: 2 lbs 0 oz
State Record: 2.08 lbs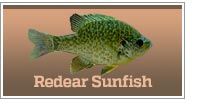 World record: 5.4 lbs
State Record: 4.86 lbs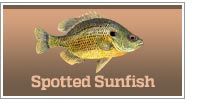 World record: N/A
State Record: 0.83 lbs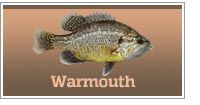 World record: 2.4 lbs
State Record: 2.44 lbs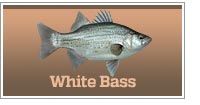 World record: 6.8 lbs
State Record: 4.69 lbs
Click the images and links above for species details.
Florida State Record Sunfish
The state record bluegill was caught from Crystal Lake.
The state record flier sunfish came from a pond.
The state record redbreast sunfish came out of the Suwannee River.
The state record redear sunfish came out of Merritts Mill Pond.
The state record spotted sunfish came out of the Suwannee River.
The state record warmouth came out of the Yellow River.
The state record white bass came from the Apalachicola River.
Panfish are prolific spawners and repopulate the waters as fast as they are harvested. A common problem with panfish fishing is that the waters are under-fished causing panfish to overpopulate. As a result they tend to stay small in size due to lack of food source.
The term "panfish" comprises many species, each called by a variety of names. The bluegill tops the list and is the most common.
One or more species of sunfish populate virtually all warm water streams, ponds and lakes throughout Florida, and around the world for that matter. They can survive in waters that provide their natural food source of minnows, insects, crustaceans and worms. Their competitive nature amongst themselves, for food, makes them relatively easy to catch.
Sunfish information in other states.
Learn the lifecycle of a panfish
There is a host of panfish anglers can pursue. Visit the panfish fishing page for details on many of these sunfish you might encounter in Florida fishing waters.
FLORIDA