Guide To Popular Panfish Fishing Options In New Mexico
All about fishing for sunfish in NM lakes and ponds.
New Mexico offers fantastic opportunities for panfish fishing, making it an ideal activity for youth anglers to enjoy. One of the most common panfish species found in the state is the sunfish, which includes several varieties such as bluegill, redear sunfish, and pumpkinseed. These colorful and feisty fish are known for their willingness to bite and provide an excellent introduction to fishing for young anglers.
Bluegill, in particular, is a popular panfish species for kids to target. These fish can be found in ponds, lakes, and reservoirs throughout New Mexico and are known for their aggressive strikes. Bluegill can often be caught using simple techniques such as bobber fishing with worms or small jigs. They provide continuous action, making it a great way for kids to stay engaged and enjoy a productive day of fishing.
Other panfish species that youth anglers may encounter while fishing in New Mexico include pumpkinseed and redear sunfish. Pumpkinseed, with their vibrant colors and distinctive shape, are a delight to catch. Redear sunfish, also known as shellcrackers, are often found near the bottom and provide a challenging fight for young anglers.
Youth fishing events and programs are common throughout New Mexico, offering young anglers the opportunity to learn fishing skills, conservation principles, and good sportsmanship. These events often take place at kid-friendly fishing locations, providing a safe and supportive environment for children to develop their fishing abilities and connect with nature.
Panfish fishing is an excellent way to introduce young anglers to the joys of fishing. New Mexico's abundance of sunfish species and youth fishing programs make it an ideal destination for kids to learn and explore the world of fishing. The excitement of catching these feisty and colorful panfish not only creates cherished memories but also instills a lifelong love for the sport of fishing.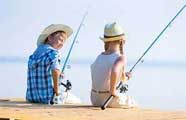 Throughout the state of New Mexico you can find waters with populations of sunfish, including bluegill, green sunfish, longear sunfish, white bass and yellow perch. It's been said 'they're everywhere'. And when it comes to sunfish, that's basically true. They populate ponds, rivers, parks, canals, small lakes and are a major part of the food chain in major lakes including Abiquiu Reservoir, Brantley Lake, Caballo Lake, Clayton Lake, Conchas Lake, Elephant Butte Reservoir, Navajo Lake, Red Bluff Reservoir, Santa Rosa Lake, Sumner Lake and Ute Lake. Eagle Nest Lake offers ice fishing for yellow perch.
Top Producing Panfish Lures & Bait
Check out the top producing lures and bait for bluegill, redear sunfish, rock bass and warmouth, as well as other smaller sunfish. Click here for the best lures for white bass, yellow bass, white perch and yellow perch.

In-state panfish, sunfish and perch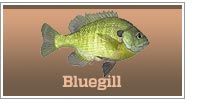 World record: 4 lbs 12 oz
State Record: 3 lbs 1.5 oz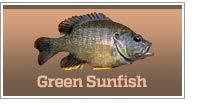 World record: 2.2 lbs
State Record: 1 lbs 6 oz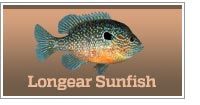 World record: 1.75 lbs
State Record: 1 lbs 12 oz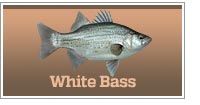 World record: 6.8 lbs
State Record: 4 lbs 13 oz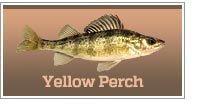 World record: 4 lbs 3 oz
State Record: 2 lbs 5.3 oz
Click the images and links above for species details.
New Mexico State Record Sunfish
The state record bluegill was caught from Lovington Lake.
The state record green sunfish came from Elephant Butte Lake.
The state record longear sunfish came from Elephant Butte Lake.
The state record white bass came from Bill Evans Lake.
The state record yellow perch was caught from Lake 13 (Maxwell).
The term "panfish" comprises many species, each called by a variety of names. The bluegill tops the list and is the most common.
One or more species of sunfish populate virtually all warm water streams, ponds and lakes throughout New Mexico, and around the world for that matter. They can survive in waters that provide their natural food source of minnows, insects, crustaceans and worms. Their competitive nature amongst themselves, for food, makes them relatively easy to catch.
Bluegill Fishing Basics Video
The core principles shown in this video will work for most sunfish, perch and other panfish.
Panfish are prolific spawners and repopulate the waters as fast as they are harvested. A common problem with panfish fishing is that the waters are under-fished causing panfish to overpopulate. As a result they tend to stay small in size due to lack of food source.
Sunfish information in other states.
Learn the lifecycle of a panfish
There is a host of panfish anglers can pursue. Visit the panfish fishing page for details on many of these sunfish you might encounter in New Mexico fishing waters.
NEW MEXICO