Guide To Fishing At Brantley Lake
AKA: Brantley Lake State Park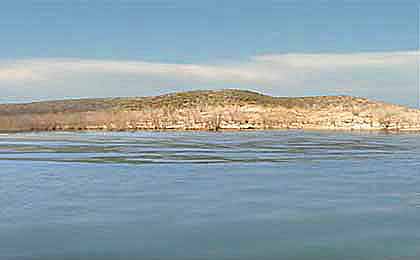 Fish from the bank, or from a boat, and enjoy the views and fishing at Brantley Lake, a 4,000-acre lake in the southeast of the state, 15 miles south of Artesia. There are over 30 miles of shoreline with plenty of access.
Brantley Lake in New Mexico is a popular destination for fishing enthusiasts, offering a range of angling opportunities and outdoor activities. The lake is known for its diverse fish species, including largemouth bass, white bass, catfish, and crappie. Anglers can cast from the shoreline or venture out onto the water to target these exciting game fish.
Largemouth bass are a prized species in Brantley Lake, with the lake providing ample habitat for these aggressive predators. Anglers can employ various techniques such as casting with jigs, soft plastics, or topwater lures to entice largemouth bass. The lake's submerged structures, rocky shorelines, and weed beds provide ideal cover for bass and present exciting fishing opportunities.
White bass are another sought-after species in Brantley Lake. These schooling fish offer exciting action, particularly during their active feeding periods. Anglers can experience the thrill of catching multiple white bass in a single outing by casting with jigs, spinners, or small crankbaits. White bass can be found in open water or near drop-offs and points, making them an excellent target for both boat anglers and shoreline fishermen.
Catfish are also abundant in Brantley Lake, providing anglers with the opportunity to reel in channel catfish or flathead catfish. Fishing with stink baits, chicken liver, or cut bait near the lake's bottom can attract these bottom-dwelling predators. Catfish in Brantley Lake can grow to impressive sizes, offering both a challenging fight and a tasty meal.
Brantley Lake is well-suited for boating, with boat ramps available for easy access to the water. Anglers can explore the lake's various sections, find productive fishing spots, and enjoy the serenity of the surrounding landscape. Boating also opens up opportunities for recreational activities such as water skiing and tubing, making Brantley Lake a popular destination for outdoor enthusiasts.
For those looking to extend their stay, camping facilities are available near Brantley Lake. Campers can enjoy evenings under the starry sky, gather around campfires, and embrace the tranquility of the outdoors. Whether choosing a primitive campsite or a more developed campground, visitors can immerse themselves in the natural beauty and peaceful ambiance of the area.
Brantley Lake in New Mexico offers a rewarding fishing experience with its diverse fish species and outdoor amenities. Whether targeting largemouth bass, white bass, catfish, or crappie, anglers can enjoy the thrill of the catch and the beauty of the lake's surroundings. Boating facilities and camping options further enhance the outdoor experience, making Brantley Lake a desirable destination for anglers and nature enthusiasts seeking a memorable fishing adventure and a relaxing getaway.
The Seven Rivers Boat Ramp is at Brantley Lake State Park which has primitive and developed campsites. Bass and catfish are the primary targets here, but the lake also offers crappie, walleye, sunfish and trout fishing. Both the water level, and the fishing, can fluctuate year to year.

What to fish for...
Fishing for largemouth bass, channel catfish, black crappie, white crappie, walleye, rainbow trout, bluegill and white bass at Brantley Lake in New Mexico.
Primary fish species residing in Brantley Lake
Click images for fishing tips and details about each species.
Brantley Lake Amenities
Marina: NO
Boat Rental: NO
Boat Launch Ramp: YES
Campgrounds: YES
RV Hookups: YES
Lodging: NEARBY
Convenience Store: NEARBY
Bait & Tackle: NEARBY
Restaurant: NEARBY
Today's Weather & Forecast
Public Boat Launch Ramps & Landings
Brantley Lake State Park East Boat Launch Ramp
Located mid lake, east side, off E Brantley Lake Road, this is a one-lane, concrete ramp with a dock and paved parking.
Steven Rivers West Boat Launch Ramp
Located mid lake, west side, off W Brantley Lake Road, this is a two-lane, concrete ramp with a dock and paved parking.
Click here for a New Mexico Fishing License.
Campgrounds & RV Parks Nearby
Brantley Lake State Park Campground - 575 457-2384
Carlsbad KOA Holiday - 575 457-2000
Brantley Lake NM Map - Fishing & Camping Areas
Lake Video
Contact Information
Brantley Lake
Brantley Lake State Park
33 East Brantley Lake Rd.
Carlsbad, NM 88221
575 457-2384
Fishing lakes in each state.
Brantley Lake in NM
NEW MEXICO


Fishing for catfish and bass in southeast NM.
Brantley Lake, in New Mexico.