Fishing At Eagle Nest Lake
AKA: Eagle Nest Lake State Park
What to fish for...
Guide to fishing for rainbow trout, cutthroat trout, yellow perch, kokanee salmon and northern pike at Eagle Nest Lake in New Mexico.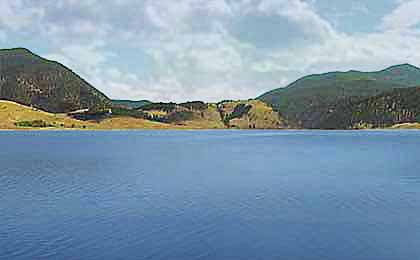 At 8,200 feet elevation, Eagle Nest Lake is primarily a fishing lake. The water is a bit too chilly for swimming and water sports. This 2,400-acre lake, in the northeast part of the state, is conveniently located at Eagle Nest.
Eagle Nest Lake in New Mexico is a picturesque destination for fishing enthusiasts, offering a serene setting and diverse fish species. The lake is primarily known for its trout fishing opportunities, with rainbow trout, brown trout, and occasionally cutthroat trout being the main target species. Anglers can experience the thrill of catching these prized trout while surrounded by breathtaking mountain vistas.
Rainbow trout are stocked regularly in Eagle Nest Lake, providing anglers with ample opportunities to land these feisty fish. The lake's cold, clear waters offer excellent trout habitat, and anglers can use various techniques such as trolling, casting with lures or flies, or bait fishing to entice the trout. Whether from the shoreline or a boat, anglers can enjoy a peaceful fishing experience while taking in the scenic beauty of the surrounding Sangre de Cristo Mountains.
Brown trout are another highly sought-after species in Eagle Nest Lake. Known for their cunning nature and large size, brown trout offer a challenge for anglers. Trolling with deep-diving lures or casting with spinners and flies are popular methods for targeting brown trout. The lake's deep pockets, rocky points, and submerged structures provide ideal hiding spots for these elusive fish.
In addition to trout, Eagle Nest Lake is also home to other fish species, including perch and northern pike. Perch can be caught using small jigs or live bait near the lake's bottom. Northern pike, known for their aggressive strikes and strong fights, can be targeted by trolling with large lures or casting with swimbaits.
Boating is a popular activity on Eagle Nest Lake, and boat ramps are available for easy access to the water. Anglers can navigate the lake's surface, explore different fishing spots, and enjoy the tranquility of the mountain surroundings. Boaters can also engage in recreational activities such as water skiing, tubing, or simply cruising along the calm waters of the lake.
Camping facilities near Eagle Nest Lake allow visitors to extend their stay and fully immerse themselves in the natural surroundings. Campers can set up their tents or park their RVs in designated campgrounds, offering a chance to relax under the starry sky, gather around campfires, and enjoy the peaceful ambiance of the area.
Eagle Nest Lake in New Mexico provides a rewarding fishing experience with its diverse fish species and stunning mountain backdrop. Anglers targeting trout, perch, or northern pike can enjoy the thrill of the catch while embracing the beauty of the lake's surroundings. Boating amenities and camping options further enhance the outdoor experience, making Eagle Nest Lake an appealing destination for anglers and nature enthusiasts seeking a memorable fishing adventure and a peaceful retreat in the mountains.
Excellent fishing for stocked rainbow trout, cutthroat trout and kokanee salmon is the big draw, plus there is good fishing for northern pike and perch. Virtually all the 16 miles of shoreline is accessible for fishing from the bank. The marina, bait, tackle, boat launch ramp and campgrounds are located at the lake.

Primary fish species residing in Eagle Nest Lake
Click images for fishing tips and details about each species.
Eagle Nest Lake Amenities
Marina: YES
Boat Rental: YES
Boat Launch Ramp: YES
Campgrounds: YES
RV Hookups: YES
Lodging: YES
Convenience Store: YES
Bait & Tackle: YES
Restaurant: YES
Today's Weather & Forecast
Fishing Boat Rentals
Eagle Nest Cabins & Marina
Rentals: Fishing boats
575 377-6941
Public Boat Launch Ramps & Landings
Eagle Nest Lake Boat Launch Ramp
Located in the northeast section of the lake, off Marina Way, this is a four-lane, concrete ramp with docks and paved parking.
Marinas
Eagle Nest Cabins & Marina
28386 US Hwy 64
Eagle Nest, NM 87718
575 377-6941
Click here for a New Mexico Fishing License.
Campgrounds & RV Parks Nearby
Eagle Nest Lake State Park Campground - 575 377-1594
Angel Nest RV Retreat - 575 377-0355
Golden Eagle RV Resort & Grill - 575 377-6188
Lost Eagle RV Park - 575 377-6522
Eagle Nest Lake NM Map - Fishing & Camping Areas
Lake Video
Contact Information
Eagle Nest Lake
Eagle Nest Lake State Park
42 Marina Way
Eagle Nest, NM 87718
575 377-1594
Fishing lakes in each state.
Eagle Nest Lake in NM
NEW MEXICO


Fishing for trout, salmon and pike in northeast NM.
Eagle Nest Lake, in New Mexico.