Fishing At Abiquiu Reservoir
AKA: Abiquiu Lake
What to fish for...
Guide to fishing for largemouth bass, smallmouth bass, channel catfish, white crappie, walleye, rainbow trout, brown trout and bluegill at Abiquiu Reservoir in New Mexico.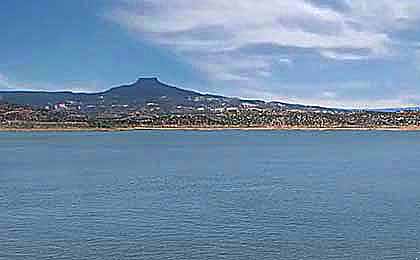 A beautiful setting and excellent fishing make Abiquiu Lake a great destination for weekend fishing trip or an extended family vacation. This 5,200-acre lake, set in the northwestern part of the state, has over 25 miles of shoreline to explore.
Abiquiu Reservoir in New Mexico is a scenic and popular destination for fishing enthusiasts. This picturesque reservoir offers a diverse fishery, making it an enticing location for anglers. The primary species targeted by anglers in Abiquiu Reservoir include rainbow trout, brown trout, smallmouth bass, largemouth bass, and walleye. These fish species provide a variety of angling experiences, from battling feisty bass to enticing trout with various fishing techniques.
Rainbow trout and brown trout are often stocked in Abiquiu Reservoir, attracting both novice and experienced trout anglers. Anglers can cast from the shoreline or fish from boats to target these prized trout species. Techniques such as fly fishing, trolling with lures or bait, and bottom fishing with worms or PowerBait can be effective in enticing trout to bite.
For bass enthusiasts, Abiquiu Reservoir offers opportunities to catch both smallmouth and largemouth bass. The rocky shorelines, submerged structures, and drop-offs provide ideal habitat for these bass species. Anglers can use techniques such as casting with jigs, soft plastics, or crankbaits to entice these predatory fish. Bass fishing at Abiquiu Reservoir can provide thrilling strikes and rewarding battles.
Walleye are another popular species found in Abiquiu Reservoir. These elusive fish are often sought after by anglers who appreciate their tasty fillets and challenging nature. Trolling with crankbaits, casting with jigs, or live bait fishing can be effective methods for targeting walleye in the reservoir's deeper sections.
Abiquiu Reservoir also offers boating opportunities, with boat ramps available for anglers to access the water. Whether using motorized boats, kayaks, or canoes, anglers can explore the reservoir's vast expanse and locate productive fishing spots. Boating provides anglers with the freedom to cover more water and find their preferred fishing grounds.
Camping facilities near Abiquiu Reservoir allow anglers and outdoor enthusiasts to extend their stay and fully immerse themselves in the natural surroundings. Campers can enjoy peaceful evenings under starry skies, gather around campfires, and wake up to the sounds of nature. The camping options range from primitive campsites to more developed campgrounds, catering to various preferences.
Abiquiu Reservoir in New Mexico offers a beautiful fishing experience with its diverse fish species and stunning scenery. Whether targeting trout, bass, or walleye, anglers can enjoy the thrill of the catch and the peacefulness of the reservoir's surroundings. Boating amenities and camping facilities further enhance the outdoor experience, making Abiquiu Reservoir an appealing destination for anglers and nature enthusiasts seeking a memorable fishing adventure in a serene and picturesque setting.
The Abiquiu Lake boat ramp is open to the public for launch of everything from canoes and kayaks, to personal watercraft, pontoon and fishing boats. There are no motor horsepower limitations. Enjoy fishing for bass, catfish, crappie, walleye, trout and sunfish. There are numerous areas around the lake with access for fishing from the bank, as well as some remote camping.

Primary fish species residing in Abiquiu Reservoir
Click images for fishing tips and details about each species.
Abiquiu Reservoir Amenities
Marina: NO
Boat Rental: YES
Boat Launch Ramp: YES
Campgrounds: YES
RV Hookups: YES
Lodging: YES
Convenience Store: NEARBY
Bait & Tackle: NO
Restaurant: NEARBY
Today's Weather & Forecast
Public Boat Launch Ramps & Landings
Abiquiu Lake Boat Launch Ramp
Located mid lake, east side, off Boat Ramp Road, this is a two-lane, concrete ramp with docks and gravel parking.
Click here for a New Mexico Fishing License.
Campgrounds & RV Parks Nearby
U.S. Army Corps of Engineers Campground - 505 685-4371
Abiquiu Lake Camp Ground - 505 685-4561
Abiquiu Reservoir NM Map - Fishing & Camping Areas
Lake Video
Contact Information
Abiquiu Reservoir
U.S. Army Corps of Engineers
4731 State Highway 96
Abiquiu, NM 87510-0290
505 685-4371
Fishing lakes in each state.
Abiquiu Reservoir in NM
NEW MEXICO


Fishing for bass, trout and walleye in northwest NM.
Abiquiu Reservoir, in New Mexico.