Guide To Panfish Fishing Options In Louisiana
All about fishing for sunfish in LA lakes and ponds.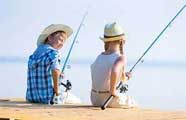 Throughout the state of Louisiana you can find waters with populations of sunfish, including bluegill, bream, redear sunfish, warmouth, white bass and yellow bass.
Louisiana offers fantastic panfish fishing opportunities, making it an ideal destination for anglers, especially young ones, who are looking to catch a variety of sunfish species. Some of the popular panfish species found in the state's waters include bluegill, redear sunfish, and white bass.
Bluegill, a member of the sunfish family, is one of the most common and sought-after species in Louisiana's lakes, ponds, and rivers. Known for their vibrant colors and willingness to bite, bluegill provides endless fun for youth anglers. They are typically found near the shoreline or around structures like docks and fallen trees.
Redear sunfish, also known as shellcrackers, are another popular panfish species in Louisiana. They are distinguished by a red border around their gill covers and are slightly larger than bluegill. Redear sunfish tend to prefer deeper water and are often caught using worms or small artificial baits.
White bass, although not strictly a panfish, is also a favorite among young anglers in Louisiana. These feisty fish are known for their strong fighting abilities and are often found in schools, making for an exciting fishing experience for kids.
Louisiana's panfish fishing not only provides a thrilling and rewarding experience for youth anglers but also serves as a great way to introduce kids to the joys of fishing. Whether fishing from the shore or on a family boat trip, these panfish species offer ample opportunities for children to build their fishing skills and create lasting memories on the water.
Panfish Fishing Lakes
Panfish make a good fish fry. They also make a hearty meal for all the larger fish in the water where they live. As a primary food source, they are virtually in all fishing waters in the state. Fish for them in private ponds, bayous, rivers, streams and major lakes including Anacoco Lake, Atchafalaya Basin, Black Bayou Lake, Caddo Lake, Caney Creek Reservoir, Cheniere Brake Lake, Cocodrie Lake, Cross Lake, Cypress Bayou Reservoir, Grand Lake, Lac des Allemands, Lake Bistineau, Lake Bruin, Lake Cataouatche, Lake Claiborne, Lake D'Arbonne, Lake Iatt, Lake Maurepas, Lake Palourde, Lake Rodemacher, Lake Verret, Saline Lake, Sibley Lake, Toledo Bend Reservoir, Turkey Creek Lake, Vernon Lake and Wallace Lake.
Top Producing Panfish Lures & Bait
Check out the top producing lures and bait for bluegill, redear sunfish, rock bass and warmouth, as well as other smaller sunfish. Click here for the best lures for white bass, yellow bass, white perch and yellow perch.

In-state panfish, sunfish and perch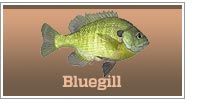 World record: 4 lbs 12 oz
State Record: 1.83 lbs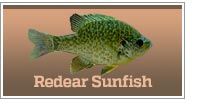 World record: 5.4 lbs
State Record: 2.87 lbs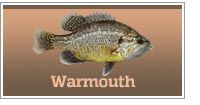 World record: 2.4 lbs
State Record: 2.13 lbs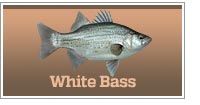 World record: 6.8 lbs
State Record: 6.81 lbs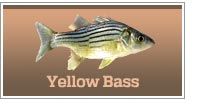 World record: 2 lbs 15 oz
State Record: 2.67 lbs
Click the images and links above for species details.
Louisiana State Record Sunfish
The state record bluegill was caught from Iatt Lake.
The state record redear sunfish came out of Caney Lake.
The state record warmouth came out of the Atchafalaya River.
The state record white bass came from the Amite River.
The state record yellow bass was served up by Lake D'Arbonne.
One or more species of sunfish populate virtually all warm water streams, ponds and lakes throughout Louisiana, and around the world for that matter. They can survive in waters that provide their natural food source of minnows, insects, crustaceans and worms. Their competitive nature amongst themselves, for food, makes them relatively easy to catch.
The term "panfish" comprises many species, each called by a variety of names. Bream is a name commonly used for most sunfish. The bluegill tops the list and is the most common. The LA state record bluegill was caught out of Old River.
Bluegill Fishing Basics Video
The core principles shown in this video will work for most sunfish, perch and other panfish.
Panfish are prolific spawners and repopulate the waters as fast as they are harvested. A common problem with panfish fishing is that the waters are under-fished causing panfish to overpopulate. As a result they tend to stay small in size due to lack of food source.
Sunfish information in other states.
Learn the lifecycle of a panfish
There is a host of panfish anglers can pursue. Visit the panfish fishing page for details on many of these sunfish you might encounter in Louisiana fishing waters.
LOUISIANA