Popular Panfish Fishing Options In Indiana
Guide to fishing for panfish in IN lakes and ponds.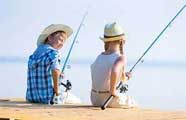 Throughout the state of Indiana you can find waters with populations of sunfish, including bluegill, flier sunfish, green sunfish, redear sunfish, rock bass, warmouth, white bass, yellow bass and yellow perch. Ice fishing for many of these species is available at some of these lakes.

Indiana offers fantastic opportunities for panfish fishing, providing anglers, including young ones, with exciting and rewarding experiences. Panfish species such as sunfish and perch are abundant in Indiana's lakes, ponds, and rivers, making them accessible targets for anglers of all skill levels.
Sunfish, which include species like bluegill and redear sunfish, are incredibly popular among panfish enthusiasts, including youth anglers. These fish are known for their colorful markings, willingness to bite, and scrappy fights. Bluegill, in particular, is a favorite target for young anglers due to its abundance and aggressive nature. They can be caught using simple tackle, such as a small hook with a worm or a piece of artificial bait.
Perch, including yellow perch and white perch, are another prized panfish species in Indiana. They are known for their delicious taste and provide excellent angling opportunities. Perch can be found in lakes and reservoirs throughout the state, often near structures such as submerged trees, brush piles, or drop-offs. Young anglers can target perch using small jigs tipped with live bait or by using small spinners or crankbaits.
Youth fishing events and programs in Indiana further promote panfish fishing and engage young anglers in the sport. These events provide a safe and educational environment for children to learn about fishing, practice their skills, and have fun. Many of these programs offer fishing equipment rentals, instructional sessions, and even prizes or contests to enhance the youth fishing experience.
Panfish fishing is an excellent way to introduce young anglers to the joys of fishing. It provides a rewarding and active angling experience, allowing kids to develop their skills, patience, and appreciation for the outdoors. Panfish species, such as sunfish and perch, are ideal targets for youth fishing due to their abundance, accessibility, and willingness to bite.
Indiana's commitment to fostering youth fishing and providing opportunities for kids to engage in panfish angling ensures that the tradition of fishing is passed on to future generations. These experiences not only create lasting memories but also instill in young anglers a love for fishing and conservation, fostering a lifelong connection to Indiana's natural resources.
Panfish & Perch Lakes
Pick a lake, any lake. Virtually all have one or more species of panfish. The more consistent schools tend to come from major lakes including Barbee Lake, Bass Lake, Big Long Lake, Big Turkey Lake, Bluegrass FWA, Brookville Lake, Cagles Mill Lake, Cecil M Harden Lake, Dewart Lake, Dogwood Lake, Eagle Creek Reservoir, Geist Lake, Griffy Lake, Hamilton Lake, Hardy Lake, Hovey Lake, Irish Lake, J C Murphey Lake, J Edward Roush Lake, James Lake, Jimmerson Lake, Kuhn Lake, Lake Freeman, Lake Lemon, Lake Manitou, Lake Maxinkuckee, Lake Michigan, Lake Papakeechie, Lake Shafer, Lake Wawasee, Mississinewa Reservoir, Monroe Lake, Morse Reservoir, Nyona Lake, Patoka Lake, Pine Lake, Prairie Creek Reservoir, Salamonie Lake, Summit Lake, Sylvan Lake, Syracuse Lake, Tippecanoe Lake, Turtle Creek Reservoir, Waubee Lake, Webster Lake, West Boggs Lake, Winona Lake, Witmer Lake and Worster Lake.
Top Producing Panfish Lures & Bait
Check out the top producing lures and bait for bluegill, redear sunfish, rock bass and warmouth, as well as other smaller sunfish. Click here for the best lures for white bass, yellow bass, white perch and yellow perch.
In-state panfish, sunfish and perch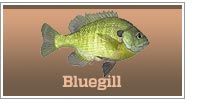 World record: 4 lbs 12 oz
State Record: 3 lbs 4 oz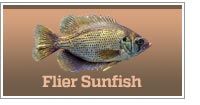 World record: 1 lbs 4 oz
State Record: 0 lbs 3.5 oz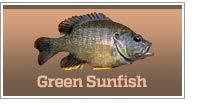 World record: 2.2 lbs
State Record: 1 lbs 10 oz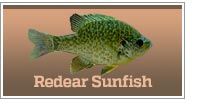 World record: 5.4 lbs
State Record: 3 lbs 10 oz
World record: 3.0 lbs
State Record: 3 lbs 0 oz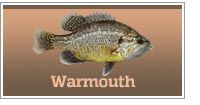 World record: 2.4 lbs
State Record: 1.4 lbs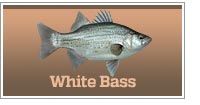 World record: 6.8 lbs
State Record: 4 lbs 3 oz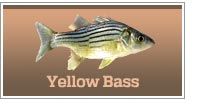 World record: 2 lbs 15 oz
State Record: 2 lbs 15 oz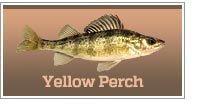 World record: 4 lbs 3 oz
State Record: 2 lbs 8 oz
Click the images and links above for species details.
A private pond yielded the state record both bluegill.
The state record flier came from a stream in Jackson County.
The state record green sunfish came from a gravel pit.
The state record redear sunfish came from a pond.
The state record rock bass was taken from Sugar Creek.
The state record warmouth was caught out of North Dugger Pit.
Lake Freeman served up the state record white bass.
Morse Reservoir was home to the state record yellow bass.
The state record yellow perch was taken out of a gravel pit in Vigo County.
The term "panfish" comprises many species, each called by a variety of names. The bluegill tops the list and is the most common.
One or more species of sunfish populate virtually all warm water streams, ponds and lakes throughout Indiana, and around the world for that matter. They can survive in waters that provide their natural food source of minnows, insects, crustaceans and worms. Their competitive nature amongst themselves, for food, makes them relatively easy to catch.
Click here for a Indiana Fishing License.
Bluegill Fishing Basics Video
The core principles shown in this video will work for most sunfish, perch and other panfish.
Panfish are prolific spawners and repopulate the waters as fast as they are harvested. A common problem with panfish fishing is that the waters are under-fished causing panfish to overpopulate. As a result they tend to stay small in size due to lack of food source.
Sunfish information in other states.
Learn the lifecycle of a panfish
There is a host of panfish anglers can pursue. Visit the panfish fishing page for details on many of these sunfish you might encounter in Indiana fishing waters.
INDIANA