Guide To Fishing At Lake James
AKA: James Lake
What to fish for...
Fishing for largemouth bass, walleye, bluegill, redear sunfish, yellow perch and northern pike at James Lake in Indiana.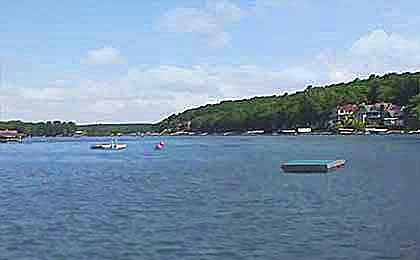 With 2,000 surface acres and plenty of fishing, boating and water sport activities, Lake James is a vacation paradise in the northeast corner of Indiana. It is conveniently located just west of I-69 at Glen Eden. It wraps around the west side of Pokagon State Park. This is a great place to take the family camping, fishing and picnicking. There is public boat launches and plenty of shoreline for fishing from the bank.
Lake James, located in northeastern Indiana, is a premier destination for fishing enthusiasts seeking a memorable angling experience. With a surface area of over 1,200 acres, this picturesque lake offers a wealth of fishing opportunities. Lake James is known for its diverse fish population, making it a popular spot for anglers of all skill levels. The lake is home to popular fish species such as largemouth bass, smallmouth bass, walleye, northern pike, crappie, and bluegill. With such a variety of fish available, anglers have the chance to reel in impressive catches and enjoy the thrill of a successful day on the water.
Boating is also a favorite activity at Lake James, as the lake provides ample space and amenities for boaters to enjoy. Boaters can take to the calm waters, explore the lake's various coves and bays, and take in the scenic beauty of the surrounding shoreline. Whether you prefer a leisurely cruise, water skiing, or tubing, Lake James offers the perfect setting for all types of boating adventures.
For those looking to extend their stay and fully immerse themselves in the natural beauty of the area, Lake James offers camping facilities near its shores. Campgrounds equipped with amenities cater to both tent camping and RV camping, ensuring a comfortable and enjoyable camping experience. Camping near Lake James allows visitors to wake up to the sounds of nature, have convenient access to fishing and boating activities, and enjoy the peacefulness of the lake's surroundings.
Lake James in Indiana is a paradise for fishing, boating, and camping enthusiasts. Its diverse fish population, scenic beauty, and recreational opportunities make it an ideal destination for outdoor adventures and relaxation. Remember to familiarize yourself with local fishing and boating regulations, obtain the necessary permits, and practice responsible fishing and camping to help preserve the lake's natural resources and ensure a sustainable environment for future generations to enjoy the beauty of Lake James.
Ice fishing during winter at James Lake can often produce nice catches. Check with local officials for authorization and Indiana DNR for regulations before attempting to fish through the ice on any lake.

Primary fish species residing in Lake James
Click images for fishing tips and details about each species.
Lake James Amenities
Marina: NEARBY
Boat Rental: YES
Boat Launch Ramp: YES
Campgrounds: YES
RV Hookups: YES
Lodging: YES
Convenience Store: Yes
Bait & Tackle: YES
Restaurant: YES
Today's Weather & Forecast
Fishing Boat Rentals
The Corner Landing
Rentals: Fishing boats, kayaks and pontoons
260 833-2112
Marinas
Bear Creek Marina
608 Marina Dr
Nebo, NC 28761
828 655-1400
Lake James Marina
9066 NC-126
Nebo, NC 28761
828 254-5253
Public Boat Launch Ramps & Landings
Black Bear Boat Ramp
Located in the northwest corner of the lake, off Lake James Road, this is a six-lane, concrete ramp with docks and paved parking.
Canal Bridge Boat Ramp
Located mid lake, south side, at the north end of the dam, this is a three-lane, concrete ramp with a dock and plenty of paved parking.
Hidden Cove Public Boat Access
Located mid lake, on the south side of the lake, this is a two-lane, concrete ramp with a dock and paved parking.
Linville Boat Ramp
Located in the northeast corner of the lake, off Highway 126, this is a two-lane, concrete ramp with a dock and paved parking.
Click here for a Indiana Fishing License.
Campgrounds & RV Parks Nearby
Lake James Campground - 419 388-3655
Manapogo Park Campground - 260 833-3902
Circle B Campground - 260 665-5353
James Lake, IN Map - Fishing & Camping Areas
Lake Video
Contact Information
James Lake
Pokagon State Park
450 Lane 100 Lake James
Angola, IN 46703
260 833-2012
Fishing lakes in each state.
James Lake in Indiana.
INDIANA


Bass, perch and walleye fishing in northeast IN.
Fishing at Lake James, in Indiana.