Fishing On Lake Michigan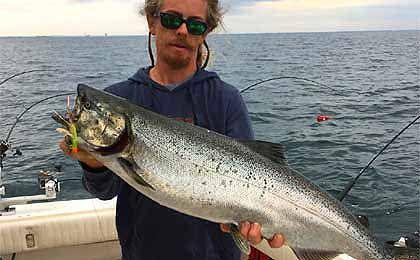 Third largest of the Great Lakes, by surface area, Lake Michigan is a phenomenal fishery. Fishing guides, fishing charters, fishing tournaments and individual anglers all enjoy great success for a wide variety of fish species. With over 22,000 square miles of surface area, and 1,640 miles of shoreline, one can always find their own piece of paradise to wet a line. Trout, salmon, steelhead, bass and walleye draw anglers from across the globe to enjoy this spectacular fish factory.
Fish species* residing in Lake Michigan
Click images for fishing tips and details about each species.
Click the images and links above for species details.
*Species covered in this website
Fishing for largemouth bass, smallmouth bass, channel catfish, walleye, sauger, rainbow trout, brook trout, brown trout, lake trout, steelhead, bluegill, green sunfish, pumpkinseed sunfish, rock bass, white bass, white perch, yellow perch, Atlantic salmon, chinook (king) salmon, coho salmon, pink salmon, muskie and northern pike in Lake Michigan.
Big-water boating experience is necessary if you wish to spend time on Lake Michigan. Fishing guides and charter services have the equipment and know-how to improve the safety of boating on this massive water. Additionally, these guides and charters know where the best schools of fish hang out, and where they move throughout the season. These are just a few options to consider.
Great Lakes Fishing Adventures
Lake Michigan's premier fishing charter service, fishing include coho, kings, steelhead, lake trout and brown trout.
Washington Park Marina
200 Heisman Harbor Drive
Michigan City, Indiana 46360
219 898-8282
---
Access from Illinois
Captain Slayer Fishing Charters - 773 501-5559
Full Circle Charters - 630 215-8801
Storm Warning Chicage Fishing Charters - 630 332-0706
Fishing Boat Rentals
Nautical Chicago Boat Rentals
Rentals: Fishing boats
312 448-8100
---
Access from Indiana
Brother Nature Charter Fishing - 877 725-6665
Cloud Nine Fishing Charter - 219 879-7852
M&M Charters - 219 395-4049
Fishing Boat Rentals
Miller's Marine
Rentals: Fishing boats, kayaks, canoes and powerboats
219 762-8767
---
Access from Michigan
Action Salmon Charters - 231 329-2117
RodMaster Fishing Charters - 517 712-8709
Watta Bite Charter Fishing - 231 409-0963
---
Access from Wisconsin
Nicky Boy Charter Fishing - 877 896-5500
Silver King Charters - 414 460-1467
Willie Bee Charters - 920 973-9452
Fishing Boat Rentals
Wave Club Water Sports
Rentals: Pontoon boats
231 873-3700
Lake Michigan Map
States with access to Lake Michigan
Illinois
Indiana
Michigan
Wisconsin
Lake Michigan Contact Information
Great Lakes Fishery Commission
2200 Commonwealth Blvd., Suite 100
Ann Arbor, MI, 48105
734 662-3209
Fishing lakes in each state.
Lake Michigan
THE GREAT LAKES


Fishing for trout, salmon, walleye, bass, muskie, perch and other fish species in the Great Lakes
Lake Michigan Fishing