The Best Crappie Fishing In Indiana
Guide to fishing for black crappie and white crappie.
Indiana offers excellent crappie fishing opportunities, with both black crappie and white crappie being popular species sought after by anglers. These panfish species are abundant in many of Indiana's lakes, reservoirs, and rivers, providing exciting and rewarding angling experiences.
Black crappie and white crappie share many similarities in appearance and behavior. However, they can be distinguished by their coloration. Black crappie have a darker overall color with distinct black spots, while white crappie have a lighter coloration with vertical bars along their sides.
Crappie fishing in Indiana is particularly popular during the spring and early summer, as these fish move into shallower water to spawn. Anglers target crappie near submerged structures, such as fallen trees, brush piles, and submerged vegetation, where they seek cover and ambush prey. Some popular crappie fishing spots in Indiana include Patoka Lake, Lake Monroe, and Brookville Lake.
When targeting crappie, anglers often use light spinning or fly fishing gear with small jigs, spinners, or live bait such as minnows. Crappie are known for their nibbling bites, so anglers need to pay attention to subtle strikes and be patient with their hooksets. Crappie are schooling fish, so once you locate a productive area, it's common to catch multiple fish in close proximity.
Crappie fishing can be enjoyed throughout the year in Indiana, but spring and early summer tend to be the most productive seasons. However, crappie can be caught during other times of the year as well, particularly in the fall when they move back to shallower water in preparation for winter.
When fishing for crappie in Indiana, it's important to familiarize yourself with local fishing regulations, including size and bag limits. Practicing selective harvest by keeping only the legal-sized fish and releasing larger individuals can help maintain healthy crappie populations and ensure the sustainability of this beloved sportfish for future generations of anglers.
Crappie Waters In IN
All about fishing for white and black crappie.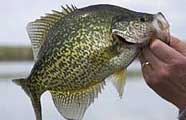 Like many states, the state record crappie was caught in a private pond. However, the most consistent stringers come from massive schools of crappie in major lakes including Barbee Lake, Bass Lake, Big Long Lake, Big Turkey Lake, Bluegrass FWA, Brookville Lake, Cagles Mill Lake, Cecil M Harden Lake, Dewart Lake, Dogwood Lake, Eagle Creek Reservoir, Geist Lake, Hamilton Lake, Hardy Lake, Hovey Lake, J C Murphey Lake, J Edward Roush Lake, Jimmerson Lake, Kuhn Lake, Lake Freeman, Lake Lemon, Lake Manitou, Lake Maxinkuckee, Lake Michigan, Lake Papakeechie, Lake Shafer, Lake Wawasee, Mississinewa Reservoir, Monroe Lake, Morse Reservoir, Nyona Lake, Patoka Lake, Pine Lake, Prairie Creek Reservoir, Salamonie Lake, Summit Lake, Sylvan Lake, Syracuse Lake, Tippecanoe Lake, Turtle Creek Reservoir, Waubee Lake, Webster Lake, West Boggs Lake, Winona Lake, Witmer Lake and Worster Lake. Crappie are a popular species when ice fishing at many lakes across the state.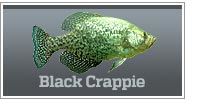 World record: 6 lbs 0 oz
State Record: 4 lbs 11 oz*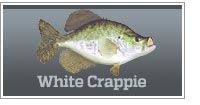 World record: 5 lbs 3 oz
State Record: 4 lbs 11 oz*
Click the images and links above for species details.
Top 5 Crappie Fishing Lures For Indiana
Crappie jigs work well in water from 2' to 40' deep, and are the most popular artificial lure for crappie ever. When crappie are shallow, spinners, small crankbaits and underspins are the often very productive. As they move deeper, spoons are among the top producers if the crappie are active. Review details for the best crappie rig options. Understanding the seasonal movements of crappie can enhance your chances of using these lures in the ideal locations.
The state record crappie was caught in a private pond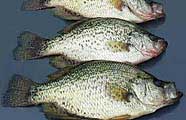 Crappie are actually a member of the sunfish family and can be found in many Indiana lakes. Crappie are known by many different local names. Paper mouth, goggleye, bridge perch, slabs and speckled perch, are just a few.
Click here for a Indiana Fishing License.
Crappie Fishing Basics Video
Check out crappie information, by state.
The life cycle of crappie.
The more you know about crappie, the easier it will be to locate and catch them in Indiana lakes and rivers. Visit the crappie fishing page for details about their seasonal migrations.
INDIANA