Crappie Fishing In West Virginia
Guide to fishing for white and black crappie in WV.
West Virginia provides excellent opportunities for crappie fishing, with its numerous lakes, reservoirs, and rivers. Anglers can target two main species of crappie in the state: black crappie and white crappie.
Black crappie are widely distributed throughout West Virginia and can be found in various bodies of water, including lakes such as Sutton Lake, Stonewall Jackson Lake, and Burnsville Lake. They are known for their distinctive black mottled pattern and are highly sought after by anglers. Black crappie tend to congregate near submerged structures, such as fallen trees, brush piles, and weed beds. Anglers often use light spinning tackle or fly fishing gear with small jigs, minnows, or soft plastic baits to entice black crappie.
White crappie are another popular crappie species in West Virginia. They have a silvery-white color with vertical bars along their sides and can also be found in lakes, reservoirs, and rivers throughout the state. White crappie tend to favor clearer waters and are often found near structures such as docks, piers, and submerged vegetation. Anglers use similar techniques and baits as for black crappie when targeting white crappie.
Spring and fall are generally considered the best seasons for crappie fishing in West Virginia. During these times, crappie are more active and tend to move shallower in search of spawning grounds or feeding opportunities. Anglers can take advantage of this by targeting shallow areas, especially near submerged structures, where crappie are likely to gather.
When crappie fishing in West Virginia, it's important to follow state regulations regarding size limits, bag limits, and fishing seasons for crappie. It's also recommended to practice selective harvest and release smaller-sized crappie to maintain healthy populations and sustain the fishery. With its abundance of lakes and rivers, West Virginia offers crappie anglers a rewarding experience and the chance to catch these popular panfish throughout the year.
Crappie Waters In West Virginia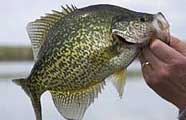 Bluestone Lake, Burnsville Lake, Moncove Lake, O'Brien Lake, Stonewall Jackson Lake, Summersville Lake and Tygart Lake are some of the major lakes in West Virginia that contain solid populations of crappie. Most ponds, small lakes, rivers and many parks are excellent places to look for crappie.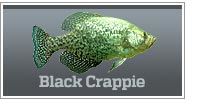 World record: 6 lbs 0 oz
State Record: 4.05* lbs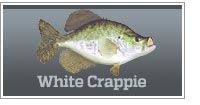 World record: 5 lbs 3 oz
State Record: 4.05* lbs
Click the images and links above for species details.
Top 5 Crappie Fishing Lures For West Virginia
Crappie jigs work well in water from 2' to 40' deep, and are the most popular artificial lure for crappie ever. When crappie are shallow, spinners, small crankbaits and underspins are the often very productive. As they move deeper, spoons are among the top producers if the crappie are active. Review details for the best crappie rig options. Understanding the seasonal movements of crappie can enhance your chances of using these lures in the ideal locations.
West Virginia State Record Crappie
The state record black/white crappie was caught from Meathouse Fork.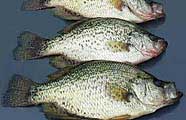 Crappie are actually a member of the sunfish family and can be found in many West Virginia lakes. Crappie are known by many different local names. Paper mouth, goggleye, bridge perch, slabs and speckled perch, are just a few.Small jigs, live minnows, small spinners and other small lures will catch crappie. Use light line (six pound or less) and work the baits slowly - especially in cold water.
Crappie Fishing Basics Video
Check out crappie information, by state.
The life cycle of crappie.
The more you know about crappie, the easier it will be to locate and catch them in West Virginia lakes and rivers. Visit the crappie fishing page for details about their seasonal migrations.
WEST VIRGINIA