Guide To Fishing At Tygart Lake
AKA: Tygart Reservoir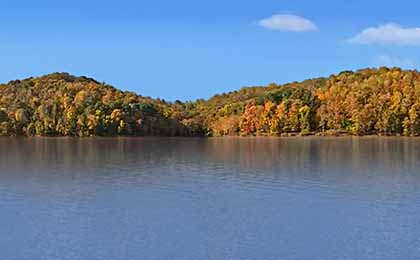 As an integral part of Tygart Lake Sate Park, Tygart Lake is at the heart of this outdoor recreation paradise. The lake covers 1,700 surface acres and has over 30 miles of shoreline. The park and lake is located in the northeast part of the state.
Tygart Lake, nestled in the picturesque mountains of West Virginia, is a popular fishing destination that offers anglers a peaceful and scenic fishing experience. With a surface area of approximately 1,750 acres, Tygart Lake provides ample opportunities for anglers to cast their lines and enjoy the tranquility of nature.
One of the most sought-after fish species in Tygart Lake is the largemouth bass. The lake's diverse structure, including submerged structures, fallen trees, and weed beds, creates an ideal habitat for largemouth bass to thrive. Anglers can target these prized game fish using various techniques such as casting plastic worms, crankbaits, or topwater lures. The lake's calm waters and abundant cover make it a perfect spot for bass fishing enthusiasts to pursue their passion.
Tygart Lake is also home to other popular fish species, including crappie, bluegill, and catfish. Crappie, both black and white, can be found near submerged structures and brush piles. Anglers can use jigs, live minnows, or small crankbaits to entice these delicious panfish. Bluegill, known for their feisty nature, provide enjoyable fishing experiences for anglers of all ages. The lake's shallow areas and weed beds are prime locations to target these voracious feeders. Catfish, such as channel catfish, can be caught using cut bait, stink baits, or live baits. Tygart Lake offers ample opportunities for catfish enthusiasts to land some impressive catches.
In addition to fishing, Tygart Lake offers boating and camping opportunities. Boaters can explore the calm waters of the lake, enjoying the scenic views and the tranquility of nature. The lake allows motorized boating activities, making it a great place for water skiing, tubing, or simply cruising around the lake. Camping facilities, including campgrounds equipped with amenities like picnic areas, restrooms, and hiking trails, are available nearby, providing opportunities for visitors to extend their stay and immerse themselves in the natural beauty of the surroundings.
Anglers planning to fish at Tygart Lake should be aware of fishing regulations and obtain a valid fishing license. It's important to follow size and creel limits, as well as any special regulations in place to protect the fishery and maintain the natural balance of the lake's ecosystem.
In conclusion, Tygart Lake in West Virginia offers a serene fishing experience with its popular fish species, including largemouth bass, crappie, bluegill, and catfish. Whether you're casting a line from the shore or exploring the calm waters by boat, Tygart Lake provides ample opportunities for anglers to enjoy their favorite fishing pursuits. Its boating and camping amenities further enhance the overall outdoor experience, making it a favored destination for fishing enthusiasts and nature lovers seeking solace and connection with the beauty of West Virginia's landscapes.
This fishery sits in the foothills of the Allegheny Mountains, at Grafton and offers swimming, camping, boating and fishing are all popular here, as well as hiking and other activities. Fishing enthusiasts will find bass, crappie, walleye, catfish, perch, white bass, muskie and pike all residing in this impoundment of the Tygart Valley River. Marinas, camping, stores and restaurants are all convenient to visitors, and rental boats are available for fishing, boating and sight seeing. There are several public boat launch ramps, as well as areas to portage kayaks or canoes. Much of the shoreline is available for fishing from the bank.

What to fish for...
Fishing for largemouth bass, smallmouth bass, channel catfish, flathead catfish, black crappie, walleye, bluegill, white bass, yellow perch, muskie and northern pike at Tygart Lake in West Virginia.
Primary fish species residing in Tygart Lake
Click images for fishing tips and details about each species.
Tygart Lake Amenities
Marina: YES
Boat Rental: YES
Boat Launch Ramp: YES
Campgrounds: YES
RV Hookups: YES
Lodging: YES
Convenience Store: YES
Bait & Tackle: NEARBY
Restaurant: YES
Today's Weather & Forecast
Fishing Boat Rentals
Tygart Lake Marina
Rentals: Fishing boats and pontoon boats
304 265-3974
Public Boat Launch Ramps & Landings
Pleasant Creek Boat Launch Ramp
Located mid lake, southwest side, off Lower Pleasant Creek Road, this is a one-lane, concrete ramp with a dock and paved parking.
Tygart Lake Marina Boat Launch Ramp
Located in the northeast section of the lake, off Bath House Road, this is a one-lane, concrete ramp with street parking.
Marinas
Tygart Lake Marina
Tygart Lake State Park
Grafton, WV 26354
304 265-3974
Click here for a West Virginia Fishing License.
Campgrounds & RV Parks Nearby
Tygart Lake State Park Campground - 304 265-6144
Lakeside Resort Campground - 304 265-4440
Tygart Lake WV Map - Fishing & Camping Areas
Lake Video
Contact Information
Tygart Lake
Tygart Lake State Park
1240 Paul E Malone Rd
Grafton, WV 26354
304 265-6144
Fishing lakes in each state.
Tygart Lake in West Virginia.
WEST VIRGINIA


Information about fishing lakes in West Virginia
Fishing in northeast WV, for bass, crappie, walleye, catfish, perch, white bass, muskie and northern pike.
Fishing on Tygart Lake.