Guide To Fishing At East Lynn Lake
AKA: East Lynn Reservoir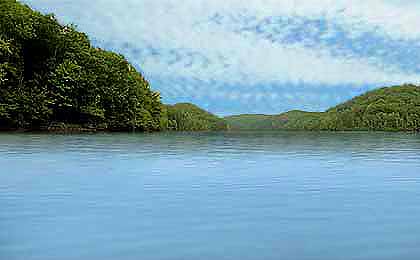 Largemouth and spotted bass are the headliners at East Lynn Lake, a 1,000-acre lake in the west-central part of the state, at Kiahsville. This zig-zag, river lake has over 40 miles of shoreline to cruise while sightseeing or fishing.
East Lynn Lake, nestled in the scenic hills of West Virginia, is a favorite destination for fishing enthusiasts seeking a serene outdoor experience and a variety of fish species. With its expansive size of approximately 1,005 acres, East Lynn Lake offers abundant fishing opportunities and a range of recreational activities.
One of the most popular fish species found in East Lynn Lake is the largemouth bass. The lake is known for its excellent largemouth bass fishery, attracting anglers from near and far. Anglers can target largemouth bass near the lake's shoreline, submerged structures, and weed beds. Techniques such as casting plastic worms, crankbaits, or topwater lures can be highly effective in enticing these prized game fish. The lake's structure, including fallen trees and brush piles, provides ideal habitat for largemouth bass to thrive.
East Lynn Lake also offers opportunities to catch other popular fish species, including crappie, bluegill, and catfish. Crappie, both black and white, can be found near submerged structures and brush piles. Spring and fall are particularly productive seasons for crappie fishing, as they move closer to the shorelines to spawn and feed. Bluegill and catfish are abundant in the lake and provide enjoyable fishing experiences for anglers of all ages.
Apart from fishing, East Lynn Lake is a haven for boating and water-based recreational activities. The lake's calm waters and picturesque surroundings make it an ideal destination for boaters. Anglers and boaters can launch their watercraft from the lake's multiple boat ramps, allowing easy access to various fishing spots. Camping facilities, including campgrounds and picnic areas, are available nearby, providing opportunities for visitors to extend their stay and immerse themselves in the beauty of the natural surroundings.
Anglers visiting East Lynn Lake should be aware of fishing regulations specific to the lake, including catch-and-release guidelines, size limits, and creel limits. It is important to obtain a valid fishing license and follow the state's fishing rules and regulations to ensure the sustainability of the fishery.
In conclusion, East Lynn Lake in West Virginia offers a rewarding fishing experience with its diverse fish species, including largemouth bass, crappie, bluegill, and catfish. Whether you're an experienced angler or a beginner, the lake provides ample opportunities for success. Its boating and camping amenities further enhance the overall outdoor experience, making East Lynn Lake a popular destination for anglers and outdoor enthusiasts seeking relaxation and adventure amidst the beauty of West Virginia's natural landscapes.
Several boat ramps are available to the public for launching pontoons, powerboats, bass boats, kayaks and fishing boats of all kinds.

What to fish for...
Fishing for largemouth bass, spotted bass, channel catfish, walleye, saugeye, brown trout, bluegill and hybrid striped bass at East Lynn Lake in West Virginia.
Primary fish species residing in East Lynn Lake
Click images for fishing tips and details about each species.
East Lynn Lake Amenities
Marina: NO
Boat Rental: NO
Boat Launch Ramp: YES
Campgrounds: YES
RV Hookups: YES
Lodging: NEARBY
Convenience Store: YES
Bait & Tackle: YES
Restaurant: NEARBY
Today's Weather & Forecast
Public Boat Launch Ramps & Landings
Bartram Branch Boat Launch Ramp
Located in the northwest section of the lake, east side, off Lake Side Drive, this is a four-lane, concrete ramp with docks and paved parking.
Lick Creek Boat Launch Ramp
Located mid lake, east side, off E Lynn Road, this is a two-lane, concrete ramp with a dock and paved parking.
Click here for a West Virginia Fishing License.
Campgrounds & RV Parks Nearby
East Lynn Lake Campgrounds - 304 849-5000
East Lynn Lake WV Map - Fishing & Camping Areas
Lake Video
Contact Information
East Lynn Lake
US Army Corps of Engineers,
East Lynn Lake
683 Overlook Trail Road
East Lynn, WV 25512
304 849-2355
Fishing lakes in each state.
East Lynn Lake in WV
WEST VIRGINIA


Fishing for largemouth and spotted bass in west-central WV.
East Lynn Lake, in West Virginia.