Crappie Fishing In Idaho
Guide To Crappie Waters In ID
All about fishing for white and black crappie.
Idaho offers exciting crappie fishing opportunities, with two prominent species being the black crappie and the white crappie. Crappie are highly sought after for their tasty flesh and their willingness to bite, making them a favorite among anglers. Both black crappie and white crappie can be found in various lakes and reservoirs throughout the state. The purpose of this page is to share basic information about crappie fishing and crappie lakes in the state.
Crappie Fishing Basics Video
Black crappie, characterized by their dark speckled pattern, are often found in waters with abundant vegetation and submerged structure. They prefer slow-moving or still waters such as reservoirs, backwaters, and sloughs. Popular lakes for black crappie fishing in Idaho include Lake Cascade, Lucky Peak Lake, and Brownlee Reservoir. Anglers typically target black crappie using light tackle, small jigs, or live baits such as minnows or worms.
White crappie, recognized by their silvery appearance and vertical bars, are also prevalent in Idaho's waters. They tend to inhabit clearer and deeper waters such as reservoirs and larger rivers. White crappie can be found in lakes like Dworshak Reservoir, C.J. Strike Reservoir, and Lake Walcott. Anglers use similar techniques for white crappie as they do for black crappie, focusing on areas with submerged structure, drop-offs, or brush piles.
Both black crappie and white crappie can provide excellent fishing experiences in Idaho, and their fishing seasons typically span from spring through fall. Crappie are known to school together, so once you locate one, you're likely to find more in the same area. It is common to target crappie around dawn or dusk when they tend to be more active and feeding.
Whether you're seeking the challenge of black crappie fishing or the abundance of white crappie, Idaho's lakes and reservoirs offer plenty of opportunities to reel in these prized panfish. Crappie fishing provides a fun and rewarding experience for anglers of all ages and skill levels, making it a popular choice among Idaho's fishing community. So grab your gear, locate the crappie hotspots, and get ready for an enjoyable day of crappie fishing in Idaho's beautiful waters.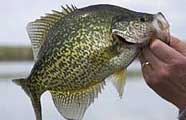 Many of the Idaho fishing waters are a bit cold for crappie. However there are still plenty of places to catch crappie in ID. The major lakes with a population of crappie include Brownlee Reservoir, C J Strike Reservoir, Cascade Reservoir, Coeur D'Alene Lake, Crane Creek Reservoir, Dworshak Reservoir, Hayden Lake, Hells Canyon Reservoir, Lake Lowell, Lake Pend Oreille, Lucky Peak Reservoir, Paddock Valley Reservoir, Salmon Falls Creek Reservoir and Spirit Lake.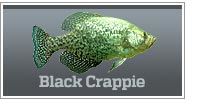 World record: 6 lbs 0 oz
State Record: 3.56 lbs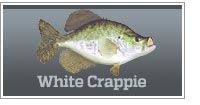 World record: 5 lbs 3 oz
State Record: 3.80 lbs
Click the images and links above for species details.
Top 5 Crappie Fishing Lures For Idaho
Crappie jigs work well in water from 2' to 40' deep, and are the most popular artificial lure for crappie ever. When crappie are shallow, spinners, small crankbaits and underspins are the often very productive. As they move deeper, spoons are among the top producers if the crappie are active. Review details for the best crappie rig options. Understanding the seasonal movements of crappie can enhance your chances of using these lures in the ideal locations.
The state record black crappie was caught out of Brownlee Reservoir.
The state record white crappie came from Crane Creek Reservoir.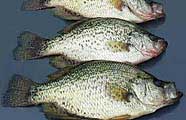 Crappie are actually a member of the sunfish family and can be found in many Idaho lakes. Crappie are known by many different local names. Paper mouth, goggleye, bridge perch, slabs and speckled perch, are just a few.
Check out crappie information, by state.
The life cycle of crappie.
The more you know about crappie, the easier it will be to locate and catch them in Idaho lakes and rivers. Visit the crappie fishing page for details about their seasonal migrations.
IDAHO