Fishing At Magic Reservoir
AKA: Magic Lake
What to fish for...
Guide to fishing for smallmouth bass, rainbow trout, brown trout and yellow perch at Magic Reservoir in Idaho.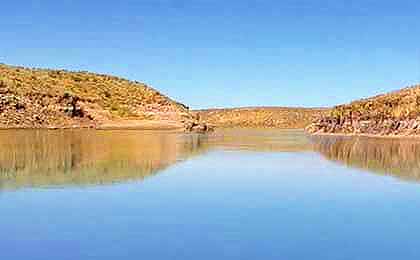 Although there are few amenities at the lake, Magic Reservoir is worth the trip, just come prepared to be self sustaining if you camp at the lake. This 3,600-acre fishery in the southwest part of the state is just 10 miles southwest of Bellevue.
The purpose of this page is to deliver an overview of this lake, the fishing options, and area amenities. Our goal is to provide info to first time visitors, as well as beginner and novice anglers. We gathered details from personal experience, numerous trusted websites that each offer select bits of information, and videos of fishing activity on the lake. These websites include the Idaho Fish and Game, marinas at the lake, campgrounds, boat rental agencies and others. By consolidating this information to one page it allows visitors to see the entire picture, all in one place.
Lake Video
Magic Reservoir, nestled in the scenic landscapes of southern Idaho, is a beloved destination for fishing enthusiasts. This expansive reservoir offers a peaceful retreat and exceptional angling opportunities. Anglers are drawn to Magic Reservoir for its diverse fish populations and the chance to catch some of Idaho's popular fish species.
One of the prized catches in Magic Reservoir is the rainbow trout. Known for their spirited fights and stunning colors, rainbow trout provide an exciting angling experience for both novice and experienced anglers. The reservoir is regularly stocked with rainbow trout, ensuring a steady supply of these sought-after fish throughout the fishing season. In addition to rainbow trout, anglers can also target other species such as smallmouth bass, yellow perch, and catfish, providing a variety of options to suit different fishing preferences.
Magic Reservoir truly embodies the spirit of Idaho's outdoor beauty and recreational opportunities. Whether you're casting a line for rainbow trout, enjoying a day of boating, or unwinding at a scenic campsite, Magic Reservoir promises a memorable experience. Its diverse fish populations, boating amenities, and picturesque camping areas make it a must-visit destination for those seeking outdoor adventures in southern Idaho.
The lake nearly 30 miles of shoreline which surround this home to smallmouth bass, rainbow trout, brown trout and yellow perch. Ideal fishing opportunities for kids, by boat or fishing from the bank, the catching is often quite good. The lake is stocked annually with plenty of rainbow trout, which are eager to bite. Boat launch ramps on the east, west and north sides of the lake allow launching of all types of boats. There is no limit on boat motor horsepower. Bring the family and teach the kids the joy of catching fish.

Primary fish species residing in Magic Reservoir
Click images for fishing tips and details about each species.
Magic Reservoir Amenities
Marina: NO
Boat Rental: NO
Boat Launch Ramp: YES
Campgrounds: NEARBY
RV Hookups: NEARBY
Lodging: YES
Convenience Store: NO
Bait & Tackle: NO
Restaurant: YES
Today's Weather & Forecast
Beyond fishing, Magic Reservoir offers ample opportunities for boating enthusiasts. With its vast surface area and calm waters, boaters can enjoy leisurely cruises, engage in water sports, or explore the reservoir's scenic surroundings. Whether you prefer sailing, powerboating, or kayaking, Magic Reservoir provides plenty of space to navigate and enjoy a day on the water.
Public Boat Launch Ramps & Landings
Barrel Springs Boat Launch
Located in the northwest section of the lake, north side, off I-20, this is a one-lane, concrete ramp with a dock and gravel parking.
East Magic Boat Launch Ramp
Located mid lake, east side, off E Magic Road, this is a two-lane, concrete ramp with docks and gravel parking.
Hot Springs Landing Boat Launch Area
Located in the northern section of the lake, off Hot Springs Landing Road, this is a two-lane, concrete ramp with docks and paved parking.
West Magic Boat Launch Ramp
Located mid lake, west side, off Rainbow Drive, this is a two-lane, concrete ramp with docks and gravel parking.
Click here for a Idaho Fishing License.
Camping is a popular activity for those seeking an extended stay at Magic Reservoir. The reservoir offers several campgrounds where visitors can set up their tents or park their RVs, allowing them to immerse themselves in the natural beauty of the area. Camping near Magic Reservoir provides anglers and outdoor enthusiasts with convenient access to prime fishing spots, allowing them to maximize their time on the water and enjoy the tranquility of the reservoir.
Campgrounds & RV Parks Nearby
Stanton Crossing Campground - 208 732-7200
Magic Reservoir ID Map - Fishing & Camping Areas
Contact Information
Magic Reservoir
Magic Reservoir
Shoshone Field Office
400 West F Street
Shoshone, ID 83352
208 732-7200
Fishing lakes in each state.
Magic Reservoir in ID
IDAHO


Fishing for smallmouth bass, rainbow trout, brown trout and yellow perch in southwest ID.
Magic Reservoir, in Idaho.