Fishing At Palisades Reservoir
AKA: Palisades Lake
What to fish for...
Guide to fishing for rainbow trout, cutthroat trout, brown trout, lake trout and kokanee salmon at Palisades Reservoir in Idaho.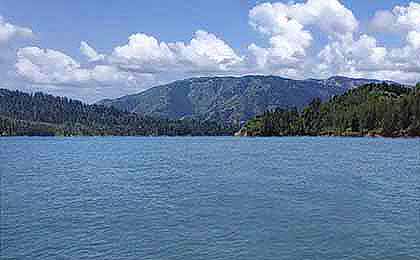 Nestled in a beautiful mountain setting, Palisades Reservoir is a trout anglers dream. At an elevation 5,600 feet above sea level, this 16,000-acre lake provides fishing opportunities year round.
Palisades Reservoir, located in southeastern Idaho, is a paradise for fishing enthusiasts. This stunning reservoir, nestled among the majestic mountains and sprawling forests of the Caribou-Targhee National Forest, offers a serene setting and outstanding angling opportunities. Anglers are drawn to Palisades Reservoir for its diverse fish populations and the chance to catch some of Idaho's most sought-after fish species.
One of the prized catches in Palisades Reservoir is the cutthroat trout. These native trout thrive in the reservoir's clear waters, providing anglers with thrilling battles and the opportunity to reel in impressive-sized fish. The reservoir is also home to other popular species such as rainbow trout, brown trout, and kokanee salmon. Anglers can choose from various techniques, such as fly fishing, bait fishing, or trolling, to target these sought-after species.
In addition to fishing, Palisades Reservoir offers ample opportunities for boating enthusiasts. The expansive waters of the reservoir invite boaters to embark on leisurely cruises, indulge in water sports, or explore the secluded coves and bays. Whether you prefer motorized boats, kayaks, or canoes, Palisades Reservoir provides a picturesque and tranquil environment to enjoy a day on the water.
Camping near Palisades Reservoir is a popular option for those seeking an immersive outdoor experience. The area offers several campgrounds equipped with facilities and stunning views, where visitors can set up their tents or park their RVs. Camping allows anglers and outdoor enthusiasts to wake up to breathtaking views, savor peaceful evenings under starlit skies, and make the most of their time in this scenic retreat.
Palisades Reservoir is truly a gem in Idaho, captivating anglers and nature lovers with its natural beauty and recreational opportunities. Whether you're casting a line for cutthroat trout, cruising the reservoir's tranquil waters, or spending nights camping under the starry sky, Palisades Reservoir promises an unforgettable experience. Its diverse fish populations, boating amenities, and picturesque camping areas make it a must-visit destination for those seeking outdoor adventures in southeastern Idaho.
Ice fishing in winter, fishing from a boat in summer and bank fishing the remainder of the year makes this an ideal trout fishing destination. This gem is located in the southeast part of the state, on the Wyoming-Idaho border, 5 miles southeast of Irwin, ID. 70 miles of shoreline provide plenty of places to wet a line, from shore or from a boat. The boat launches serve pleasure and fishing boats with no HP restrictions. Several campgrounds and RV parks are available during the season.

Primary fish species residing in Palisades Reservoir
Click images for fishing tips and details about each species.
Palisades Reservoir Amenities
Marina: NO
Boat Rental: NO
Boat Launch Ramp: YES
Campgrounds: YES
RV Hookups: YES
Lodging: NO
Convenience Store: NO
Bait & Tackle: NO
Restaurant: NEARBY
Today's Weather & Forecast
Public Boat Launch Ramps & Landings
Blowout Boat Launch Ramp
Located mid lake, east side, off US Highway 26, this is a two-lane, concrete ramp with a dock and gravel parking.
Calamity Boat Launch Ramp
Located in the northwest corner of the lake, off Bear Creek Road, this is a two-lane, concrete ramp with a dock and gravel parking.
Click here for a Idaho Fishing License.
Campgrounds, Lodging & RV Parks Nearby
Palisades RV Park - 208 351-0511
Riverside Park Campground - 208 524-7500
Calamity Campground - 208 524-7500
Big Elk Campground - 208 523-1412
Blowout Campground - 208 524-7500
McCoy Creek Campground - 208 524-7500
Palisades Reservoir ID Map - Fishing & Camping Areas
Lake Video
Contact Information
Palisades Reservoir
Palisades Creek Campground
Palisades Creek Rd
Irwin, ID 83428
208 524-7500
Fishing lakes in each state.
Palisades Reservoir in Idaho.
IDAHO


Information about fishing lakes in Idaho
Palisades Reservoir offers year-round trout fishing fishing in southeast Idaho.
Fishing on Palisades Reservoir.