Fishing At Blackfoot Reservoir
AKA: Blackfoot Lake
What to fish for...
Guide to fishing for rainbow trout, cutthroat trout and yellow perch at Blackfoot Reservoir in Idaho.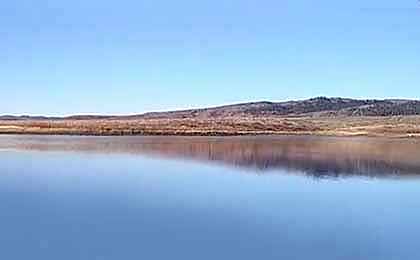 Surrounded by mountains in southeast Idaho, Blackfoot Reservoir is a 16,900-acre lake 5 miles southwest of Wayan, ID. Anglers preferring to fish from the bank have a lot of options as a fair amount of the 60 miles of shoreline is reasonably accessible.
Tucked away in the southeastern part of Idaho, Blackfoot Reservoir is a hidden gem for fishing enthusiasts. This expansive reservoir offers a peaceful retreat and abundant angling opportunities. Anglers are drawn to Blackfoot Reservoir for its thriving fish populations and the chance to catch some of the most popular species in the region.
One of the prized catches in Blackfoot Reservoir is the trophy-sized cutthroat trout. These native trout are known for their vibrant colors and impressive size, providing anglers with a thrilling challenge. The reservoir is also home to other popular species such as rainbow trout, brown trout, and yellow perch. Anglers can enjoy a variety of fishing techniques, including fly fishing, trolling, and bait fishing, to target these sought-after species.
Blackfoot Reservoir is not only a haven for fishing but also offers opportunities for boating enthusiasts. With its vast expanse of water, boaters can indulge in leisurely cruises, water sports, or simply explore the reservoir's scenic beauty. Whether you prefer kayaking, canoeing, or powerboating, Blackfoot Reservoir provides ample space for recreational boating activities.
For those looking to extend their stay, camping near Blackfoot Reservoir is a fantastic option. The reservoir offers several campgrounds with picturesque settings where visitors can set up their tents or park their RVs. Camping allows anglers and outdoor enthusiasts to fully immerse themselves in the tranquil surroundings, enjoy starry nights, and wake up to the peaceful sounds of nature.
Blackfoot Reservoir truly embodies the spirit of Idaho's natural beauty and outdoor adventure. Whether you're casting a line for trophy-sized trout, enjoying a day of boating on the water, or spending nights under the stars at a campsite, Blackfoot Reservoir promises an unforgettable experience. Its thriving fish populations, ample boating opportunities, and scenic camping areas make it a must-visit destination for those seeking serenity and exciting angling adventures in Idaho.
Ice fishing is available during winter when ice conditions allow, as the lake is at an elevation 6,100 feet above sea level. Boating is available to pleasure and fishing boats with no HP restrictions. Numerous annual stockings of rainbow trout keep this a popular fishing destination. Cutthroat trout and yellow perch are also available. Cedar Bay Marina RV Park and Cafe is a good place to start as they offer camping, lodging, dining, a boat launch and a store with camping and fishing supplies. Several other boat launch ramps are located around the lake, and there are plenty of places to portage a kayak or canoe.

Primary fish species residing in Blackfoot Reservoir
Click images for fishing tips and details about each species.
Blackfoot Reservoir Amenities
Marina: YES
Boat Rental: NO
Boat Launch Ramp: YES
Campgrounds: YES
RV Hookups: YES
Lodging: NO
Convenience Store: YES
Bait & Tackle: YES
Restaurant: YES
Today's Weather & Forecast
Public Boat Launch Ramps & Landings
Blackfoot Reservoir Campground Boat Launch Ramp
Located in the southwest corner of the lake, off Dike Road, this is a two-lane, concrete ramp with a dock and paved parking.
Marinas
Cedar Bay Marina RV Park & Cafe
3429 ID-34
Soda Springs, ID 83276
435 730-6140
Click here for a Idaho Fishing License.
Campgrounds, Lodging & RV Parks Nearby
Cedar Bay Marina RV Park & Cafe - 435 730-6140
Blackfoot Reservoir ID Map - Fishing & Camping Areas
Lake Video
Contact Information
Blackfoot Reservoir
Cedar Bay Marina RV Park & Cafe
3429 Highway 34
Soda Springs, ID 83276
435 730-6140
Fishing lakes in each state.
Blackfoot Reservoir in Idaho.
IDAHO


Information about fishing lakes in Idaho
Blackfoot Reservoir serves up rainbow trout, smallmouth bass and yellow perch fishing in southeast Idaho.
Fishing on Blackfoot Reservoir.