Best lures and tactics for catching crappie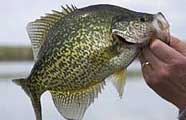 Crappie are a popular game fish that are found throughout North America. These fish are known for their delicious taste and fun fight, making them a favorite target of many anglers. If you want to catch crappie, it is important to use the right bait and rigging. Here are some of the best baits and rigging for crappie fishing:
Jigs
Jigs are one of the most popular baits for crappie fishing. These lures come in a variety of sizes, colors, and shapes, allowing anglers to customize their presentation based on the conditions. The best jig colors for crappie are usually white, chartreuse, or pink. Jigs can be rigged with a variety of techniques, including a slow retrieve or a vertical jigging motion.
Live bait
Live bait is another effective option for crappie fishing. Popular live baits for crappie include minnows, worms, and crickets. These baits can be fished under a bobber or on a jighead. Using live bait requires a bit more finesse than using lures, as crappie can be finicky and will often nibble at the bait before fully committing to the bite.
Soft plastic baits
Soft plastic baits, such as grubs and tubes, can also be effective for crappie fishing. These baits can be rigged on a jighead or fished on a drop shot rig. Soft plastic baits are versatile and can be fished in a variety of depths and conditions.
Slip bobber rig
A slip bobber rig is a popular setup for crappie fishing. This rig consists of a bobber that can slide up and down the line, allowing anglers to adjust the depth of their bait. A small jig or live bait is typically used with this rig.
Trolling
Trolling can be an effective technique for crappie fishing, especially when targeting larger fish. This involves slowly dragging a lure or live bait behind a moving boat. A variety of lures and baits can be used for trolling, including crankbaits, spinners, and jigs.
Crappie fishing can be a fun and rewarding experience if you use the right bait and rigging. Jigs, live bait, soft plastic baits, slip bobber rigs, and trolling are all effective techniques for catching crappie. Experiment with different baits and presentations to find what works best for you and the conditions you are fishing in. With a little patience and persistence, you can catch plenty of crappie for a delicious meal or a thrilling catch and release experience.
Locate the best crappie fishing lakes, by state.
Fishing Information