Guide To Crappie Fishing In Arkansas
All about fishing for white and black crappie.
Arkansas is known for its excellent crappie fishing opportunities, with black crappie and white crappie being the two primary species found in the state's lakes, reservoirs, and rivers. Anglers flock to these waters in pursuit of these popular panfish.
Black crappie are a prized species in Arkansas, known for their delicious white meat and challenging fights. They can be found in various habitats, including lakes, reservoirs, and slow-moving rivers. Black crappie tend to prefer clearer water with ample structure, such as submerged timber, brush piles, and bridge pilings. Spring and fall are particularly productive seasons for black crappie fishing, as the fish move into shallower water to spawn or feed. Anglers can use a variety of techniques, including jigging with small jigs or minnows, to entice these tasty fish.
White crappie are also abundant in Arkansas and provide exciting angling opportunities. They are typically found in slightly warmer and murkier waters compared to black crappie. Anglers can target white crappie near submerged vegetation, brush piles, or docks. Spring and fall are prime seasons for white crappie fishing, as the fish become more active and move into shallower areas. Similar to black crappie, anglers often use small jigs, minnows, or small crankbaits to entice white crappie into biting.
Both black crappie and white crappie offer anglers the chance to catch good numbers of fish, making them popular targets for anglers of all ages and skill levels. Arkansas's lakes and rivers provide ample opportunities to enjoy a day of crappie fishing, with a chance to bring home a tasty meal. Whether casting from the bank or drifting in a boat, Arkansas crappie fishing offers exciting action and the opportunity to connect with these prized panfish.
Best Crappie Lakes In AR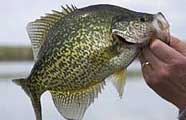 Most waters in Arkansas have a population of crappie. Larger impoundments tend to have some of the better schools because the crappie get less pressure on big lakes than on small lakes. Some of the primary lakes for crappie include Beaver Lake, Blue Mountain Lake, Bull Shoals Lake, DeGray Lake, Greers Ferry Lake, Lake Chicot, Lake Conway, Lake Dardanelle, Lake Greeson, Lake Hamilton, Lake Jack Lee, Lake Maumelle, Lake Millwood, Lake Ouachita, Nimrod Lake, Norfork Lake and White Oak Lake.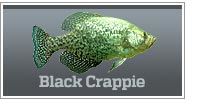 World record: 6 lbs 0 oz
State Record: 5 lbs 0 oz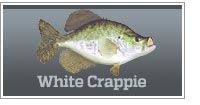 World record: 5 lbs 3 oz
State Record: 4 lbs 7 oz
Click the images and links above for species details.
Top 5 Crappie Fishing Lures For Arkansas
Crappie jigs work well in water from 2' to 40' deep, and are the most popular artificial lure for crappie ever. When crappie are shallow, spinners, small crankbaits and underspins are the often very productive. As they move deeper, spoons are among the top producers if the crappie are active. Review details for the best crappie rig options. Understanding the seasonal movements of crappie can enhance your chances of using these lures in the ideal locations.
Arkansas State Record Crappie
The state record black crappie was caught from Lake Wilhelmina.
The state record white crappie came out of Mingo Creek.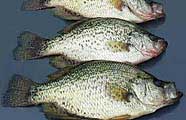 Crappie are actually a member of the sunfish family and can be found in many Arkansas lakes. Crappie are known by many different local names. Paper mouth, goggleye, bridge perch, slabs and speckled perch, are just a few.
Crappie Fishing Basics Video
Check out crappie information, by state.

The life cycle of crappie.
The more you know about crappie, the easier it will be to locate and catch them in Arkansas lakes and rivers. Visit the crappie fishing page for details about their seasonal migrations.
ARKANSAS