Guide To Crappie Fishing In Iowa
Crappie Waters In IA
All about fishing for white and black crappie.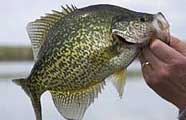 Iowa is a great destination for crappie fishing, with both black crappie and white crappie providing exciting angling opportunities.
Black crappie are abundant in many of Iowa's lakes, reservoirs, and rivers. They are known for their distinctive black speckled markings and are highly sought after by anglers. Black crappie prefer areas with submerged structures such as brush piles, fallen trees, or weed beds. Anglers can target black crappie using small jigs, minnows, or artificial baits. Spring and early summer are typically the most productive seasons for black crappie fishing, as they move into shallower waters for spawning.
White crappie, while less common than black crappie in some Iowa waters, can still be found in certain lakes and reservoirs. They have vertical bars along their sides and are known for their larger size compared to black crappie. White crappie also prefer submerged structures and can be targeted using similar techniques as black crappie. Anglers often have success using small jigs, minnows, or artificial baits.
When targeting crappie in Iowa, anglers often look for areas with submerged vegetation, fallen trees, or other structures that provide cover and attract crappie. Crappie tend to school together, so once a productive area is found, anglers can often catch multiple fish in a short period.
Crappie fishing can be particularly enjoyable for anglers of all skill levels, as crappie are known for their biting habits and provide consistent action. They make for delicious table fare as well, adding to the appeal of targeting these popular panfish.
It's important to be aware of the fishing regulations in Iowa, including any size or creel limits for crappie. Conservation of crappie populations ensures sustainable fishing opportunities for future generations.
Whether you're targeting black crappie or white crappie, Iowa's lakes, reservoirs, and rivers offer excellent opportunities for crappie anglers. With their distinctive markings, feisty nature, and delectable taste, crappie fishing in Iowa provides a rewarding and enjoyable experience for anglers of all ages and skill levels.
Most waters in Iowa have a population of crappie. In winter, ice fishing for crappie is a very popular passtime. Generally speaking, the warmer the waters the larger the populations of crappie. Many rivers, creeks, ponds and small lakes sport a population of crappie, but the consistently better stringer tend to come from larger lakes and impoundments.
Some of the larger lakes with crappie include Big Creek Lake, Big Spirit Lake, Black Hawk Lake, Browns Lake, Brushy Creek Lake, Clear Lake, Coralville Lake, DeSoto Lake, East Okoboji Lake, Five Island Lake, Lake Icaria, Lake MacBride, Lake Manawa, Lake Red Rock, Lake Wapello, Little River Lake, Little Spirit Lake, Lost Grove Lake, Lost Island Lake, North Twin Lake, Okamanpeedan Lake, Pleasant Creek Lake, Rathbun Lake, Saylorville Lake, Silver Lake, Storm Lake, Three Mile Reservoir, Twelve Mile Creek Lake and West Okoboji Lake.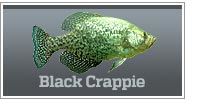 World record: 6 lbs 0 oz
State Record: 3.88 lbs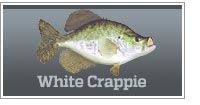 World record: 5 lbs 3 oz
State Record: 4.56 lbs
Click the images and links above for species details.
Top 5 Crappie Fishing Lures For Iowa
Crappie jigs work well in water from 2' to 40' deep, and are the most popular artificial lure for crappie ever. When crappie are shallow, spinners, small crankbaits and underspins are the often very productive. As they move deeper, spoons are among the top producers if the crappie are active. Review details for the best crappie rig options. Understanding the seasonal movements of crappie can enhance your chances of using these lures in the ideal locations.
Iowa State Record Crappie
The state record black crappie was caught from Three Mile Lake.
The state record white crappie came out of Green Castle Lake.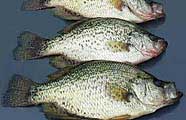 Crappie are actually a member of the sunfish family and can be found in many Iowa lakes. Crappie are known by many different local names. Paper mouth, goggleye, bridge perch, slabs and speckled perch, are just a few.
Crappie Fishing Basics Video
Check out crappie information, by state.
The life cycle of crappie.
The more you know about crappie, the easier it will be to locate and catch them in Iowa lakes and rivers. Visit the crappie fishing page for details about their seasonal migrations.
IOWA