Fishing For Catfish In Iowa
Guide to fishing for flathead, blue and channel catfish in IA.
Iowa is a fantastic destination for catfish fishing, offering excellent opportunities to target a variety of catfish species, including channel catfish, flathead catfish, and blue catfish. The purpose of this page is to share basic information about catfish fishing and catfish waters in the state.
Catfish Fishing Video
Channel catfish are the most common and widely distributed catfish species in Iowa. They can be found in lakes, rivers, and reservoirs throughout the state. Known for their hard-fighting nature and delicious flesh, channel catfish are a favorite among anglers. They can be targeted using a variety of techniques, including bottom fishing with cut bait, stinkbaits, or live bait such as worms or minnows. Channel catfish are often found near submerged structures, deep holes, or along the edges of channels. Nighttime or low-light conditions are particularly productive for catfish angling.
Flathead catfish, also known as "yellow cats" or "opelousas cats," are highly prized for their size and strength. They can grow to impressive sizes, with some individuals exceeding 50 pounds. Flatheads prefer rivers and larger reservoirs with deep holes, submerged logs, or rock piles. Anglers can target flathead catfish using live bait such as large minnows, bluegill, or sunfish. Due to their preference for live bait and their tendency to be more elusive than other catfish species, pursuing flathead catfish requires patience and skill.
Blue catfish, while less common than channel and flathead catfish, can still be found in certain Iowa waters. They are known for their large size and hard-fighting nature. Blue catfish prefer deep river channels and reservoirs, particularly in areas with strong current. Anglers can target blue catfish using cut bait, live bait, or prepared baits. Blue catfish are often caught during the warmer months when they become more active and move into shallower waters.
When catfish fishing in Iowa, it's important to be aware of the fishing regulations and any size or creel limits set by the Iowa Department of Natural Resources. Proper handling and release of catfish is encouraged to maintain the sustainability of catfish populations and ensure a thriving fishery for future generations.
Whether you're targeting channel catfish, flathead catfish, or blue catfish, Iowa's lakes, rivers, and reservoirs offer excellent opportunities for catfish anglers. With their impressive size, strength, and delectable flesh, catfish provide thrilling fishing experiences and rewarding table fare. So grab your fishing gear, choose your preferred catfish species, and enjoy the excitement of catfish fishing in Iowa.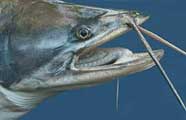 Most lakes and rivers in IA have catfish but the most consistent stringers are caught from major lakes like Big Creek Lake, Big Spirit Lake, Black Hawk Lake, Browns Lake, Brushy Creek Lake, Clear Lake, Coralville Lake, DeSoto Lake, East Okoboji Lake, Five Island Lake, Lake Ellis, Lake Icaria, Lake MacBride, Lake Manawa, Lake Red Rock, Little River Lake, Little Spirit Lake, Lost Grove Lake, Lost Island Lake, North Twin Lake, Okamanpeedan Lake, Pleasant Creek Lake, Rathbun Lake, Rock Creek Lake, Saylorville Lake, Silver Lake, Storm Lake, Three Mile Reservoir, Twelve Mile Creek Lake and West Okoboji Lake.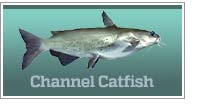 World record: 58 lbs 0 oz
State Record: 38.13 lbs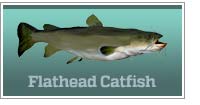 World record: 123 lbs 9 oz
State Record: 81 lbs 0 oz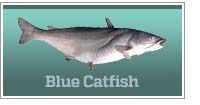 World record: 143 lbs 0 oz
State Record: 101.0 lbs
Click the images and links above for species details.
What's the best bait for catfish in Iowa?
Choose from the top 5 all-time catfish baits and try them on local waters. Appealing to the keen sense of smell and taste could turn a so-so day into a memorable event.
Iowa State Record Catfish
The state record channel catfish was caught from Missouri River.
The state record flathead catfish came from Ellis Lake.
The state record blue catfish came out of the Missouri River.
There are many species of catfish and even more ways to catch them. Adults range in size from less than a pound to hundreds of pounds. Catfish are found in all types of water including ponds, streams, lakes and rivers throughout Iowa. There are even species which spend a limited amount of time on dry land. Big giant catfish put up a very noble fight once hooked.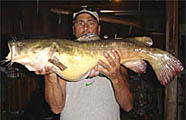 John Walsh with a big Iowa catfish.
Most catfish are considered bottom feeders to one extent or another. They will generally eat anything that can get in their mouth. Their strongest sense is smell which they use to locate potential food sources. Capitalizing on this sense is the primary weapon in your search for these creatures. Aggressive catfish have been caught on most types of fast moving bass lures so don't under estimate their ability to catch live bait.
Additional catfishing information resources.
U.S. Catfish Anglers Tournaments
Information for states with catfish.
IOWA