Fishing For Catfish In Michigan
Guide to fishing for flathead and channel catfish in MI.
Michigan offers excellent opportunities for catfish fishing, with two prominent species that attract anglers: channel catfish and flathead catfish. Channel catfish are widely distributed throughout the state and can be found in lakes, rivers, and reservoirs. They are known for their hardy nature, strong fighting ability, and willingness to bite on a variety of baits. Popular catfish hotspots include the Detroit River, St. Clair River, Saginaw Bay, and the Grand River. Anglers target channel catfish using traditional bottom-fishing techniques, such as using live or prepared baits like nightcrawlers, cut bait, or stinkbaits.
Flathead catfish, also known as yellow catfish, are larger and more elusive than their channel catfish counterparts. They prefer deep, slow-moving rivers and reservoirs with ample cover, such as fallen trees and rock formations. The Grand River, Kalamazoo River, and the Muskegon River are well-known destinations for pursuing flathead catfish in Michigan. Anglers often employ live bait, such as sunfish or large minnows, to entice these trophy-sized fish. Due to their size and strength, flathead catfish provide an exhilarating challenge for anglers seeking a thrilling fishing experience.
When targeting catfish in Michigan, it's crucial to be familiar with local fishing regulations, including size and possession limits, as well as any specific rules for bait usage. Additionally, practicing catch-and-release is encouraged to preserve the catfish populations and maintain healthy fisheries for future generations.
Michigan's catfish fishing opportunities, with the presence of both channel and flathead catfish, provide anglers with exciting challenges and the potential for memorable catches. Whether you prefer the urban waters of the Detroit River or the scenic rivers of the state, catfish fishing in Michigan offers diverse locations and techniques to suit all types of anglers. So grab your gear, choose your preferred catfish species, and get ready for an exciting fishing adventure in the great state of Michigan.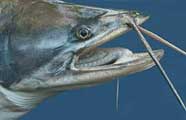 Many rivers in Michigan have catfish. They can also be found in ponds and small lakes across the state. The larger populations tend to come from some of the major bodies of water including Burt Lake, Grand Lake, Hamlin Lake, Houghton Lake, Indian Lake, Lake Charlevoix, Lake Erie, Lake Huron, Lake Michigan, Lake St Clair, Lake Superior, Sanford Lake and Wixom Lake.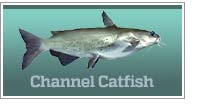 World record: 58 lbs 0 oz
State Record: 40.0 lbs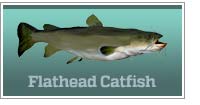 World record: 123 lbs 9 oz
State Record: 52.0 lbs
Click the images and links above for species details.
What's the best bait for catfish in Michigan?
Choose from the top 5 all-time catfish baits and try them on local waters. Appealing to the keen sense of smell and taste could turn a so-so day into a memorable event.
The state record channel catfish (2) were caught from Houghton Lake.
The Barron Lake gave up the state record flathead catfish.
Enjoy an article about MI catfish fishing by Ernest Miller.
There are many species of catfish and even more ways to catch them. Adults range in size from less than a pound to hundreds of pounds. Catfish are found in all types of water including ponds, streams, lakes and rivers throughout Michigan. There are even species which spend a limited amount of time on dry land. Big giant catfish put up a very noble fight once hooked.
Additional catfishing information resources.
U.S. Catfish Anglers Tournaments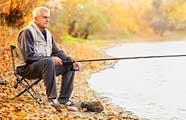 Most catfish are considered bottom feeders to one extent or another. They will generally eat anything that can get in their mouth. Their strongest sense is smell which they use to locate potential food sources. Capitalizing on this sense is the primary weapon in your search for these creatures. Aggressive catfish have been caught on most types of fast moving bass lures so don't under estimate their ability to catch live bait.
Catfish Fishing Video
Information for states with catfish.
MICHIGAN