The Best Fishing Spots For Catfish In Alabama
Guide to fishing for flathead, blue, white and channel catfish in AL.
Alabama is a prime destination for catfish fishing, offering excellent opportunities to catch a variety of catfish species in its lakes, rivers, and reservoirs. The purpose of this page is to share basic information about catfish fishing and catfish waters in the state.
Catfish Fishing Video
Channel catfish, known for their strong fight and delicious taste, are abundant in Alabama's waters. Anglers can target channel catfish using a variety of baits such as chicken liver, stinkbaits, or cut bait. These whiskerfish can be found in both flowing rivers and stillwater bodies, often near structures such as fallen trees or deep holes. Catfishing for channel catfish can be productive throughout the year, but spring and summer are particularly fruitful when they are actively feeding.
Flathead catfish, also known as yellow catfish, are highly sought-after game fish in Alabama. These large predators can grow to impressive sizes and provide an exhilarating challenge for anglers. Flatheads prefer deeper areas with cover such as submerged logs, brush piles, or rocky ledges. Live bait, such as live sunfish or large shiners, is commonly used to entice flathead strikes. Late spring and summer months are typically the best time to target flathead catfish as they become more active and aggressive during warmer water temperatures.
Blue catfish, another popular catfish species in Alabama, are known for their size and strength. These powerful fish can reach substantial weights, offering anglers the chance to hook into trophy-sized specimens. Blue catfish are often found in larger rivers and reservoirs with deep channels and strong currents. Anglers can use cut bait, live bait, or prepared baits to target blue catfish. The summer months are particularly productive for blue catfish fishing, as they are actively feeding and can be found in predictable locations.
White catfish, although less commonly targeted compared to other catfish species, can still provide an enjoyable fishing experience. They are typically found in rivers and reservoirs with sandy or muddy bottoms. White catfish are opportunistic feeders and can be caught using a variety of baits, including worms, shrimp, or cut bait. While they can be caught year-round, summer and early fall tend to be the most productive seasons for white catfish.
Whether targeting channel catfish, flathead catfish, blue catfish, or white catfish, Alabama offers a variety of fishing opportunities for catfish enthusiasts. It's important to familiarize oneself with Alabama fishing regulations, including size and bag limits, and obtain the necessary fishing licenses before heading out to fish for catfish in Alabama's waters. Catfishing in Alabama provides both recreational enjoyment and the potential to catch trophy-sized fish, making it a popular pursuit among anglers of all skill levels.
Catfish Fishing Lakes in Alabama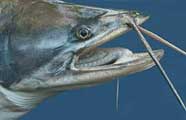 Catfish are found in most waters in Alabama. Major lakes like Bankhead Lake, Bartlett's Ferry Reservoir, Bear Creek Reservoir, Big Creek Lake, Cedar Creek Reservoir, Gainesville Lake, Jones Bluff Reservoir, Jordan Lake, Lake Eufaula, Lake Guntersville, Lake Harding, Lake Martin, Lake Mitchell, Lake Oliver, Lake Tuscaloosa, Lake Wedowee, Lay Lake, Lewis Smith Lake, Logan Martin Lake, Millers Ferry Reservoir, Neely Henry Lake, Pickensville Lake, Pickwick Lake, R E Bob Woodruff Lake, R L Harris Reservoir, Smith Lake, Walter F. George Lake, Weiss Lake, West Point Lake, Wheeler Lake, William Bill Dannelly Reservoir, Wilson Lake, Yates Lake and other lakes have abundant populations of catfish. Additionally catfish are found in most rivers and streams throughout the state.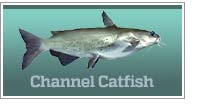 World record: 58 lbs 0 oz
State Record: 40 lbs 0 oz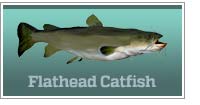 World record: 123 lbs 9 oz
State Record: 80 lbs 0 oz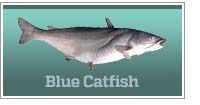 World record: 143 lbs 0 oz
State Record: 120 lbs 4 oz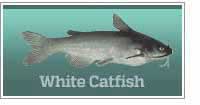 World record: 22 lbs 0 oz
State Record: 10 lbs 5 oz
Click the images and links above for species details.
What's the best bait for catfish in Alabama?
Choose from the top 5 all-time catfish baits and try them on local waters. Appealing to the keen sense of smell and taste could turn a so-so day into a memorable event.
Alabama State Record Catfish
The state record channel catfish was caught from Inland Lake.
The state record flathead catfish came from the Alabama River.
The state record blue catfish came out of Holt Reservoir.
The state record white catfish came out of Chambers Co. Public Lake.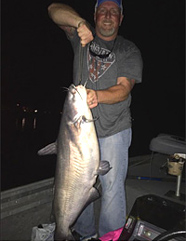 Best Alabama catfish bait?
Jason Trahan has found shrimp soaked in Anise has been one of the most effective baits for catching catfish in Alabama. 90% of his catches are channel cats and about 10% are blue catfish. This is a blue catfish that weighed 23 pounds and measured 36.5 inches in length. It was caught out of Lake Neely Henry.
There are many species of catfish and even more ways to catch them. Adults range in size from less than a pound to hundreds of pounds. Catfish are found in all types of water including ponds, streams, lakes and rivers throughout Alabama. There are even species which spend a limited amount of time on dry land. Big giant catfish put up a very noble fight once hooked.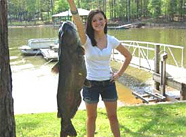 Most catfish are considered bottom feeders to one extent or another. They will generally eat anything that can get in their mouth. Their strongest sense is smell which they use to locate potential food sources. Capitalizing on this sense is the primary weapon in your search for them. Catfish have been caught on most types of fast moving bass lures so don't under estimate their ability to catch live bait.
Additional catfishing information resources.
U.S. Catfish Anglers Tournaments
States with catfish.
ALABAMA