Excellent Striped Bass & Hybrid Striper Fishing In Alabama
Alabama offers excellent opportunities for striped bass fishing, particularly for the popular hybrid stripers. Hybrid stripers, also known as wipers, are a crossbreed between striped bass and white bass, combining the best characteristics of both species. They are prized for their strong fight and impressive size, making them a sought-after game fish among anglers. The purpose of this page is to share basic information about striped bass and hybrid stripers fishing and identify popular striper waters in the state.
Striper Fishing Video
Learn the basics for catching striped bass.
Several major lakes in Alabama are known for their striped bass and hybrid striper populations. One notable lake is Lewis Smith Lake, which has gained a reputation as a premier destination for striped bass fishing. The lake's deep, clear waters provide ideal conditions for these species, and anglers have the chance to hook into trophy-sized fish. Other lakes such as Lake Martin, Lake Eufaula, and Weiss Lake also offer productive striped bass and hybrid striper fisheries.
Alabama boasts impressive state records for striped bass and hybrid stripers. The state record for striped bass exceeds a whopping 69 pounds, caught in Bankhead Reservoir. The record for hybrid striped bass is also impressive, weighing in at over 25 pounds. These records serve as a testament to the quality and potential of Alabama's striped bass and hybrid striper fisheries.
When targeting striped bass and hybrid stripers in Alabama, anglers often rely on trolling, casting with artificial lures, or using live bait such as shad or herring. Successful fishing techniques can vary depending on the time of year and the specific lake being fished. Spring and fall tend to be particularly productive seasons for striped bass and hybrid striper fishing, as these fish are more active and feeding more aggressively.
Anglers targeting striped bass and hybrid stripers in Alabama should familiarize themselves with fishing regulations, including size and bag limits, to ensure the conservation and sustainability of these fish populations. It's also important to obtain the necessary fishing licenses before heading out to enjoy this exciting and challenging fishing experience.
Whether you're a seasoned angler or a beginner, Alabama's lakes offer an incredible opportunity to pursue striped bass and hybrid stripers. With the chance to catch trophy-sized fish and the scenic beauty of the lakes, striped bass fishing in Alabama is a thrilling adventure that draws anglers from near and far.
Striped Bass Lakes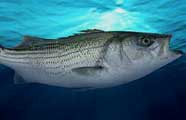 Alabama boasts a healthy population of stripers. They can be found in major lakes including Bankhead Lake, Jordan Lake, Lake Eufaula, Lake Guntersville, Lake Harding, Lake Martin, Lake Mitchell, Lake Oliver, Lake Wedowee, Lay Lake, Lewis Smith Lake, Logan Martin Lake, Millers Ferry Reservoir, Neely Henry Lake, Pickensville Lake, Pickwick Lake, R E Bob Woodruff Lake, R L Harris Reservoir, Smith Lake, Walter F. George Lake, Weiss Lake, West Point Lake, Wheeler Lake, William Bill Dannelly Reservoir, Wilson Lake and Yates Lake.

Striped Bass
Inland world record: 64 lbs 8 oz
State Record: 69 lbs 9 oz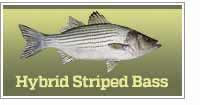 World record: 27 lbs 5 oz
State Record: 25 lbs 15 oz
Click the images and links above for species details.
Alabama State Record Striped Bass
The state record striped bass was caught from Bankhead Reservoir.
The state record hybrid striped bass came from the Sipsey Fork River.
Fishing for Stripers in Alabama
When fishing for stripers concentrate on the deeper waters in the lake. If you can locate schools of shad, stripers are often close by. When the baitfish are shallow over the deep water, you can catch stripers on crankbaits or by swimming spoons at appropriate depths. Check Alabama fishing reports for current striper information. And for the ultimate thrill try large topwater baits if you see any surface feeding action. When the stripers are deep, jigs and jigging spoons work well. Live and cut bait will also take striped bass when they are in medium to deeper water. Fish nearby or in the river channel if it is a defined depth change. Trolling is also an excellent way to fish for stripers. Use flashy lures in bigger sizes.
While stripers are native to salt water, they naturally migrate into fresh water streams to spawn. Their eggs must remain in motion in order to hatch so the fresh water rivers and streams become the ideal spawning grounds for stripers. Landlocked stripers then populate the lakes.
Striped bass fishing information, by state.
Learn the migration of stripers
The more you know about the seasonal migration of striped bass, the more likely you are to be looking in the right area next time you visit Alabama striper fishing lakes. Visit the striped bass fishing page for more in-depth information about striper movements.
ALABAMA