Choose From The Best Fishing Guides In Alabama
Hire a guide to take you fishing in AL.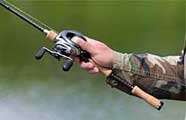 Hire a fishing guide to fish for largemouth bass, smallmouth bass, spotted bass, shoal bass, redeye bass, channel catfish, flathead catfish, blue catfish, white catfish, black crappie, white crappie, walleye, rainbow trout, bluegill, green sunfish, longear sunfish, redbreast sunfish, redear sunfish, rock bass, warmouth, white bass, yellow bass, yellow perch, stripers, alligator gar, bowfin, chain pickerel, longnose gar, muskie, paddlefish, sauger and spotted gar in local lakes.

Alabama Fishing Guides
Other Local Guides
For the ultimate fishing experience, hire a professional guide. They know the AL fishery inside out and have determined the best techniques for catching fish at various times of the year.
Mark Collins Guide Service - 256-779-3387
Mark or Lori Collins
A proven guide service on world famous weiss lake Alabama For slab crappie, stripers and bass! For a quality trip come fish with me in Alabama! I provide all bait and tackle !
River Region Guide Service - 334-290-7460
Benjamin Gross - ben@RiverRegionFishing.com
Focus Species: Spotted Bass, Largemouth Bass. River Region Guide Service, Inc provides our clients the best bass fishing Central Alabama has to offer. We offer half day and full day trips.
Riverside Fly Shop - 256-287-9582
Brandon Jackson - riversideflyshop@gmail.com
Focus Species: Trout, Striped Bass. We are a full service fly shop. We offer a variety of guided trips for everyone from experienced fly fishermen to first time casters.
Weiss Lake Guides - 256 475-5238
Kelly Matthews - kelly@weisslakeguides.com
Focus Species: Crappie. We offer year round guided crappie trips on world famous Weiss Lake, Great family fun and fast crappie action.
Lee Pitts Outdoors - 256 390-4145
Lee Pitts - lee@leepittsoutdoors.com
Focus Species: Crappie, Bass, Stripers. Lee Pitts is one of the premier Weiss Lake Crappie and Striper Guides! Also serving North Alabama lakes Guntersville, Wheeler and Neely Henry. Modern, tournament quality equipment. Bait and tackle furnished.
Flynn's Guide Service - 606 271-9255
Arvle Flynn - Flynnsguideservice@LIVE.COM
Focus Species: Crappie fishing on Lake Weiss and Lake R. L. Harris (Lake Wedowee). I have fished Lake Weiss and Wedowee since 1987.Family and business trips welcome. Any time of year with spring and winter being the best times.
Alabama Guide Service - 404 432-5987
Jim Forrest - fishbama@tds.net
Focus Species: crappie, bass, striper, bream. Alabama Guide Service's three professional guides have more than 75 years of crappie, bass and striper fishing experience on Alabama lakes. Day and night guide trips are available on Weiss Lake, Lake Guntersville, Logan Martin and Neely Henry.
Bamaspots Guide Service - 334 221-2068
John Pollard - Spothunter@bamaspots.com
Focus Species: Bass, crappie, seasonal stripers. Guided trips on Lake Jordan, Lake Martin, and Alabama.
Keith Dodd's Guide Service - 256-679-1826
Keith Dodd - kdlawn@knology.net
Focus Species: Crappie. I offer a good time on the lake. I provide all the equipment and tackle needed that day. All you will need is the fishing license for Alabama. I guide Wheeler, Wilson, Pickwick and the Bear Creek lakes.
Alabama Fishing Guide Services
In addition to catching fish, guides teach you techniques which you will use over a lifetime of fishing. Learn tips on rods, reels, line, knots, lures, hook types, techniques and much more...all by spending the day in a boat with a local guide.
Fishing guide information for other states.
ALABAMA