Choose From The Best Fishing Guides In New York
Hire a guide to take you fishing in NY.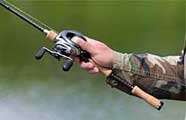 Hire a fishing guide to fish for largemouth bass, smallmouth bass, channel catfish, white catfish, black crappie, white crappie, walleye, rainbow trout, brook trout, brown trout, lake trout, bluegill, pumpkinseed sunfish, rock bass, white bass, white perch, yellow perch, Atlantic salmon, coho salmon, stripers, bowfin, chain pickerel, longnose gar, muskie, northern pike and tiger muskie in local lakes.

New York Fishing Guides
Other Local Guides
For the ultimate fishing experience, hire a professional guide. They know the NY fishery inside out and have determined the best techniques for catching fish at various times of the year.
Sara Low Fly Fishing - 401 447-6462
hoopsnflies@msn.com
I am a fly fishing instructor and NY State licensed fishing guide. I have guided and instructed novice and experienced anglers in individualized and group sessions. I serve on the staff of the Juliana's Anglers Fly Fishing School,and tailor programs to any group.
Gottum Guide Service - 315 298-4530
Shane Thomas - info@theriverguide.com
Species: Salmon, steelhead, brown trout, walleye, pike, bass, crappie and perch. Full time drift boat fishing guide on the Salmon River, charting Lake Ontario, and the Adirondack lake/stream areas. 15 years guiding exp. Weekly updated fishing reports.
DreamCatcher Guide Service - 315 387-5920
Richard Miick - info@trophydreamcatcher.com
Guided fishing adventures on the Salmon River and Lake Ontario tributaries. Salmon, Steelhead, Brown Trout, Walleye, Bass. Licensed NY guide #3903. Featured in Outdoor Life magazine! I supply all equipment and tackle (except waders). Drift boat or wading trips available.
Strike Silver Guide Service - 866 GUIDING
Dave Barber - dave@strikesilver.com
Focus Species: Steelhead, King and Coho Salmon, Brown Trout, Summer run Skamania steelhead, Atlantic salmon. Dave's 20 plus years of experience guiding on the Salmon River make him the greatest source around!
Steelhead Fishing Pulaski Ny, Salmon River
Shane & Jackie Thomas - info@fishsteelhead.com
Enjoy a guided heated drift boat fishing trip down the Salmon River in Pulaski New York for steelheads.
Whalesback Guide Service - 315 623-9882
Mike Domachowske - domachow@syr.edu
Focus Species: Walleye, Perch, Bass, plus many others.
Enjoy a guided fishing trip with New York State licensed guide, Mike Domachowske. With over 30 years fishing experience in Central New York, he has the experience to put you in front of the species of your choice.
Isle-Fish Guide Service - 315 480-0552
Lou Guerrieri - lou@isle-fish.com
Focus Species: King Salmon, Coho Salmon, Steelhead, Brown Trout, Rainbow Trout. This is a full service Guide Service offering wade and float trips on the Salmon River and all Lake Ontario tributaries as well as fly fishing on the Delaware River.
Big Indian Guide Service - 845 254 5904
Hank Rope - tyeflys@hvc.rr.com
Focus Species: trout. NY State Licensed guide, member NY State Outdoor Guides association. Fly fishing or lite tackle in Catskill streams. On stream fly fishing instruction.
Yankee Guide Service - 315 298-2466
Dawn Rucando - dawn@FishTheSalmonRiver.com
Focus Species: Chinook Salmon, Coho Salmon, Steelhead, Skamania Steelhead, Rainbow Trout, Brown Trout, Bass, Walleye Pike, Tiger Musky, Purebred Musky.
Angling-Adventures Guide Service - 315 298-4291
Capt. Steven Kowalski - steve@salmonriveronline.com
Focus Species: Steelhead, Brown Trout, King and Coho Salmon. Over 30 years of experience fishing the lakes & streams of North West CT & has spent the last 19 years focused on the Southern tributaries of lake Ontario, pursuing Salmon & Steelhead.
Redline Sportfishing Charters - 315 591-5699
Patrick Thayer - redlinefishing@gmail.com
Focus Species: Salmon, Trout. Licensed NY state guide/USCG captain and lifetime outdoor enthusiast offers chartered fishing trips on Eastern Lake Ontario April - September for trout and salmon. 29' Penn Yan leaves from Mexico NY on the Little Salmon River.
Reel Easy Charters - 845 626-7659
Captain Jay Martin - captainjaymartin @ yahoo.com
Focus Species: Striped Bass. Fishing for spring run striped bass on a 26 foot Penn Yan charter boat. All bait, lures and tackle is provided. No fishing license is needed on the Hudson River. We sail daily from Kingston, NY on the Rondout Creek just minutes from the fishing grounds.
Ameri-Can Fishing Charters - 716 418-4738
Capt. Lloyd Schrack - FishTheNiagara@aol.com
Focus Species: King Salmon, Coho Salmon, Steelhead, Brown Trout, Lake Trout, Rainbow Trout, Bass and Walleye. You'll drift fish the swift local waters aboard a Lund Pro V 1900 Tournament Edition with a very quiet 2008 BF 150hp Honda four stroke. All top name equipment and fresh bait are provided.
Brauns Outdoors Bass Charters - 716 860-5564
Tim Braun - bigbasstmb@roadrunner.com
Focus Species: Smallmouth Bass. Fish for trophy smallmouth bass on Lake Erie ,Ontario and Niagara River in Buffalo N.Y with Captain TIM Braun. Twenty five years of experience scathing and locating giant smallmouth bass. Alternate phone 716 837 5649.
Sparkys Charters - 716 832-1817
Captain Sparky - mmcsparkey@aol.com
Focus Species: King Salmon, Smallmouth Bass, Steelhead, Walleye, Trout. Fishing Lakes Erie, Ontario and the Niagara river. Year round guiding for Smallmouth Bass, King Salmon, Walleye, Steelhead and trout. We know where the fish are and how to catch them.
Tinker Guide Service - 315-298-3143
Scott Glazier - ScottandTanya@TinkerTavernLodge.com
Focus Species: Steelhead, king salmon and brown trout.
NYS licensed guide service and lodge. Drift fishing or wading in the Salmon River is our specialty. Stay in our cabins and hunt whitetail, coyote, duck and geese just steps from the front door.
Tight Line Fishing Guides Charters - 315-730-9861
Don Green - djwsgreen@verizon.net
Focus Species: bass, trout, pan, Lake Ontario salmon and steelhead. Owasco Lake-Cayuga Lake - Ontario lake I have been fishing for 35 years on these lakes and I also offer carp fishing in these lakes and streams as well, one thing you must bring is plenty of humor for a great time.
GR8 Lakes Fishing Adventures - 716 997-6919
Capt Tom Marks - tommarks@verizon.net
Focus Species: Bass, walleye, perch, steelhead and lake trout. Specializing in Trophy Bass and Walleye fishing on Lake Erie and the Niagara River. We also offer Photo-eco Tours as well.
High Adventure Sportfishing - 315 298-2410
Troy Creasy - Troy@highadventurefishing.com
Focus Species: salmon, trout, walleye and bass. High Adventure Sportfishing provides a complete full-time, year-round guide service for trophy salmon, trout, walleye and bass, on Lake Ontario and it's tributaries.
New York Fishing Guide Services
In addition to catching fish, guides teach you techniques which you will use over a lifetime of fishing. Learn tips on rods, reels, line, knots, lures, hook types, techniques and much more...all by spending the day in a boat with a local guide.
Fishing guide information for other states.
NEW YORK