Guide To Fishing At Canandaigua Lake
AKA: Lake Canandaigua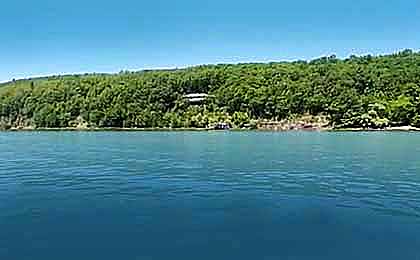 An exceptional trout fishery, Canandaigua Lake is a 10,700-acre lake in the central part of the state. The lake is over 15 miles long with 35 miles of shoreline. Anglers can fish for bass, trout, crappie, perch, pickerel and sunfish from shore, from rented boats or from personal watercraft.
Canandaigua Lake, located in the beautiful Finger Lakes region of New York, offers a delightful fishing experience for anglers of all levels. The lake spans over 10 miles, providing ample opportunities for both shoreline and boat fishing. Canandaigua Lake is home to a variety of fish species, including smallmouth bass, largemouth bass, northern pike, walleye, and several panfish species.
Smallmouth bass are a prized catch in Canandaigua Lake, known for their aggressive strikes and spirited fights. Anglers often target smallmouth bass near rocky structures, drop-offs, and points using techniques such as casting with jerkbaits, crankbaits, or soft plastic baits. Largemouth bass can also be found in the lake, particularly around weed beds and submerged vegetation, providing exciting opportunities for bass enthusiasts.
Chain pickerel are another popular species in Canandaigua Lake, with their toothy grins and fierce nature. These predatory fish can reach impressive sizes, and anglers target them using techniques like casting with spoons, swimbaits or spinnerbaits, or fishing with live bait. Canandaigua Lake also offers walleye fishing opportunities, with anglers finding success trolling with worm harnesses or jigging with minnows in deeper sections of the lake.
Panfish species such as bluegill, pumpkinseed, yellow perch, and crappie can be found in abundance in Canandaigua Lake. These smaller fish provide excellent opportunities for family fishing trips or for those seeking a relaxed angling experience. Anglers can use simple techniques such as bobber fishing with worms, small jigs, or live bait to target these panfish species.
Canandaigua Lake is also popular for boating and water recreation. Boaters can enjoy cruising the lake, water skiing, or simply relaxing on the water. Boat ramps are available for convenient access, allowing anglers to explore different areas of the lake and find their favorite fishing spots. Additionally, the lake provides a serene backdrop for kayaking or paddleboarding adventures.
Camping facilities are available near Canandaigua Lake, providing an opportunity to immerse oneself in the beauty of the Finger Lakes region. Campers can enjoy the peaceful atmosphere, grill freshly caught fish, and spend evenings under the stars while enjoying the natural surroundings.
Overall, Canandaigua Lake offers a well-rounded fishing experience with its diverse fish species, opportunities for boating, and camping amenities. Whether targeting bass, pike, walleye, or panfish, anglers can enjoy the scenic beauty and abundant fishing opportunities that Canandaigua Lake has to offer.
Canandaigua Lake State Marine Park is at the center of activity here with parking and boat launch ramps. Camping, RV hookups, marinas, supplies, bait & tackle, lodging and dining options are all conveniently located at the lake. Access and parking are available during winter for ice fishing when safe ice conditions permit.

What to fish for...
Fishing for largemouth bass, smallmouth bass, black crappie, rainbow trout, brown trout, lake trout, bluegill, pumpkinseed sunfish, rock bass, yellow perch and chain pickerel at Canandaigua Lake in New York.
Primary fish species residing in Canandaigua Lake
Click images for fishing tips and details about each species.
Canandaigua Lake Amenities
Marina: YES
Boat Rental: YES
Boat Launch Ramp: YES
Campgrounds: YES
RV Hookups: YES
Lodging: YES
Convenience Store: YES
Bait & Tackle: YES
Restaurant: YES
Today's Weather & Forecast
Fishing Boat Rentals
Bluewave Boating
Rentals: Pontoon boats
585 308-0327
German Brothers Marina
Rentals: Pontoon boats
585 394-4000
Seager Marine
Rentals: Pontoon boats and kayaks
585 319-1566
Smith Boys Boat Rentals
Rentals: Pontoon boats
585 374-2384
Sutter's Canandaigua Marina
Rentals: Pontoon boats
585 394-0918
Public Boat Launch Ramps & Landings
Canandaigua Lake South End Boat Launch Ramp
Located in the southwest corner of the lake, off State Route 21S, this is a two-lane, concrete ramp with docks and paved parking.
Canandaigua Lake State Marine Park Boat Launch Ramp
Located in the northwest corner of the lake, off S Main Street, this is a six-lane, concrete ramp with docks and lots of paved parking.
Onanda Park Boat Launch Ramp
Located mid lake, west side, off W Lake Road, this is a one-lane, concrete ramp with a dock and paved parking.
Vine Valley Road Boat Launch Ramp
Located mid lake, east side, off Vine Valley Road, this is a two-lane, concrete ramp with limited, street parking.
Marinas
German Brothers Marina
3907 Co Rd 16
Canandaigua, NY 14424
585 394-4000
Pelican Point Marina
4801 East Lake Road
Rushville, NY 14544
585 554-5400
Click here for a New York Fishing License.
Campgrounds & RV Parks Nearby
Creek-N-Wood RV Park & Campground - 585 944-4347
Indian Village RV Park - 585 554-6106
Mountainside Camp Site - 585 261-5461
Canandaigua Lake NY Map - Fishing & Camping Areas
Lake Video
Contact Information
Canandaigua Lake
Sutter's Canandaigua Marina
808 S Main St
Canandaigua, NY 14424
585 394-0918
Fishing lakes in each state.
Canandaigua Lake in NY
NEW YORK


Fishing for smallmouth bass, lake trout, brown trout and rainbow trout in central NY.
Canandaigua Lake, in New York.